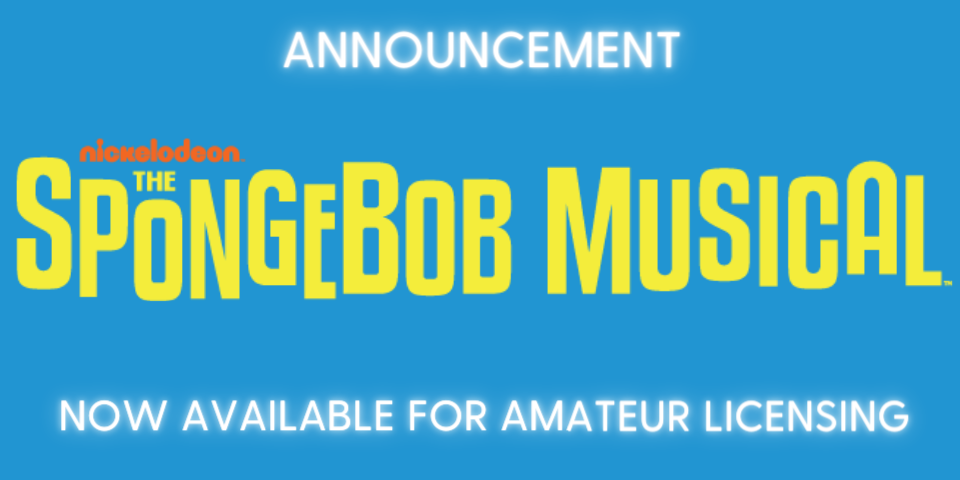 The SpongeBob Musical
18 Mar
NOW AVAILABLE FOR AMATEUR LICENSING IN AUSTRALIA AND NEW ZEALAND
Give your audiences the Best Day Ever to enjoy the power of friendship, togetherness and inclusion.
Kyle Jarrow, Tina Landau
Full Length Musical, Comedy
CASTING: 16 any gender
Adapted from the iconic Nickelodeon series! SpongeBob, Patrick, Sandy, Squidward and all of Bikini Bottom face total annihilation—until a most unexpected hero rises to take center stage.
The stakes are higher than ever in this dynamic stage musical, as SpongeBob and all of Bikini Bottom face the total annihilation of their undersea world. Chaos erupts. Lives hang in the balance. And just when all hope seems lost, a most unexpected hero rises up and takes center stage. The power of optimism really can save the world!
ACCOLADES
Nominee! Thirteen 2018 Tony Awards, including Best Musical
Winner! 2018 Drama Desk Award for Outstanding Musical
REVIEWS
"Effervescent candy for the spirit!" - New York Magazine
"Brilliant." - The New York Times
"The music in the show is... spectacular." - The Daily Beast
"It wants you to have fun. Soak it in." - Time Out New York
"Adults as well as children are likely to find SpongeBob absorbing." - The Telegraph
The SpongeBob Musical is based on the beloved animated series created by Stephen Hillenburg and features a book by Kyle Jarrow, with original songs by Yolanda Adams, Steven Tyler and Joe Perry of Aerosmith, Sara Bareilles, Jonathan Coulton, Alexander Ebert of Edward Sharpe & The Magnetic Zeros, The Flaming Lips, Lady Antebellum, Cyndi Lauper, John Legend, Panic! At the Disco, Plain White T's, They Might Be Giants and T.I., and songs by David Bowie, Tom Kenny and Andy Paley. Additional lyrics are by Jonathan Coulton, with additional music by Tom Kitt. The musical production was conceived by Tina Landau.