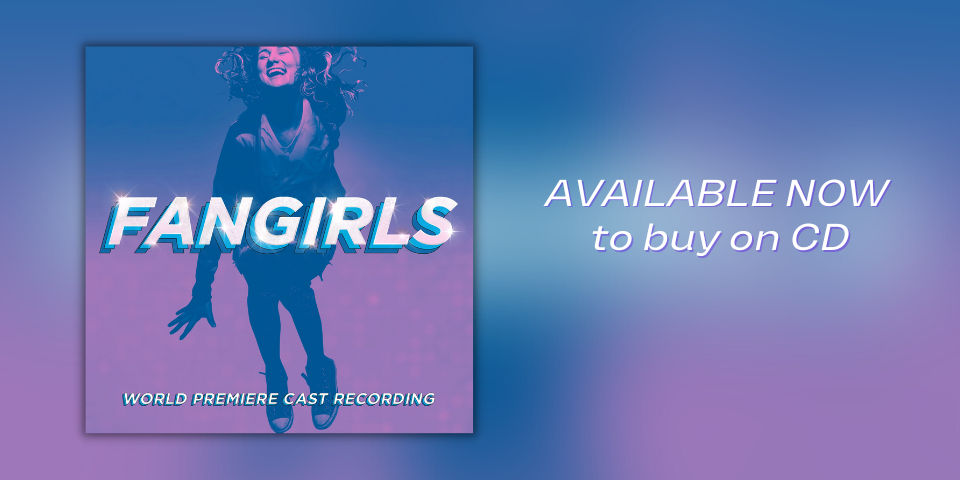 FANGIRLS the musical
28 Jul
'It's a thrill ride. Every twist and turn shudders through the body.' -- The Guardian Australia

GHOSTLIGHT RECORDS and ORiGiN™ MUSIC PUBLISHING
PRESENTS

'FANGIRLS WORLD PREMIERE CAST RECORDING' [CD]

FROM YVE BLAKE'S MUSICAL SENSATION
'FANGIRLS'
TO CELEBRATE THE SHOW'S OPENING AT THE SYDNEY OPERA HOUSE


GHOSTLIGHT RECORDS and
ORiGiN™ MUSIC PUBLISHING
have announced the release of the
FANGIRLS: World Premiere Cast Recording CD
.
FANGIRLS
is based on the award-winning Australian stage musical sensation with book, musical and lyrics by wunderkind Yve Blake. This release celebrates the show's return to the stage with a run at the Sydney Opera House from
Thursday, July 28 through Sunday, September 4
.
FANGIRLS: World Premiere Cast Recording
is currently available in all digital and streaming formats. The show recently completed a blockbuster, sold-out Australian national tour and plans are underway to bring this audience and critics' darling around the world. The album was produced and mixed by David Muratore, and features vocal arrangements by Alice Chance. Zara Stanton serves as music director, and she provides additional vocal arrangements. The show's dramaturg is Jonathan Ware. The origin of the show is explained in
Yve's viral TED Talk 'For the Love of Fangirls,'
which has been viewed over one million times.
Stream or download the album on Spotify
HERE
.
FANGIRLS follows the story of Edna. She's fourteen, awkward, blisteringly smart and, also, in love with a boy called Harry. The only problem is, so are 38 million other people -- because Harry's in the world's biggest boy band: True Connection. When Harry's band announces a show in her hometown, Edna knows that this is her ONE chance to try to meet Harry and save him from his miserable overworked life. But just how far will she go in the name of love? With a dazzling cast, inexhaustibly witty dialogue, and a score best described as a 'Pop Concert meets Rave meets Church,' FANGIRLS is a subversive musical comedy about how we ask young women to see themselves. Whether or not you've ever been a fan, FANGIRLS will move you, because this is a story about feeling underestimated, and choosing to love without apology.

REVIEWS

The musical received stellar reviews at every stop on its Australian tour.

'Fans literally standing and screaming in the aisles...Like teenage girls, this show is destined to go far.'
-- The Sydney Morning Herald

'Pure serotonin... undeniably one of the most perfectly crafted Australian works to hit the stage.'

-- The Australian Arts
'You're probably going to have some trouble getting the melodies out of your head.'
-- Time Out Melbourne
'When FANGIRLS was over, two things happened - the audience gave a standing ovation, and I wanted to give the 14-year-old-version of myself a big hug. Do yourself a favour, please see this show.'
-- The Courier Mail

FANGIRLS received the prestigious 2020 AWGIE Award for Music Theatre from the Australian Writers' Guild, and was honored with two 2019 Sydney Theatre Awards, including 'Best Production of a Mainstage Musical.' The show also scored 'Best Musical' at Queensland's 2019 Matilda Awards. The cast album earned a 2021 ARIA Award nomination of for 'Best Original Soundtrack or Musical Theatre Cast Album.'

The album features cast members Yve Blake as Edna, Chika Ikogwe as Jules, Kimberley Hodgson as Brianna, James Majoos as Saltypringl, Sharon Millerchip as Caroline, Ayesha Madon as Lily, and Blake Appelqvist as Harry.

The official lyric video for "Wait and See" from the musical FANGIRLS, sung by Yve Blake. Video created by The Barn.
------------------------------------------------------
YVE BLAKE
(Book, Music, Lyrics and Performer) is an award-winning playwright, screenwriter, songwriter, and performer best known for creating
FANGIRLS
. The show premiered to standing-room-only crowds in Brisbane and Sydney in 2019, before returning by demand in 2021 FANGIRLS for an Australian tour. Blake was the recipient of the inaugural Rebel Wilson Theatremaker Scholarship at the Australian Theatre for Young People, and is also an alumnus of the Royal Court Writer' Programme. She has also been a visiting artist at Princeton University. Her current projects under commission include a couple of co-written feature films and a musical television series.
----------------------------------------------------
FOLLOW FANGIRLS