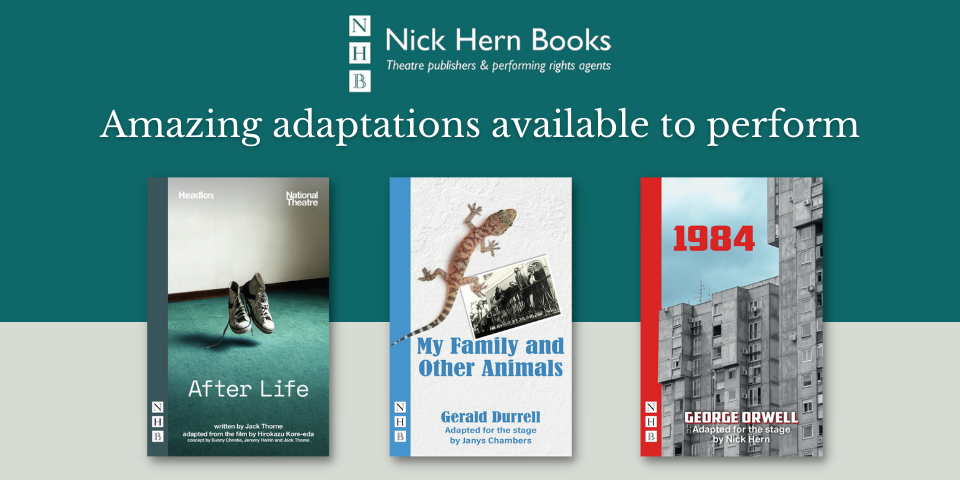 Three great new stage adaptations
9 Dec
Amazing adaptations available to perform
Out today, we have three brilliant new stage adaptations, all now available for amateur performance.
AFTER LIFE
by Jack Thorne
adapted from the film by Hirokazu Kore-eda
Cast: 5-6F, 7-8M
If you could spend eternity with just one precious memory, what would it be? A group of strangers grapple with this impossible question as they find themselves in a bureaucratic waiting room between life and death, sifting through their past lives to choose their forever.
Adapted from the award-winning film, After Life is a surreal and powerfully human look at the way we view our lives. Written by the massively popular Jack Thorne (BBC's His Dark Materials, Harry Potter and the Cursed Child), it was first performed at the National Theatre, London, in June 2021, directed by Jeremy Herrin. This adaptation is written for a large cast and offers lots of potential for imaginative staging.
'Miraculous... a properly transcendent piece of theatre'
Time Out
More info
MY FAMILY AND OTHER ANIMALS
by Gerald Durell
adapted for the stage by Janys Chambers
Cast: 3F, 7M, 1F/M, doubling (much larger cast possible)
It's 1935, and an eccentric English family arrives on the sun-soaked shores of Corfu to start a new life. For eleven-year-old Gerry Durrell, the extraordinary landscape provides the perfect playground and its exotic fauna inspires a life-long fascination with the animal kingdom.
This acclaimed stage adaptation of Durrell?s much-loved memoir My Family and Other Animals was first seen at York Theatre Royal, and invites other theatre companies to make inventive decisions, bringing to life all the inhabitants of Durrell's cherished island ? whether they walk and talk, fly and squawk, crawl or swim or slither.
'Weaves the poetic, wide-eyed prose of Gerald Durrell's childhood memoir into a really charming and fun play'
WhatsOnStage
More info
1984
by George Orwell
adapted for the stage by Nick Hern
Cast: 4F, 9M, 1F/M (1F, 4M, doubling)
George Orwell's classic dystopia 1984 is a still-resonant vision of the tolls of living under totalitarianism. Constructed almost entirely from dialogue taken from the original novel, this bold and powerful dramatisation restores the blazing heart of Orwell's work: a doomed love story, with the lovers at its centre.
This pre-eminently stageable version, adapted with an eye on economy for a cast of five or more, is ideal for any school, youth group or amateur company looking to bring Orwell's chilling vision to life on stage.
More info
Also available to perform
The three brilliant shows above are just some of the dozens of NHB stage adaptations available to perform. With a cracking range of genres, subjects and cast sizes, we've got beloved stories your audiences will fall in love with all over again, ready to delight on the stage.
See some further highlights below. Please get in touch for further information, advice or suggestions.
TREASURE ISLAND
by Robert Louis Stevenson
adapted by Le Navet Bete and John Nicholson
Cast: 4M, doubling (or a mixed cast playing 26 characters)
This riotously chaotic adaptation is a collaboration between John Nicholson (The Hound of the Baskervilles) and the physical-comedy theatre company Le Navet Bete. A rip-roaring, swashbuckling, family-friendly retelling of the classic story.
'Barrels of laugh-out-loud hilarity'
British Theatre Guide
More Info
A CHRISTMAS CAROL
by Charles Dickens
adapted by David Edgar
Cast: 12F, 18M, doubling (very large cast possible)
This adaptation of one of the best-loved stories ever written rediscovers the social conscience of the timeless tale. It was premiered by the Royal Shakespeare Company in Stratford-upon-Avon for Christmas 2017, returning for 2018.
'This politically charged new version feels sharply relevant'
Evening Standard
More Info
NOUGHTS & CROSSES
by Malorie Blackman
adapted by Sabrina Mahfouz
Cast: 4F, 4M, doubling (playing 22 characters)
This gripping Romeo and Juliet story by acclaimed writer Malorie Blackman is a captivating drama of love, revolution and what it means to grow up in a divided world. This new adaptation toured the UK in 2019 and won the Excellence in Touring category at the UK Theatre Awards.
'Mahfouz's adaptation highlights some deep truths and sharp parallels with the here and now'
The Stage
More Info
PICNIC AT HANGING ROCK
by Joan Lindsay
adapted by Tom Wright
Cast: 5F
In this chilling adaptation of the classic novel, five performers struggle to solve the mystery of three missing girls and their teacher. Euphoria and terror reverberate throughout the community, as the potential for history to repeat itself becomes nightmarishly real.
'This retelling proves the book remains relevant ? and will terrify the pants off you'
Guardian
More Info
THE JUNGLE BOOK
by Rudyard Kipling
adapted by Jessica Swale
Cast: 4-6F, 3M, 4-11F/M
This acclaimed musical adaptation, with original songs by Joe Stilgoe, is packed with memorable characters, catchy tunes and brilliant storytelling. It offers rich opportunities for all school, college, youth-theatre and amateur groups looking for a fresh version of a much-loved classic.

'The Jungle Book for the present day, one ready to enchant and educate in equal measure'
WhatsOnStage
More Info
CAPTAIN CORELLI'S MANDOLIN
by Louis de Bernières
adapted by Rona Munro
Cast: 5F, 9M plus 1F/M, doubling (very large cast possible)
An enigmatic young Italian officer is posted to a Greek island. Shunned by the locals at first, he is soon thrown together with Dr Iannis's strong-willed and beautiful daughter. This adaptation of the much-loved epic novel toured the UK in 2019, before transferring to the West End.
'A magical, moving immersion in the exquisite story that so many of us know and love'
A Younger Theatre
More Info