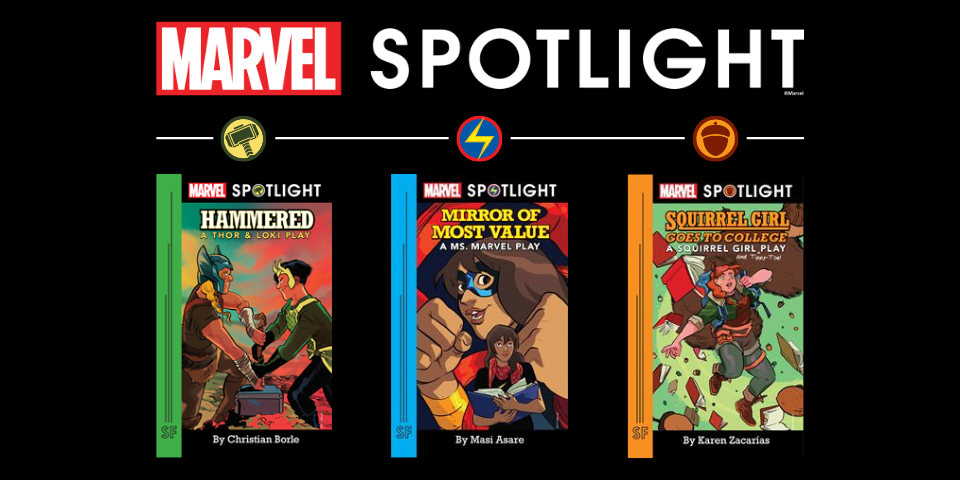 MARVEL SPOTLIGHT
2 Jun
A Collection Of Plays From The Marvel Universe.
Bring the Mighty, Magnificent and Unbeatable to your stage!
Samuel French and Marvel Entertainment have partnered to launch Marvel Spotlight, a collection of one-act plays telling the stories of ordinary people doing extraordinary things!
Developed specifically for teenagers, Marvel Spotlight explores the humans behind your favorite Super Heroes. The collection stars the iconic Thor & Loki, Ms. Marvel, and Squirrel Girl in plays written by Christian Borle, Masi Asare, and Karen Zacarías, respectively.
Learn more about the Marvel Spotlight titles below.
HAMMERED: A THOR & LOKI PLAY
Christian Borle
Short Play, Comedy, Fantasy/Adventure, Contemporary
Casting: 9M, 6F, 5M or F
As Thor struggles with the stress of final exams, his brother Loki finds himself under a different sort of pressure. Neither are beneath pranks in the endless competition for their parents' favor. But underneath all the thunder and mischief, these two Princes of Asgard discover a bond that will last millennia.
MIRROR OF MOST VALUE: A MS. MARVEL PLAY
Masi Asare
Short Play, Drama, Fantasy/Adventure, Contemporary
Casting: 4M, 8F, 10M or F
Kamala attempts to boost Ms. Marvel's fledgling super hero profile by writing her own fan fiction. But when building a fandom becomes an obsession, Kamala's schoolwork and relationships begin to suffer. To become the Jersey City hero of her dreams, Kamala must learn to accept herself just as she is -- imperfections and all.
SQUIRREL GIRL GOES TO COLLEGE: A SQUIRREL GIRL PLAY
Karen Zacarías
Short Play, Comedy, Fantasy/Adventure, Contemporary
Casting: 1M, 3F, 14M or F
Doreen arrives at Empire State University to make new friends -- and protect them from super villains -- by keeping her super hero identity a secret. But when a beloved computer science professor suddenly disappears, can Doreen trust her friends with her inner squirrel so she can save the day?