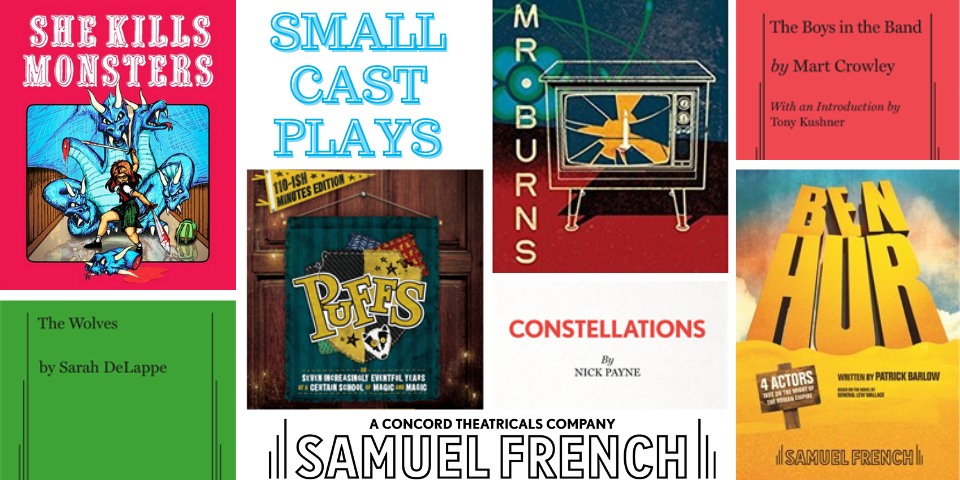 SMALL CAST PLAYS
19 Nov
Do you have a small cast of performers? Whether you're a school or community theatre group, here are some exciting recommendations from our small cast plays with fun and dramatic themes, a list of accolades and rave reviews.

SMALL CAST PLAYS FOR SCHOOLS
She Kills Monsters
Qui Nguyen
Full Length Play, Dramatic Comedy, Present Day, Contemporary
CASTING: 3M, 6F
A comedic romp into the world of fantasy role-playing games, She Kills Monsters tells the story of Agnes Evans as she leaves her childhood home in Ohio following the death of her teenage sister, Tilly. When Agnes finds Tilly?s Dungeons & Dragons notebook, however, she stumbles into a journey of discovery and action-packed adventure in the imaginary world that was Tilly?s refuge.
In this high-octane dramatic comedy laden with homicidal fairies, nasty ogres, and 90s pop culture, acclaimed young playwright Qui Nguyen offers a heart-pounding homage to the geek and warrior within us all.
"Deceptively breezy and rather ingenious. The whole enterprise is kind of dopey and kind of invigorating and kind of remarkable. It will slash and shapeshift its way into your heart." -- The New York Times
More Info
Puffs (Two-Act Edition)
Matt Cox
Full Length Play, Comedy, Contemporary
CASTING: 5M, 5F, 1M or F
For seven years a certain boy wizard went to a certain Wizard School and conquered evil. This, however, is not his story. This is the story of the Puffs... who just happened to be there too. A tale for anyone who has never been destined to save the world.
The New York Times proclaims PUFFS, "A FAST PACED ROMP" through the 'Seven Increasingly Eventful Years at a Certain School of Magic and Magic'. For POTTERphiliacs who grew up alongside Potter and are eager to revisit that world, PUFFS exudes a jovial, winking fondness for all things Harry!"
"Exudes a jovial, winking fondness for all things Harry." -- The New York Times
More Info
Versions also available:
One-Act Edition
Two-Act for Young Wizards
One-Act for Young Wizards
The Wolves
Sarah DeLappe
Full Length Play, Dramatic Comedy, Contemporary
CASTING: 10F
Left quad. Right quad. Lunge. A girls indoor soccer team warms up. From the safety of their suburban stretch circle, the team navigates big questions and wages tiny battles with all the vim and vigor of a pack of adolescent warriors. A portrait of life, liberty, and the pursuit of happiness for nine American girls who just want to score some goals.
"DeLappe has created an ensemble of distinct female characters without leaning on romantic partners or traditional feminine tropes to define them." -- Theatremania
More Info
SMALL CAST PLAYS FOR COMMUNITY THEATRES
Mr. Burns, a Post-Electric Play
Anne Washburn
Full Length Play, Dark Comedy, Experimental, Contemporary, The Future
CASTING: 3M, 5F
Anne Washburn's imaginative dark comedy propels us forward nearly a century, following a new civilization stumbling into its future.
After the collapse of civilization, a group of survivors share a campfire and begin to piece together the plot of "The Simpsons" episode "Cape Feare" entirely from memory. 7 years later, this and other snippets of pop culture (sitcom plots, commercials, jingles, and pop songs) have become the live entertainment of a post-apocalyptic society, sincerely trying to hold onto its past. 75 years later, these are the myths and legends from which new forms of performance are created.
Winner! Whiting Award (2015)
More Info
Ben Hur
Patrick Barlow
Full Length Play, Dramatic Comedy, Present Day, Biblical
CASTING: 3M, 1F
Based on one of the best-selling books of the 19th century and the Academy Award-winning film of grand proportion, comes the stage adaptation with four actors.
The story follows an amateur theatre troupe as they produce the massive tale of the fictional Jewish prince and merchant Judah Ben-Hur. He falls to galley slave and rises to champion charioteer within Jerusalem during the life of Jesus Christ, while the actors struggle along through the piece as rivalries form and offstage romances interfere.
Complete with chariot race, sea battle, and stage combat, Patrick Barlow weaves his compressed style popularized by The 39 Steps into one of the largest stories ever told.
"Patrick Barlow's small-scale take on this epic tale is a palpable hit." -- Evening Standard
More Info
Constellations
Nick Payne
Full Length Play, Drama
CASTING: 1M, 1F
One relationship. Infinite possibilities.
"Let's go for a drink. I don't know what I'm doing here anyway. One drink. And if you never want to see me again you never have to see me again."
Nick Payne's Constellations is a play about free will and friendship; it's about quantum multiverse theory, love and honey.
Winner! Evening Standard Award for Best New Play (2012)
More Info
The Boys in the Band (Original Version)
Mart Crowley
Full Length Play, Drama, 1960s
CASTING: 9M
This seminal work of the Off Broadway movement premiered in 1968 and was a long-running hit onstage, later filmed with the original cast. In 2010, the play made a triumphant return to New York City in a highly praised production produced by Drama Desk and Obie Award winning Transport Group.
In his upper eastside Manhattan apartment, Michael is throwing a birthday party for Harold, a self-awoved "32-year-old, pock-marked, Jew fairy", complete with surprise gift: "Cowboy" a street hustler. As the evening wears on, fueled by drugs and alcohol, bitter, unresolved resentments among the guests come to light when a game of "Truth" goes terribly wrong.
"A play of real substance, one that deserves to be performed not occasionally but regularly." -- The Wall Street Journal
More Info
NEW AND NOTEWORTHY PLAYS
The Cat's Meow
Steven Peros
Full Length Play, Drama, 1920s
CASTING: 6M, 8F
Based on the true story of a mysterious Hollywood death, The Cat's Meow offers a fascinating cross section of Jazz Era characters who intersect for one notorious weekend on board William Randolph Hearst's yacht in 1924. The play was adapted for film in 2002, with a screenplay by the author, directed by Peter Bogdanovich, and starring Kirsten Dunst, Eddie Izzard, and Edward Herrmann.
Weekend guests include: Charlie Chaplin, who has been carrying on with movie star Marion Davies, a secret known to Davies' paramour, the married ? and much older -- Hearst; and movie mogul Thomas Ince, who is hoping to revive his flagging fortunes by forming a partnership with Hearst. Playing with fire, Ince tries to convince Hearst that he can handle both Marion's movie career... and her private life as well.
During its 1997 Los Angeles premiere, audiences and critics were both entertained and moved by this darkly comic morality play, laced with clandestine romance, Hollywood excess, and steadily heating tensions, which erupt in a shocking act of violence.
"Recommended - Hands down! Will have you on the edge of your seat." -- CBS Radio
More Info
Hangmen
Martin McDonagh
Full Length Play, Dark Comedy, 1960s
CASTING: 12M, 2F, 2M or F
In his small pub in Oldham, Harry is something of a local celebrity. But what's the second-best hangman in England to do on the day they've abolished hanging? Amongst the cub reporters and sycophantic pub regulars, dying to hear Harry's reaction to the news, a peculiar stranger lurks, with a very different motive for his visit.
"Gripping, funny and dramatically tense, Hangmen is a thoroughly great play...riveting from start to finish. Almost every line is laugh-out-loud funny, every moment filled with dramatic tension." -- The Sunday Times
More Info