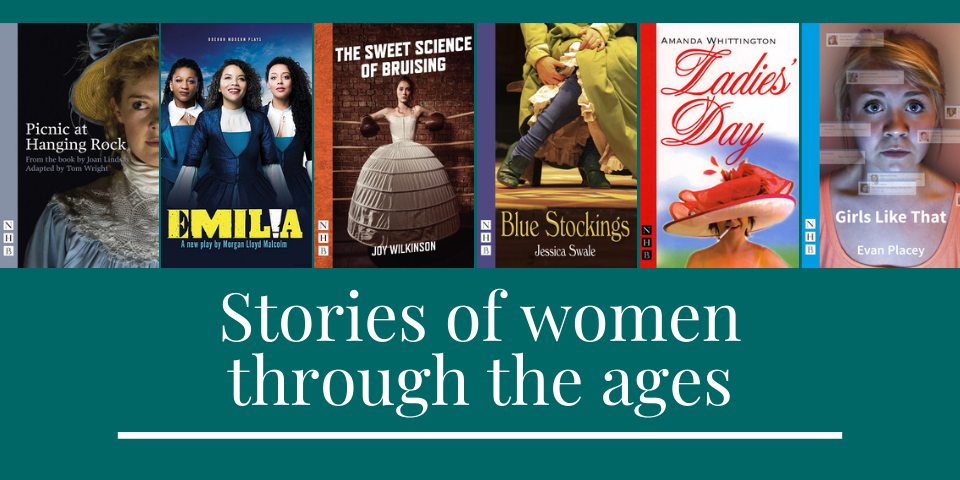 Stories of Women through the ages
17 Jun
Nick Hern Books
Stories of women through the ages. From Shakespeare, the world of boxing in 1869, 1900s Australia, suffragettes, through to the new millennium...
EMILIA
Morgan Lloyd Malcolm
Full Length Play, Drama
Casting: 13F
A riotous, witty reclaiming of the life of an exceptional woman.
Four hundred years ago, Emilia Bassano wanted her voice to be heard. It wasn't. Could she have been the 'Dark Lady' of Shakespeare's sonnets? What of her own poetry? Why was her story erased from history?
In Morgan Lloyd Malcolm's electrifying play, Emilia and her sisters reach out across the centuries with passion, fury, laughter and song.
THE SWEET SCIENCE OF BRUISING
Joy Wilkinson
Full Length Play, Drama, 19th Century
Casting: 4M, 6F
London, 1869. Four very different Victorian women are drawn into the dark underground world of female boxing by the eccentric Professor Sharp. Controlled by men and constrained by corsets, each finds an unexpected freedom in the boxing ring.
As their lives begin to intertwine, their journey takes us through grand drawing rooms, bustling theatres and rowdy Southwark pubs, where the women fight inequality as well as each other. But with the final showdown approaching, only one can become the Lady Boxing Champion of the World...
BLUE STOCKINGS
Jessica Swale
Full Length Play, Drama, 19th Century
Casting: 8M, 8F, 2M or F
A moving, comical and eye-opening story of four young women fighting for education and self-determination against the larger backdrop of women's suffrage.
1896. Girton College, Cambridge, the first college in Britain to admit women. The Girton girls study ferociously and match their male peers grade for grade. Yet, when the men graduate, the women leave with nothing but the stigma of being a 'blue stocking' - an unnatural, educated woman. They are denied degrees and go home unqualified and unmarriageable.
PICNIC AT HANGING ROCK
(STAGE VERSION)
By Joan Lindsay Adapted by Tom Wright
Full Length Play, Drama, Mystery/Thriller, 1900-1910
Casting: 5F
On a summer's day in 1900, three Australian schoolgirls on a picnic expedition to the remote Hanging Rock abscond from their group. They are last seen heading towards the beckoning Rock...
In Tom Wright's chilling adaptation of Joan Lindsay's classic novel, five performers struggle to solve the mystery of the missing girls and their teacher. Euphoria and terror reverberate throughout the community, as the potential for history to repeat itself becomes nightmarishly real.
LADIES' DAY
Amanda Whittington
Full Length Play, Drama, Comedy, Contemporary
Casting: 1M, 4F
An exuberant comedy about four likely lasses from the Hull fish docks on a day trip to the races, from the author of Be My Baby.
Work, love and life are just one long, hard slog for the fish-filleting foursome Pearl, Jan, Shelley and Linda. But their fortunes are set to change when Linda finds tickets to Ladies' Day at Royal Ascot the year it relocated to York.
GIRLS LIKE THAT
Evan Placey
Full Length Play, Drama, New Millennium/21st Century
Casting: 6F
An urgent and explosive play that explores the pressures on young people today in the wake of advancing technology.
When a naked photograph of Scarlett goes viral, she becomes the centre of attention for all the wrong reasons. But while rumours run wild and everyone forms an opinion, Scarlett just stays silent...