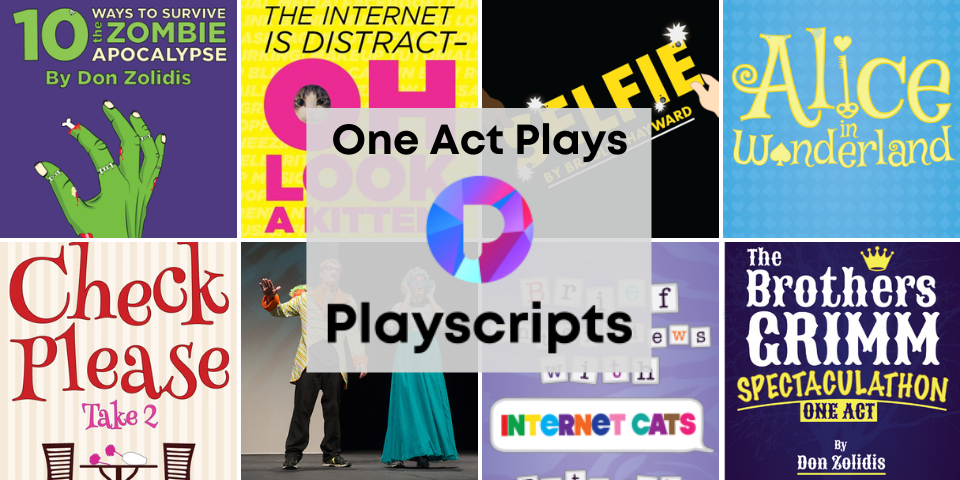 Wonderful One Act Plays from Playscripts
12 May
Playscripts have some of the most popular one-act plays.
Don Zolidis
Short Play, Comedy, Contemporary
3M, 5F, 2M or F
It's the end of the world and hordes of rampaging zombies are about to kill you. What do you do? Try your hand at kung fu against the undead? Attempt to reason with creatures that would rather eat brains than use them?
Turn to this handy and hilarious guide to survive the apocalypse! (Hint: sacrifice the weak is step number one.)
Jonathan Rand
Short Play, Comedy, Contemporary
6M, 6F
Soon after their relationship ends, Guy and Girl are forced by their well-intentioned best friends to plunge back into the dating pool. Unfortunately that pool is filled with foot-reading psychics, frustrated polygamists, and extreme accountants. And pirates. But are blind dates really that unbearable? Yes. Yes they are.
Ian McWethy
Short Play, Comedy, Present Day, Contemporary
3M, 5F, 12M or F
Micah only has twenty minutes to finish her paper on The Great Gatsby. She just needs to check a new facts on the internet first. Unfortunately, the web is a nefariously wacky place where boxing cats, Facebook lurkers, and pig-throwing games threaten to take over Micah's schoolwork, or worse. Will she finish her paper and escape with her life before the school bell rings?
A high-octane comedy that explores the rabbit hole of distraction we all go down every time we go online.
Don Zolidis
Short Play, Comedy
1M, 1F, 3M or F
Two narrators attempt to recreate all 209 of the fairy tales of the Brothers Grimm in a wild, fast-paced extravaganza. To make it more difficult, they attempt to combine them into one gigantic fable using Rapunzel, Rumpelstiltskin, Hansel and Gretel, Snow White, Sleeping Beauty, Cinderella and other more obscure stories like Lean Lisa and The Devil's Grandmother.
Patrick Greene
Short Play, Comedy, Contemporary
7M, 9F, 6M or F
Celebrity interviewer Ian McWorthy has a dream line-up for tonight's episode of the World Wide Window: a veritable litterful of felines whose internet antics have catapulted them to fame.
In this fast-paced series of hilarious interviews, Ian uncovers the story behind Tuffy's first dramatic foray into a cardboard box, learns just what makes Nelson the Grouchy Cat so very, very grouchy, contends with the diva-like antics of Kitty Boo Boo and her entourage, and so much more. So stay tuned! Things are bound to get a little...hairy.
Adapted by Jason Pizzarello Lewis Carroll
Short Play, Comedy, Drama, Fantasy
9M, 9F, 12M or F
After Alice tumbles down a mysterious rabbit hole, she finds herself in a strange land where everyone is raving mad. With the help of a Cheshire Cat, an astute Caterpillar, and a righteous Humpty Dumpty, Alice must find her way home and discover who she really is.
A darker, more faithful version of Lewis Carroll's classic tale that reimagines the experience of Wonderland, and ends with an unexpected new twist.
Bradley Hayward
Short Play, Dramatic Comedy, Present Day, Contemporary
1M, 3F, 4M or F
It's senior year and problems are mounting for a group of high school students as they prepare for the future. Facing bullies, parents, pressure, sickness, and their own self-judgement, the characters search for ways to stand out. As they document their year, one click at a time, they come to realize life is not about what other people see -- it's about the pictures they have of themselves.
Peter Bloedel
Short Play, Comedy
6M, 8F, 4M or F
The greatest romance in all of English literature gets a wacky, rhyming makeover. The Bennet girls have a chance to meet well-to-do gents at the Ding-A-Ling Prance Dance, but there might be some relatives in the way before they can ride off into the sunset on Honk Jingle Horses. This whimsical retelling is something Dr. Seuss might come up with if he had his way with the time-tested Jane Austen classic.
Peter Bloedel
Short Play, Comedy
6M, 6F, 12M or F
A whimsical reinvention of Shakespeare's tragic love story, complete with rhymed couplets, creative wordplay, and fantastical machines -- similar to something Dr. Seuss might have come up with if he ever had his way with the script...
---
Did you know . . . that Playscripts offers free sample scripts?
Absolutely free to read!
Just visit the Playscripts website and click on the 'READ FOR FREE' button for any title that takes your interest. Enjoy!
playscripts.com