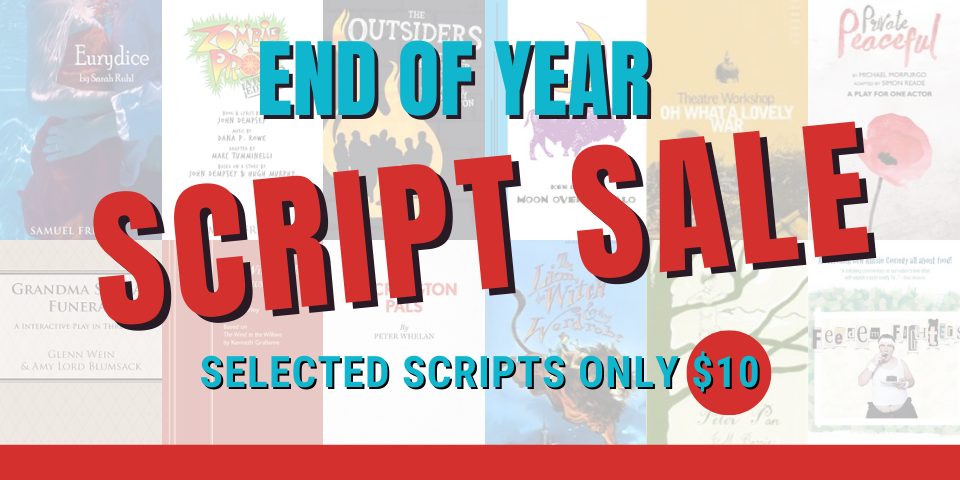 SCRIPT SALE
11 Jul
We are having a sale! More scripts added this week. Selected scripts are reduced to only $10.
Do you love reading scripts? We have plays and musicals, drama, comedy and history -- we have covered it all with this wide variety of scripts on sale right now. Browse the sale scripts below.
While stocks last.
Lisa Strata's Big Idea
Jon Jory
One Act, Comedy, Contemporary
7M, 17F
In this high-school version of Lysistrata, the girls of Watahootchie High School in Texas strike back against their macho boyfriends, whose constant fighting with the boy from tony Grim Prep threatens to disrupt their prom.
Hilarity ensues as the girls proceed to subdue their femininity and withdraw any displays of affection until their boyfriends temper their testosterone.
A Thousand Cranes
Kathryn Schultz Miller
One Act, Drama, 1950s
2M, 3F, 2M or F
A Thousand Cranes presents the true and poignant story of Sadako Saski, who was 2 years old when the atomic bomb was dropped on the small city of Hiroshima, where she lived. Sadako, now 12 years old, is an excellent athlete who races daily with her friend Kenji to prepare for an important competition.
Music and Lyrics by Carol Hall
Book by Larry L. King and Peter Masterson
Full Length Musical, Comedy, 1930s, 1970s
13M, 14F
This happy go lucky view of small town vice and statewide political side-stepping recounts the good times and the demise of the Chicken Ranch, known since the 1850s as one of the better pleasure palaces in all of Texas. Governors, senators, mayors, and even victorious college football teams frequent Miss Mona's cozy bordello until that puritan nemesis Watchdog focuses his television cameras and his righteous indignation on the institution.
The Trial
Anthony Booth
Short Play, Drama
5F
Three women are waiting in a cellar. One is a captain in an organization pledged to bring freedom to the city which is in the throes of a struggle for power; another is a witness; the third is an informer in the coming trial.
Pride and Prejudice (Jerome)
By Helen Jerome
Adapted from the Novel by Jane Austen
Full Length Play, Adaptations (Literature), Comedy
10M, 16F
Mrs. Bennett is determined to get her daughters married. Jane and Mr. Bingley and Lydia with her Mr. Wickham are quite content with things as they are, but not Elizabeth! She actually refuses to marry Mr. Collins, who she openly deplores, and Mr. Darcy, whom she secretly adores.

Private Peaceful (One actor version)
Michael Morpurgo, Simon Reade
Full Length Play, Drama, 1910s / WWI
1M
Michael Morpurgo's moving story of a young soldier, killed by firing squad in the First World War. This adaptation is for one actor.
Zombie Prom: Atomic Edition
(Libretto)
Story, Book and Lyrics by John Dempsey
Based on a Story by Hugh Murphy
Music by Dana P. Rowe
Adapted by Marc Tumminelli
Short Musical, Backing Tracks, Comedy, 1950s
5M, 5F
A youth-theatre adaptation of the popular Off-Broadway girl-loves-ghoul rock and roll musical, set in the atomic 1950's.
We Happy Few
Imogen Stubbs
Full Length Play, Drama, Comedy, 1940s / WWII
2M, 8F
A comedy drama about an all-female theatre company touring Britain during the darkest days of World War II, written by the well-known actress and premiered in the West End.
Medea (Northern Broadsides version)
By Euripides. Adapted by Tom Paulin
Full Length Play, Drama, Adaptations (Literature), Greek; Roman; Biblical
3M, 2F
Betrayed by a husband she sacrificed everything for, Medea unleashes a horrific vengeance on her enemies, by murdering her own children.
Millie's War
Dorian Mode
Full Length Play, Australian, Comedy, 1910s / WWI, 1980s
4M, 3F
Based on historical events, Millie's War is set in the 1980s when a number of women attempted to join official ANZAC Day marches across Canberra to commemorate women raped in war.
Stage Door Songbook Songs from Australian Musicals
(reduced from $49.95)
Editor David Reeves Collection / Anthology, Musical
The numbers contained in this book come from a diverse group of productions, nine original shows, all with a powerful Australian creative link. They have been chosen on strict criteria including box office success as well as public reception. All the numbers in this volume are written in the style of the traditional musical. Each with a clear melody line, supporting relevant story enhancing lyrics, not necessarily written just for the Australian market.
Witness for the Prosecution
Agatha Christie
Full Length Play, Drama, Mystery/Thriller, Present Day, 1950s
8M, 5F
Agatha Christie's most celebrated courtroom drama - Leonard Vole stands trial for the murder of his beneficiary, and even his wife insists he is guilty...
The Outsiders
Adapted by Christopher Sergel
From the book by S.E. Hinton
Full Length Play, Drama
10M, 8F
This stage adaptation deals with real people, seen through the eyes of young Ponyboy, a Greaser on the wrong side of life, caught up in territorial battles between the have-it-made rich kids --the Socs-- and his tough, underprivileged greaser family and friends.
The Accrington Pals
Peter Whelan
Full Length Play, Drama, 1910s / WWI
5M, 5F
At times funny, at times sad,
The Accrington Pals
paints a moving and powerful picture of the changes in civilian life during wartime.
The Lion, the Witch and the Wardrobe
(Libretto)
Dramatized by Adrian Mitchell.
By C.S. Lewis
Music by Shaun Davey
Full Length Musical, Drama, 1940s / WWII
30M or F
This musical adaptation of C.S. Lewis's classic children's story is the tale of four children evacuated from London during the Blitz to stay with the Professor. Whilst exploring, Lucy stumbles across the wardrobe, gateway to another world, and the adventure begins. The land of Narnia is under the spell of the wicked White Witch and very quickly the four find themselves caught up in a deadly struggle between good and evil.
Feedem Fighters
Dorian Mode
Full Length Play, Australian, Comedy, Present Day
5M, 1F
Daryl Lucas is a fat, happily married soft-drink salesman living on the NSW Central Coast, until the day he walks in on his cheating cougar wife and her young Pilates instructor.
Peter Pan
J. M. Barrie
Full Length Play, Drama, TYA, Fantasy/Adventure
8M, 4F, 38M or F
The everlasting classic account of two boys and a girl who follow Peter Pan and the invisible fairy, Tinker-Bell, into Neverland, where children never grow old and where Captain Hook and his pirates are outwitted.
her holiness
Melvyn Morrow and Justin Fleming
Full Length Play, Period Piece / Historical, Drama, Australian, 19th Century, New Millennium/21st Century
11M, 6F
The Saint Mary MacKillop play. Possibly Australia's first feminist; certainly a role model to women and men alike. her holiness combines humour and drama in dealing with life and death battles and survival in Australia -- then and now.


Brighton Beach Memoirs
Neil Simon
Full Length Play, Period, Dramatic Comedy, 1930s
3M, 4F
Here is part one of Neil Simon's autobiographical trilogy: a portrait of the writer as a young teen in 1937 living with his family in a crowded, lower middle-class Brooklyn walk-up. This bittersweet memoir evocatively captures the life of a struggling Jewish household where, as his father states "if you didn't have a problem, you wouldn't be living here."
Oh What a Lovely War
(Libretto)
Charles Chiltern, Gerry Raffles, Joan Littlewood, Ted Allan
Full Length Musical, Drama, 1910s / WWI
11M, 4F
The scheme for a chronicle of the First World War, told through songs and documents in the form of a seaside pierrot entertainment of the period, was devised and presented by Joan Littlewood's Theatre Workshop at the Theatre Royal, Stratford East, London in 1963 and become a classic of the modern theatre.
Laughter on the 23rd Floor
Neil Simon
Full Length Play, Comedy
7M, 2F
Inspired by the playwright's youthful experience as a staff writer on Sid Caesar's Your Show of Shows, with all the attendant comic drama as the harried writing staff frantically scrambles to top each other with gags while competing for the attention of the star madman "Max Prince".

Moon Over Buffalo
Ken Ludwig
Full Length Play, Comedy, 1950s
4M, 4F
In the madcap comedy tradition of Lend me a Tenor, the hilarious Moon Over Buffalo centers on George and Charlotte Hay, fading stars of the 1950's. On the brink of a disastrous split-up caused by George's dalliance with a young ingénue, they receive word that they might just have one last shot at stardom. Unfortunately for George and Charlotte, everything that could go wrong does go wrong.
Kiss of the Spider Woman
(Libretto)
Book by Terrence McNally
Music by John Kander. Lyrics by Fred Ebb .
Based on the novel by Manuel Puig
Full Length Musical, Drama, Contemporary
15M, 3F
Kiss of the Spider Woman revamps a harrowing tale of persecution into a dazzling spectacle that juxtaposes gritty realities with liberating fantasies.
The Comedy of Errors
Adapted by Robert M. Singleton.
From William Shakespeare's classic.
One Act, Comedy
11M, 5F
The play concerns a family which has been separated. Now, unknown to each other, they are all in the same city; the lovely mother, the identical twin sons who have grown up and the father, who is under arrest.
M*A*S*H
Adapted by Tim Kelly
From the book by Richard Hooker
Full Length Play, Comedy
15M, 15F
M*A*S*H
stands for Mobile Army Surgical Hospital, and joining it are two unpredictable madcaps, Hawkeye and Duke.
The Wind in the Willows (Morley)
By John Morley Based on The Wind in the Willows by Kenneth Grahame
Full Length Play, Dramatic Comedy
22M, 22F
John Morley has taken the well loved characters of Toad, Mole, Ratty and Badger from
The Wind in the Willows
and woven their exploits into an exciting adventure story for all the family.
Eurydice
Sarah Ruhl
Full Length Play, Dramatic Comedy
5M, 2F
In
Eurydice
, Sarah Ruhl reimagines the classic myth of Orpheus through the eyes of its heroine. Dying too young on her wedding day, Eurydice must journey to the underworld, where she reunites with her father and struggles to remember her lost love. With contemporary characters, ingenious plot twists, and breathtaking visual effects, the play is a fresh look at a timeless love story.
Les Liaisons Dangereuses
Christopher Hampton, Choderlos de Laclos
Full Length Play, Drama, 18th Century
3M, 6F
A tale of seduction set in France among aristocrats before the revolution, this is a classic drama for exploring decadent sexuality, morals and manipulations played as the ultimate game with tragic results.
Black Elk Speaks
Based on the Book by John Neihardt

Adapted by Christopher Sergel
Full Length Play, Drama
16M or F
They are a people with a rich past and absolutely no future. This play is harnessed dynamite. Black Elk lived the experience of the Native American people from the moment before white people entered his world through the end of Indian independence at the massacre of Wounded Knee. His unique eloquence and that of his cousin Crazy Horse make this play a very special event.
All these scripts are $10 each, while stocks last.