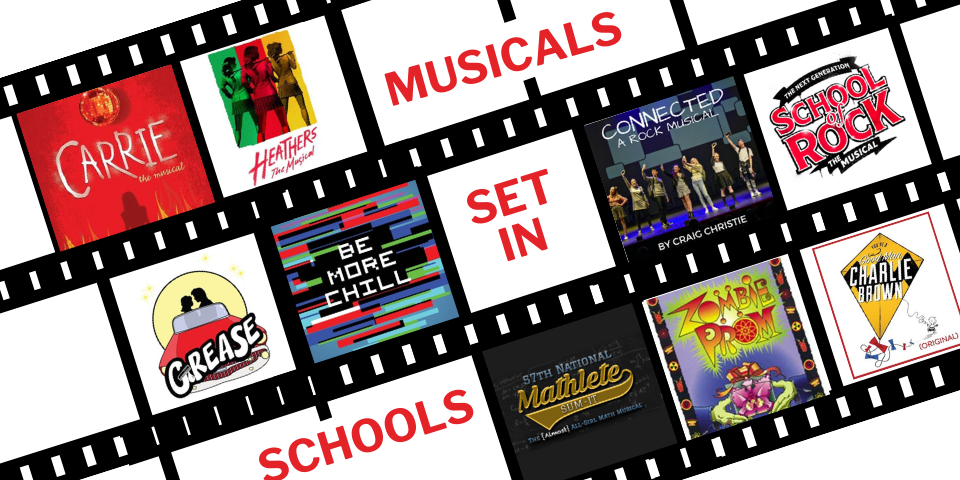 Musicals set in schools
27 Jan
As schools, students, teachers and families prepare to return to school for the start of 2021, here is a look at some of our favourite musicals set in and around schools.
Grease
Book, Music and Lyrics by Jim Jacobs and Warren Casey.
Full Length Musical, Drama, Comedy, 1950s
CASTING: 9M, 8F
Here is Rydell High's senior class of 1959: duck-tailed, hot-rodding "Burger Palace Boys" and their gum-snapping, hip-shaking "Pink Ladies" in bobby sox and pedal pushers, evoking the look and sound of the 1950,s in this rollicking musical.
Since its electric Broadway and West End debut in the early 1970's, GREASE has remained one of the world's most popular and enduring musicals. Funny, frank and featuring the hit songs Greased Lightnin', Hopelessly Devoted to You, You're The One That I Want, and Summer Nights, GREASE follows the journey of Danny and Sandy, alongside the Burger Palace Boys and the Pink Ladies, as they navigate high school to the unforgettable rock n? roll soundtrack that defined generations.
Heathers: The Musical
Book, Music & Lyrics by Laurence O'Keefe and Kevin Murphy
Full Length Musical, Dark Comedy, 1980s
CASTING: 9M, 9F
Based on the classic 1989 film, Westerberg High is ruled by a shoulder-padded, scrunchie-wearing junta: Heather, Heather and Heather, the hottest and cruelest girls in all of Ohio. But misfit Veronica Sawyer rejects their evil regime for a new boyfriend, the dark and sexy stranger J.D., who plans to put the Heathers in their place - six feet under.
CARRIE the musical
Lyrics by Dean Pitchford. Music by Michael Gore. Book by Lawrence D. Cohen.
Full Length Musical, Drama, Contemporary
CASTING: 2M, 5F
Carrie White is a misfit. At school, she's an outcast who's bullied by the popular crowd, and virtually invisible to everyone else. At home, she's at the mercy of her loving but cruelly over-protective mother. But Carrie's just discovered she's got a special power, and if pushed too far, she's not afraid to use it...
Based on Stephen King's bestselling novel.
Zombie Prom
Based on a story by Hugh Murphy. Book and Lyrics by John Dempsey. Music by Dana P. Rowe.
Full Length Musical, Comedy, Backing Tracks, 1950s
CASTING: 5M, 5F
This "girl loves ghoul" rock and roll Off-Broadway musical is set in the atomic 1950s at Enrico Fermi High, where the law is laid down by a zany, tyrannical principal.
Pretty senior Toffee has fallen for the class bad boy. Family pressure forces her to end the romance, and he charges off on his motorcycle to the nuclear waste dump. He returns glowing and determined to reclaim Toffee's heart. He still wants to graduate, but most of all he wants to take Toffee to the prom. The principal orders him to drop dead while a scandal reporter seizes on him as the freak du jour. History comes to his rescue while a tuneful selection of original songs in the style of 50s hits keeps the action rocking across the stage.
Be More Chill
Music and Lyrics by Joe Iconis. Book by Joe Tracz. Based on the novel by Ned Vizzini.
Full Length Musical, Dark Comedy, Comedy, Present Day, Contemporary
CASTING: 6M, 4F
Jeremy Heere is just an average teenager. That is, until he finds out about "The Squip" -- a tiny supercomputer that promises to bring him everything he desires most: a date with Christine, an invite to the raddest party of the year and a chance to survive life in his suburban New Jersey high school. But is being the most popular guy in school worth the risk?
The fan-favorite musical BE MORE CHILL is a rocking new sci-fi musical about growing up, high school, and what we will do to get what we want.
School of Rock
Book by Julian Fellowes. Lyrics by Glenn Slater. New Music by Andrew Lloyd Webber Based on the Paramount movie by Mike White.
Full Length Musical, Backing Tracks, Comedy, TYA, Present Day, Contemporary
CASTING: 15M, 15F
Rock got no reason, rock got no rhyme... You better get me to school on time!
SCHOOL OF ROCK is a two-hour, two-act musical (plus intermission), based on the hit movie. The tuner follows Dewey Finn, a failed, wannabe rock star who decides to earn an extra bit of cash by posing as a substitute teacher at a prestigious prep school. There he turns a class of straight-A pupils into a guitar-shredding, bass-slapping, mind-blowing rock band. But can he get them to the Battle of the Bands without their parents and the school's headmistress finding out?
CONNECTED - A Rock Musical
Book, Music and Lyrics by Craig Christie .
Full Length Musical, Drama, Australian, New Millennium/21st Century
CASTING: 4M, 10F
CONNECTED explores the dangers and consequences of the interface between life and the online world in a story that resonates throughout schools and households everywhere.
Emma arrives at a new school and runs the gauntlet of finding out about friendship groups and how the game is played in this new setting. Meanwhile, Dylan's social awkwardness means he is spending more and more time on his computer locked away in his room. When Emma finds herself the unwanted attention of the school jock Michael, his ex-girlfriend Kate uses any means available to put the new girl in her place. The entire situation takes a turn towards the sinister as their online worlds collide with their lives in a way over which they ultimately have no control and which threatens to have the most disastrous consequences.
57TH National Mathlete Sum-It
Book by Laura Stratford. Music by David Kornfeld. Lyrics by Alex Higgen-Houser. Story by Larry Little.
Full Length Musical, Dramatic Comedy, Present Day, Contemporary
CASTING: 1M, 5F, 20M or F
The almost all-girl high school math team from Waukesha, Wisconsin, has lost -- and then won -- the regional math competition. They are off to compete in the National Math SUM-IT. These smart and funny whiz kids must unite to solve difficult math problems without getting distracted by teen drama and pressures.
Always witty, sometimes uproarious, this is the story of girls becoming women -- conquering anxiety and rivalry, finding a way to affirm themselves as individuals and as team-members, learning to win at math... and at life!
Small Cast edition also available
You're A Good Man, Charlie Brown
Based on the Comic Strip "Peanuts" by Charles M. Schulz. Book, Music and Lyrics by Clark Gesner.
Full Length Musical, Comedy, Contemporary
CASTING: 4M, 2F
YOU'RE A GOOD MAN, CHARLIE BROWN is the ideal first show for those who would like to do a musical. The cast is small and the routines are simple. There are many short scenes in this staging of a day in the life of Charlie Brown. Fun, laughter and sincerity build the mood.
Musical numbers include My Blanket and Me, The Kite, The Baseball Game, Little Known Facts, Suppertime and Happiness. Join the Peanuts gang in this fast paced, lighthearted musical, guaranteed to please audiences of all ages!
Revised edition also available