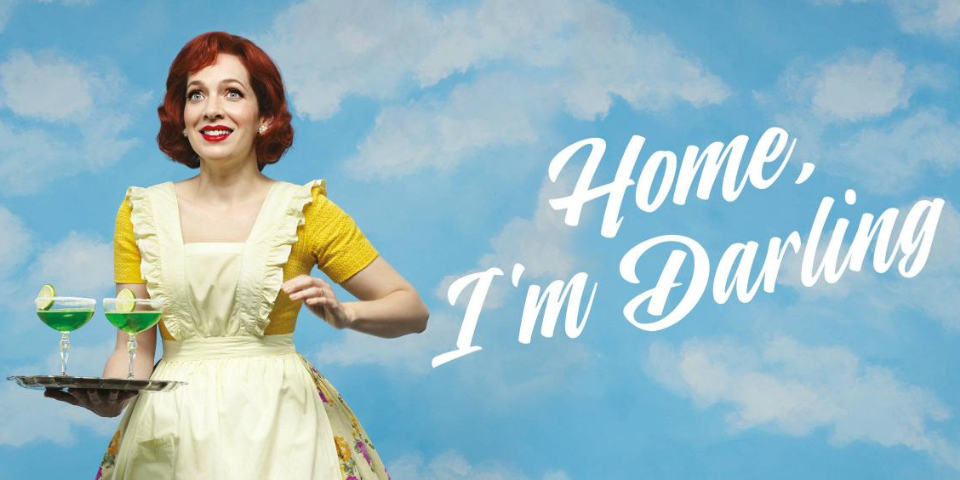 Olivier Award winning 'Home, I'm Darling' now available
26 Jul
This Olivier Award® winning play for Best New Comedy (2019) is now available for amateur licensing!
Following a sold out run at London's National Theatre in 2018, Laura Wade's new play
Home I'm Darling
premiered in Australia at the Melbourne Theatre Company in 2020 to rave reviews and was followed by a highly successful season at Sydney Theatre Company in 2021.
Home, I'm Darling
Laura Wade
Full Length Play, Comedy
2M, 4F
Judy is the perfect '50s housewife. Her appearance, her home, her cooking, are all true to the 1950s. She is the perfect homemaker to her realtor husband, Johnny, preparing the perfect soft-boiled eggs with buttery toast for breakfast, mixing cocktails and dancing in the evenings.
The only problem is, it's not the 1950s, it's now, and being a domestic goddess isn't as easy as it looks...
Home, I'm Darling is Laura Wade's new dark comedy about sex, cake and the quest to be the perfect 1950s housewife.

REVIEWS

****
"A searing critique of nostalgia ... Genevieve Blanchett's spectacular set and costumes, alongside immaculate lights, music, and choreography, are a crucial foil to the finely tuned dialogue ... Director Jessica Arthur draws strong performances from the ensemble cast." Andrea Demetriades' Judy is "a dazzlingly perfect creation."
-- Sydney Morning Herald
****
Andrea Demetriades is "glorious as Judy. In a triumphant performance, she conveys all the difficult layers, able to accommodate our conflicting feelings about a woman and her dubious choices, keeping us simultaneously challenged, enthralled and entertained."
-- Time Out
****
"A roundly entertaining and sumptuous-looking comic foray into the false calls of nostalgia."
-- Limelight
"The production is high-end in all respects. Designer Genevieve Blanchett's split-level doll's house set is appropriately fabulous ... Her costume designs for Judy are wow-worthy."
-- Audrey Journal
"A must-see stage show"

-- The Saturday Paper

"Will make you laugh, even as it challenges your prejudices"

-- The Age
Click HERE to buy the script or apply for a licence
Image from the National Theatre and Theatr Clwyd production in London (UK), starring Katherine Parkinson as Judy.