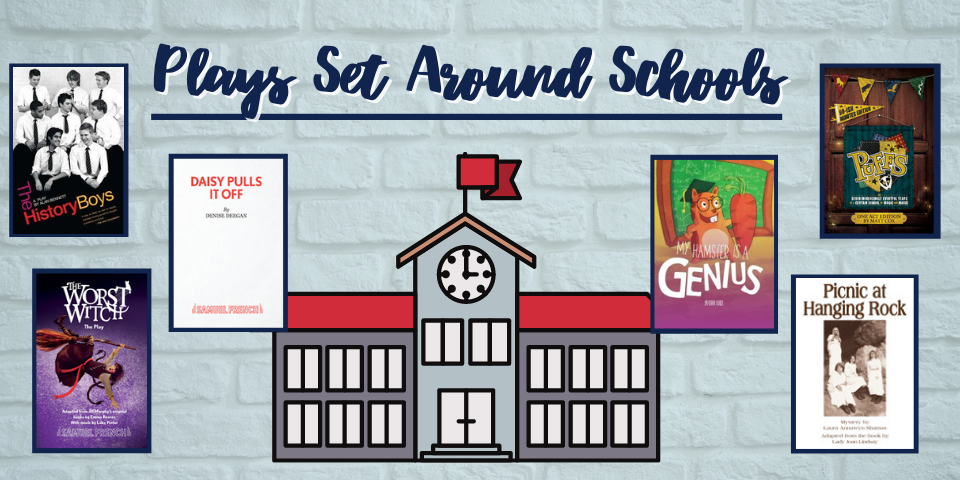 Plays set around schools
11 Feb
This week we take a look at our favourite plays set in and around schools.
Denise Deegan
Full Length Play, Comedy, 1920s
CASTING: 2M, 18F
Daisy Meredith, the new girl, is the first scholarship student to attend the Grangewood School for Girls. The privileged students are determined to make Daisy look bad in the eyes of the administration.
The administration has its own problems, financial ones. Daisy wins over her chums and saves the school when she cracks a secret code, finds a treasure and saves the life of her chief nemesis all on the same night!
A long running success in London's West End, this inventive spoof of English school girl adventure novels delights American audiences.
REVIEWS:
It's a perfectly ripping yarn. - Daily Telegraph
Absolutely spiffy, not to mention 'scrummy'. - Sunday Express
Alan Bennett
Full Length Play, Dramatic Comedy, 1980s
CASTING: 11M, 1F
An unruly bunch of bright, funny sixth-form (senior) boys in a British boarding school are, as such boys will be, in pursuit of sex, sport, and a place at a good university - generally in that order. In all their efforts, they are helped and hindered, enlightened and bemused, by a maverick English teacher who seeks to broaden their horizons in sometimes undefined ways, and by a young history teacher who questions the methods, as well as the aim, of their schooling.
REVIEWS:
Madly enjoyable! - The New York Times
Nothing could diminish the incendiary achievement of this subtle, deep-wrought and immensely funny play about the value and meaning of education...In short, a superb, life-enhancing play. - The Guardian
Matt Cox
Full Length Play, Comedy, Contemporary
CASTING: 5M, 5F, 1M or F
For seven years a certain boy wizard went to a certain Wizard School and conquered evil. This, however, is not his story. This is the story of the Puffs... who just happened to be there too. A tale for anyone who has never been destined to save the world.
The New York Times proclaims PUFFS, "A FAST PACED ROMP through the 'Seven Increasingly Eventful Years at a Certain School of Magic and Magic.' For POTTERphiliacs who grew up alongside Potter and are eager to revisit that world, PUFFS exudes a jovial, winking fondness for all things Harry!"
By Laura Annawyn Shamas. Based on the book by Joan Lindsay.
Full Length Play, Drama, Mystery/Thriller
CASTING: 8M, 18F
For a group of Australian schoolgirls, a romantic Valentine's Day outing ends in an intriguing mystery. What has happened to the three seniors and the mathematics teacher on the top of the jagged peaks of Hanging Rock?
Based on the Joan Lindsay runaway bestseller Picnic at Hanging Rock -- also the source of the acclaimed Peter Weir film -- this exciting new play explores a baffling disappearance which takes its toll on a small community in the Australian countryside. Who in the large cast is responsible for the crime?
Dave Lowe
Short Play, Comedy, TYA, Contemporary
CASTING: 4M, 3F, 4M or F
Nine-year-old Ben Jinks wants a pet, but a talking hamster wasn't on his wish list. When Ben is given a pet hamster, he's underwhelmed: until the hamster (which he has already unfortunately named 'Stinky') turns out to be a genius - a genius who helps him with his homework.
Ben's sudden improvement at school attracts the suspicion of his family - and the attention of his teacher, the horrible Beardy McCreedy. When Ben smuggles Stinky into school one day, for help with a test, the results are disastrous. But when Ben's house is burgled, Stinky can identify the culprits. And together, one boy and his hamster make a plan to trap the criminals and save the day.
M. G. Davidson
Short Play, Comedy, Contemporary
CASTING: 3M, 3F, 2M or F
Ah, high school. The best/worst four years of your life! The friends, the memories, the life lessons, and of course the...inevitably haunting embarrassments that will leave emotional scars for years to come!
Join a group of real life high school students as they uncover the wonders/perils of gym class, the marvels/horrors of field trips, the joy/humiliation of prom, and many more of the numerous fond/traumatizing aspects of life as a high school student.
Jonathan Rand
Short Play, Comedy, Contemporary
CASTING: 30M or F
Want to know the easiest way to make it through the grueling abyss known as high school? A group of student agents infiltrate an assembly to demonstrate their secret tips and tricks, ranging from legally changing your name to get around roll call, to using Tom Cruise to help memorize science terms. High school will never be the same.
Adapted by Emma Reeves. Music by Luke Potter. From the Books by Jill Murphy.
Full Length Play, Adaptations (Literature), Comedy, Contemporary
CASTING: 10F
A stage adaptation of the beloved and best-selling series of children's novels, The Worst Witch.
Mildred Hubble is an ordinary girl who found herself in an extraordinary place: a school for witches. Now in her final year at Miss Cackle's Academy, accident prone Mildred and her fellow pupils are about to embark on their biggest adventure yet…
When Mildred and her friends decide to put on a play about their experiences as witches in training, mayhem inevitably ensues. Jealous Ethel Hallow is always out to spoil Mildred's fun. Stern Miss Hardbroom is opposed to all fun in general. Worst of all, an old enemy returns with a plan for revenge that could threaten not just the Academy, but the whole world.