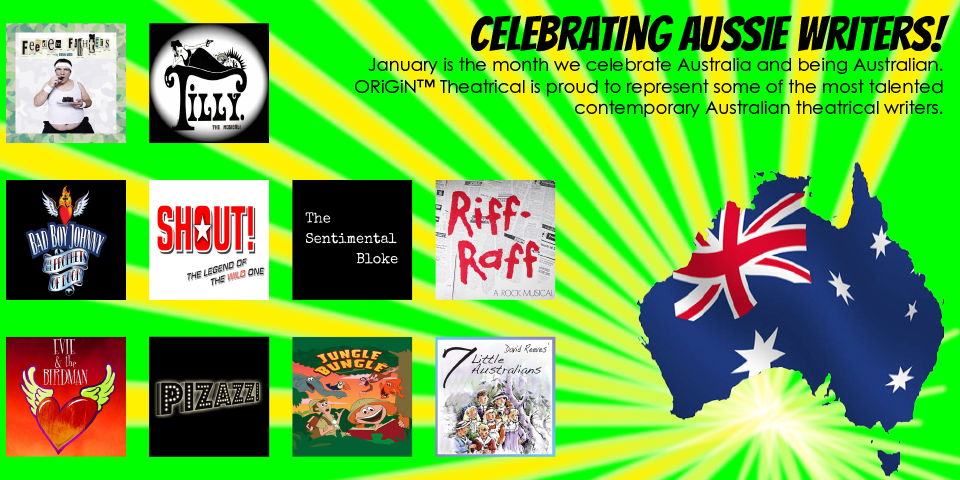 Home-grown Aussie talent
14 Jan
January is the month we celebrate Australia and being Australian.
ORiGiN™ Theatrical is proud to represent some of the most talented contemporary Australian theatrical writers.
WHO IS YOUR FAVOURITE AUSSIE THEATRICAL WRITER?
VOTE HERE
via Facebook.
Here are some of our favourites:
Full Length Musical, Australian, Drama, 1900-1910
Casting: 6M, 6F
Ethel Turner's classic tale has been taken to heart by young and old since 1894. It has been re-told in film, a television series and a stage musical. The book has been translated into nine languages and has never been out of publication in over a hundred years.
Backing tracks available.
Full Length Play, Comedy, Present Day
Casting: 5M, 1F
Daryl Lucas is a fat, happily married soft-drink salesman living on the NSW Central Coast, until the day he walks in on his cheating cougar wife and her young Pilates instructor. Feedem Fighters is a seemingly innocuous comedy but below the waistline it canvasses issues and themes that touch the public's collective soul in the perplexing duality of this image-obsessed/food-obsessed society we now find ourselves in.
Full Length Musical, Drama, 1950's
Casting: 15M, 3F
A great Aussie musical epic about the rise, fall and rise again of Australian music ledged Johnny O'Keefe. This musical charts the beginning of teenage culture in Australia and the beginning of Australian rock. It tells the story of a young man setting out on the journey of his life with dynamism verve and ambition.
Full Length Musical, Adventure, Children
Casting: 1M, 1F
Join two school kids, Claire and Oliver, on an exciting musical safari created to engage the young and young at heart in a magical adventure. JUNGLE BUNGLE explores the theme of fear of the unknown while celebrating friendship, individuality and imagination.
Full Length Musical, Comedy, Drama
Casting: 5M, 4F, 1M or F
ALTAR BOY... ROCK STAR... POPE...
Johnny is an altar boy who plays mean guitar, sings in a rock band and after starring on a reality TV show gets voted by the public to be the new Pope! Johnny becomes the most powerful religious leader on Earth... and His Church is built on solid ROCK!
Featuring a very catchy and original rock/pop score, BAD BOY JOHNNY is funny, sad, powerful, passionate, uplifting and shocking. It's a roller coaster ride through modern times.
Full Length Musical, Comedy, Drama, Contemporary
Casting: 2M, 2F, 7M or F
"Evie & The Birdman" is a highly entertaining, pop musical with a very memorable and varied score. A story about a musician from a small country town who moves to the city to sign a record contract with a big business conglomerate. They have sinister plans for the country boy which back-fire when he becomes an overnight sensation. A fast moving high-energy show, aimed at high school students, young adults and all those who can remember being young.
Full Length Musical, Period Piece / Historical, Drama, 20th Century
6M, 6F
Tilly traces the rise to fame of Tilly Devine from London prostitute at the end of World War I to reigning "Bordello Queen" of Sydney. A wonderful toe tapping retro feel, bringing "fun - laughs - good times" and many opportunities for a talented cast to excel in various colourful roles. Looking back over her life, Tilly at her fiftieth birthday party is once again the centre of scandalous headlines and Front Page News!
Full Length Musical, Adaptations (Literature), Drama
Casting: 18M, 13F
Our own Australian musical is based on the poems of C.J. Dennis. Set in Melbourne, the story of Doreen and Bill, Rose, Ginger and Mick, opened in Canberra in 1961 before a subsequent J.C. Williamson Australasian tour.
Riff Raff
- Phil Sumner, Jan McDonald and Greg Sneddon
Full Length Musical, Drama, Contemporary
Casting: 3M, 2F
Riff-Raff is a musical - a rock musical which speaks to the young people of today about problems that face them. The language is that of the young people and the most important message throughout the script, and shouted in a painful climax, is the right of young people to question the direction they are moving in.
PIZAZZ!
- Bill Gleeson and Kristine Killburn
Full Length Musical, Comedy
Casting: 5M, 5F
The story tells of the trial and tribulations of a musical company before the opening night of their production. The backstage life and loves threaten the success of almost everything -- but they still manage to have a lot of fun along the way.
Caroline
- By Peter N. Pinne and Don Battye (from an idea by Leila Blake)
A Musical Play based on the life and times of Caroline Chisholm
Casting: 7M, 4F
Caroline has been prepared especially for High School production. Teachers and educationalists alike have praised this musical for its entertaining qualities and ability to involve students of all interests and skills. This story of the "Lady on the five dollar note" is set in Sydney between the years 1840 and 1954 and provides ample chorus work for citizens, government officials, miners, camp followers, immigrant wives and settlers.