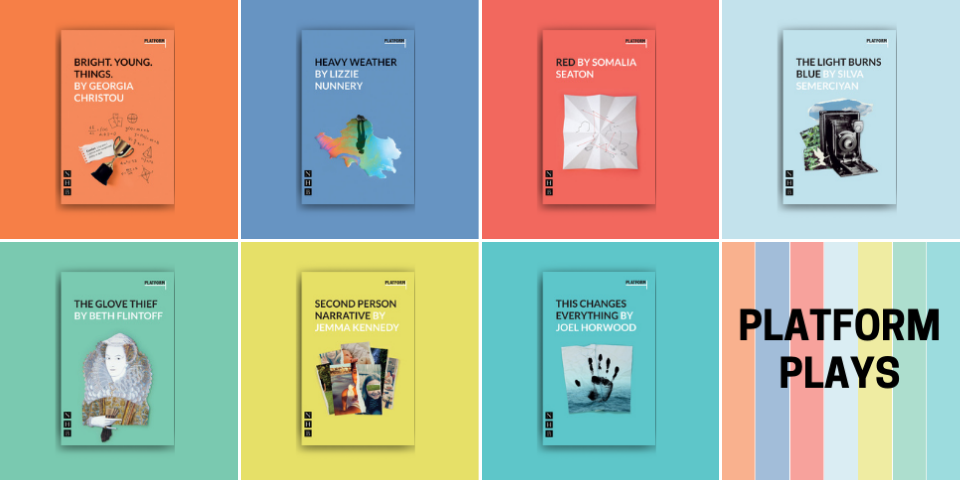 Introducing! Platform Plays for young female actors
2 Dec
Plays that put young women and their stories at the heart of the action.
Platform is an initiative from Tonic Theatre in partnership with Nick Hern Books. Aimed at addressing gender imbalance in theatre, Platform comprises big-cast plays with predominantly or all-female casts, written specifically for performance by young actors.
Joel Horwood
Full Length Play, Drama, Contemporary
Cast: 20F
A Group of disillusioned young women have disappeared. On a platform out at sea, they have formed The Community -- a new type of society and a better way of living. But how can you change the world if you've taken yourself out of it?
"We can't change things here, that's the whole point, no one listens to us or cares, the only way we're gonna change things is by going somewhere else, starting afresh."
Beth Flintoff
Full Length Play, Drama, 16th Century / Elizabethan
Cast: 14F, 7M
The year is 1569, and in a cold, stone room in a Staffordshire castle, a group of women sew elaborate tapestries. Rich or poor, at home or held against their will, four women's lives intersect on the point of a needle.
Embroidery is their escape, their sanity, and their expression: of love, loss, artistry and power. For these women's stitches have the power to change not just their own lives, but the course of English history.
Inspired by the tapestries created when Mary Queen of Scots was imprisoned by her cousin Queen Elizabeth I.
"They did not understand, you see, that what is stitched with a needle is not always innocent... Needles are dangerous."
Somalia Seaton
Full Length Play, Drama, Contemporary
Cast: 5F
When her best friend Jay goes missing, Dee withdraws into a twilight world of fragmented memories and conversations, shattered by her grief. Where should she look for Jay? What did she miss? What did Jay say? And what couldn't she say?
Somalia Seaton's play Red is an unflinching and bold exploration of the internal lives of young women.
"Maybe she just doesn't wanna be found, maybe that last day she felt freedom was when she ran, and she just didn't stop, maybe that was it."
Silva Semerciyan
Full Length Play, Drama, Contemporary
Cast: 9F, 1M
During the First World War, seventeen-year-old Elsie Wright fools the world into believing she has photographed fairies in her garden. An ambitious young reporter seeks to expose Elsie as a fraud. But as she looks at the facts, she begins to think there's more to Elsie's story than a simple hoax.
Inspired by the true story of the Cottingley Fairies.
"Do you love what you do? Because I loved making the photographs. I loved the feeling of taking charge. Putting things in the frame, taking them out again. Writing with my eyes."
Jemma Kennedy
Full Length Play, Drama, Contemporary
Cast: 7F
You're born a girl. You grow up. You grow old. You die. But who is in control of your life story? Can you actually choose your destiny? And how do you forge your own identity along the way?
"Off you go then and best of luck
It's bound to be different this time though some of it might seem familiar
The big questions, we mean
The beginnings, middles, endings, et cetera
Still, not to worry, it's all a work-in-progress"
Lizzie Nunnery
Full Length Play, Drama, Contemporary
Cast:5F, 3M or F
Mona is a young woman on the edge. All she sees is the Earth falling apart, but no one really seems to care. Amidst the chaos of competing and contradictory voices, she sets off on a kaleidoscopic journey to find solutions for the planet – and the truth about her family – in the hope that everything might start to make sense again.
Lizzie Nunnery's Heavy Weather is a powerful, timely play featuring songs, about one girl's journey through a world teetering on the brink.
'The sky. The water. The air. It won't keep snapping back. You can't keep refreshing the screen. A lie is not a white lie, or a half-lie or a false truth or fake news… It's a lie and we call it a lie, or everything's cracking underneath us.'
Georgia Christou
Full Length Play, Drama, Contemporary
Cast: 7F, 8M or F
On a reality television show, six remarkable – and remarkably young – geniuses are competing for the coveted Golden Brain trophy and the title 'Britain's Brainiest Child'. As the contestants battle it out round after round, the pressure mounts, the spotlight gets harsher, and each is faced with questions they were never expecting. Who will win and who will lose – and what exactly does winning mean anyway?
Georgia Christou's Bright. Young. Things. is a funny, fast-paced play about identity, truth and the challenge of finding out who you really are.
'People don't like it when things come easier to you. They don't like being around someone who makes them feel stupid. They don't like… me.'