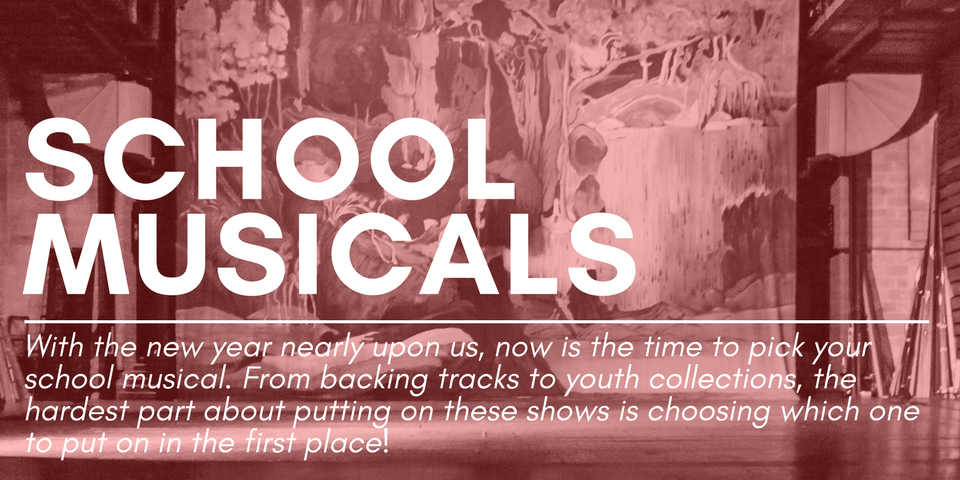 Have You Picked Your Next School Musical?
8 Nov
With the new year nearly upon us, now is the time to pick your school musical. From backing tracks to youth collections, the hardest part about putting on these shows is choosing which one to put on in the first place!
---
TRW SCHOOL EDITIONS
TRW School Editions have been carefully edited, with additional director's notes throughout, to make these popular Broadway and Off-Broadway shows more producible for high school groups. In some cases problematic language has been changed, while in others an alternate choice is offered at the discretion of the director.
---
TRW YOUNG@PART
Perfect for schools and youth groups, these 65-70 minute authorized editions of your favourite Broadway musicals are tailor-made for young performers, with great parts for girls, boys, and any sized ensemble.
---
TAMS-WITMARK YOUNG PERFORMERS' EDITIONS
The Tams-Witmark Young Performers' Edition musicals are one-hour adaptations of Broadway musicals specially tailored for primary school and middle school aged children. The materials have been prepared to help your school or organisation mount the best possible production and to give your actors an exciting and rewarding experience.
ANYTHING GOES
|
CRAZY FOR YOU
|
THE WIZARD OF OZ
|
42ND STREET
Music and Lyrics by Joe Iconis. Book by Joe Tracz. Based on the novel by Ned Vizzini.
Full Length Musical, Dark Comedy, Present Day
CASTING: 6M, 4F
Jeremy Heere is just an average teenager. That is, until he finds out about "The Squip" -- a tiny supercomputer that promises to bring him everything he desires most: a date with Christine, an invite to the raddest party of the year and a chance to survive life in his suburban New Jersey high school. But is being the most popular guy in school worth the risk?
Book, Music and Lyrics by Kevin Murphy and Laurence O'Keefe.
Full Length Musical, Dark Comedy, 1980s
CASTING: 12M, 10F
By Chris D'Arienzo.
Full Length Musical, Comedy, 1980s
CASTING: 9M, 11F, 10M or F
Book by James Kirkwood and Nicholas Dante. Music by Marvin Hamlisch. Lyrics by Edward Kleban.
Full Length Musical, Drama, Contemporary
CASTING: 11M, 12F
Music and Book by Andrew Lloyd Webber. Lyrics by Charles Hart. Book and Additonal Lyrics by Richard Stilgoe. Based on the novel 'Le Fantôme de l'Opéra' Gaston Leroux.
Full Length Musical, Drama, Melodrama
CASTING: 6M, 4F
It is 1911 and the contents of the Paris Opera House are being auctioned off. Present are the auctioneer, porters and bidders. Raoul, now seventy years old and in a wheelchair, buys a poster and a music box. As the auctioneer displays the Opera House chandelier, he explains that it is connected with the legend of The Phantom of the Opera. With a flash of light, the audience is flung back in tome, when the Paris Opera was it its height.
Music by Richard Rodgers. Lyrics by Oscar Hammerstein II. Book by Howard Lindsay and Russel Crouse.
Full Length Musical, Drama, 1930s
CASTING: 6M, 12F
When a postulant proves too high-spirited for the religious life, she is dispatched to serve as governess for the seven children of a widowed naval Captain. Her growing rapport with the youngsters, coupled with her generosity of spirit, gradually captures the heart of the stern Captain, and they marry.
Upon returning from their honeymoon they discover that Austria has been invaded by the Nazis, who demand the Captain's immediate service in their navy. The family's narrow escape over the mountains to Switzerland on the eve of World War II provides one of the most thrilling and inspirational finales ever presented in the theatre.
Music by Tom Snow. Lyrics by Dean Pitchford. Stage Adaptation by Dean Pitchford and Walter Bobbie. Additional Music by Eric Carmen, Sammy Hagar, Kenny Loggins and Jim Steinman.
Full Length Musical, Comedy, Contemporary
CASTING: 8M, 9F
When Ren and his mother move from Chicago to a small farming town, Ren is prepared for the inevitable adjustment period at his new high school. What he isn't prepared for are the rigorous local edicts, including a ban on dancing instituted by the local preacher determined to exercise control over the town's youth that he cannot command in his own home.