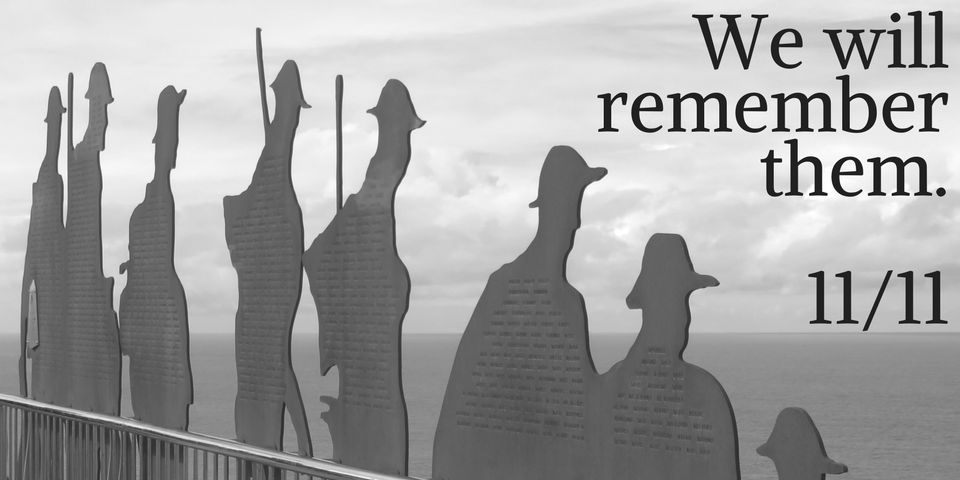 We will remember them 11/11
11 Nov
Theatre plays an important role in commemorating the Great War. 2018 marks 100 years since the end of the First World War and a century of playwrights being inspired to tell the tragic stories of war. If you are thinking about a war theme play for your season in 2018, here are some ideas.
By Gerald Sibleyras. Translated by Tom Stoppard.
Full Length Play, Comedy, 1950s
3M
"Tom Stoppard's contribution is of course his magnificent wit and choice of scintillating language." - Curtain Up Review
Heroes is set in August 1959 in a home somewhere in France for retired military men. The play takes place outside on a terrace in the garden of a convent hospital where Philippe and Henri are hatching a plan to escape.
John Wilson
Full Length Play, Docudrama/Historic, Drama, 1910s / WWI
13M
Private Hamp is a nonentity, a creature whose undistinguished simplicity borders on simple-mindedness. The primitive machinery of war has plucked him from the grime of a Lancashire mill town and flung him down in the bloodsoaked mud of Passchendaele so that he may enjoy the privilege of meeting an unceremonious death in the service of his native land.
R.C. Sheriff
Full Length Play, Drama, 1910s / WWI
10M
R.C. Sherriff's ground-breaking play remains one of the most powerful and successful pieces of modern drama and one of the most acclaimed examples of literature that deals with the tragedy and horror of conflict.
Set over the course of four days leading up to a massive German attack on the British trenches in 1917, Journey's End charts the tension and claustrophobia as the new recruit to the company, Lieutenant Raleigh, discovers that Captain Stanhope, his former childhood friend and hero, has changed almost beyond recognition.
Adapted for the stage by Nicholas Wright Pat Barker
Full Length Play, Drama, 1910s / WWI
8M, 1F
A powerful anthem for the youth of World War One that offers a compassionate look at war and its devastating effects. Adapted from Pat Barker's Booker Prize-nominated novel.
Regeneration tells the story of a brilliant doctor tasked with taking shell-shocked soldiers, curing them and then heartbreakingly having to send them once again back onto the battlefield. A brand new release.
By Sebastian Faulks Adapted by Rachel Wagstaff
Full Length Play, Drama, 1910s / WWI
11M, 3F
"No child or future generation will ever know what this was like, will ever understand."
Based on Sebastian Faulk's international bestselling novel, Birdsong tells the story of a soldier haunted by his past.
PRIVATE PEACEFUL (ENSEMBLE VERSION)
Michael Morpurgo Simon Reade
Full Length Play, Drama, 1910s / WWI
14M, 5F
Private Peaceful relives the life of Private Tommo Peaceful, a young First World War soldier awaiting the firing squad at dawn.
During the night, he looks back at his short but joyful past growing up in rural Devon: his exciting first days at school; the accident in the forest that killed his father; his adventures with Molly, the love of his life; and the battles and injustices of war that brought him to the front line.
This adaptation is for ensemble casts - a version for solo actors is also available here.
W. Somerset Maugham
Full Length Play, Drama, 1910s / WWI
6M, 6F
For Services Rendered sheds a harrowing light on provincial middle-class England after the First World War by revealing the devastating effects of the conflict on one particular family.
Charles Chiltern Gerry Raffles Joan Littlewood Ted Allan
Full Length Musical, Drama, 1910s / WWI
11M, 4F
The scheme for a chronicle of the First World War, told through son's and document's in the form of a seaside pierrot. A modern classic that has since been adapted for the screen.
Stephen MacDonald
Full Length Play, Drama, 1930s, 1910s / WWI
2M
This moving play is about the poetic life and the relationship between two of the finest Great War poets: Wilfred Owen who died and Siegfried Sassoon who didn't. Told by means of letters and poetry, Not About Heroes paints a vivid picture of the war.
Dorian Mode
Full Length Play, Drama, 1980s, 1910s / WWI
4M, 2F
Based on historical events, Millie's War is set in the 1980s when a number of women attempted to join official ANZAC Day marches across Canberra to commemorate women raped in war.
With this dramatic backdrop, Millie's War is set largely in the boardroom of an RSL Club. When the sleepy local branch of this RSL meet with the women in order to dissuade them from upsetting their sacred parade of remembrance. Tempers soon reach boiling point as each side argues the case for the importance of commemorating victims of war.