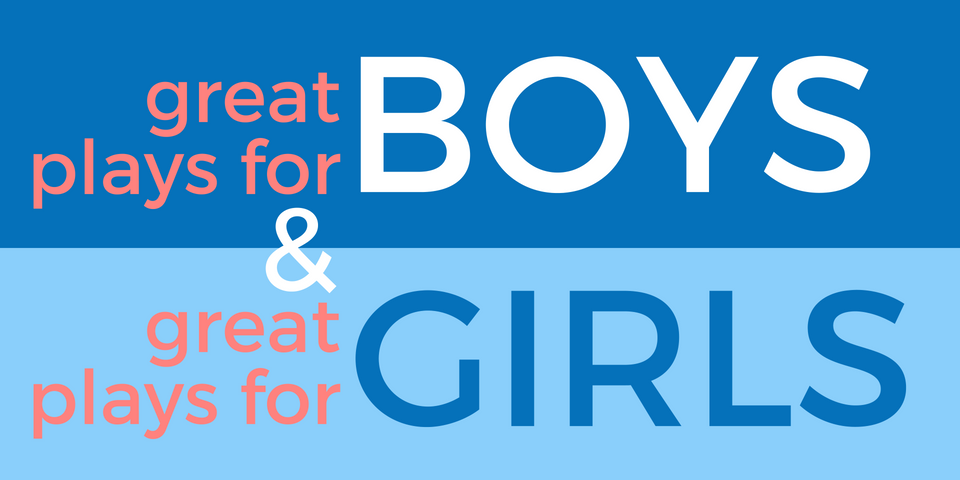 Great plays for Boys. Great Plays for Girls.
14 Aug
If you're looking for a play for your students to perform and have a cast of mainly boys or mainly girls, then this list of plays from Samuel French will have what you're looking for. With a selection of great plays for boys and great plays for girls, these shows are now available to perform.
Do you have a combined cast of boys and girls? Then we have included some great play recommendations for your students as well.
GREAT PLAYS FOR BOYS:
Alan Bennett
Full Length Play, Dramatic Comedy, 1980s
11M, 1F
An unruly bunch of bright, funny sixth form boys are in pursuit of sex, sport, and a place at a good university - generally in that order. In all their efforts, they are helped and hindered, enlightened and bemused, by a maverick English teacher who seeks to broaden their horizons in sometimes undefined ways, and by a young history teacher who questions the methods, as well as the aim, of their schooling. A multi-award winning play!
Steve Harper
Short Play, Drama, 1940s / WWII
7M
Set in 1941, in World War II, we follow the story of 7 men aboard a Lancaster heavy bomber aircraft. Each man carries their own fears and anxieties with them on the voyage. Can they complete their mission safely?
Graham Linehan
Full Length Play, Dark Comedy, Mystery/Thriller, 1950s
6M, 2F
A gang of crooks face off with a sweet little old lady in this classic black comedy that has been re-imagined for the stage by Graham Linehan the comedic tour de force behind classics such as Father Ted and The IT Crowd.
James Goss & Arvind Ethan David. Based on the novel by Douglas Adams.
Full Length Play, Comedy, Contemporary
10M, 4F
Douglas Adams' famous detective is on the case of a gruesome murderer. Join Dirk and discover the interconnectedness of everything whilst pondering the universe with a good slice of pizza.
Agatha Christie
Full Length Play, Mystery/Thriller, Drama, 1940s / WWII, Contemporary
8M, 3F
Ten guilty strangers are trapped on an island. One by one they are accused of murder; one by one they start to die. Christie's most popular show is a nail-biting, timeless thriller.
GREAT PLAYS FOR GIRLS:
Rebecca Russell, Jenny Wafer
Full Length Play, Drama, Present Day, Contemporary
6F
"Divorced, beheaded, died, divorced, beheaded, survived…". Admired, vilified, de-humanised. Three Catherines, two Annes and a Jane. Six women with one thing in common – marriage to a man called Henry.
Anthony Neilson
Full Length Play, Drama, Contemporary
3M, 10F
Lisa Jones is on a journey in search of one lost hour that has tipped the balance of her life. The only way to correct this 'temporal disturbance' is to descend to an underworld called Dissocia and retrieve the hour she's lost from the Lost Property Office. The inhabitants of the world she finds herself in are a curious blend of the funny, the friendly and the brutal.
Jaki McCarrick
Full Length Play, Drama, 19th Century
5F
Escaping the Irish famine in 1850 five young women seek passage on a ship to Australia. For many of the 'orphan girls' on board, the voyage offers a fresh start. But some girls find they cannot escape the memory of the lives they've left behind.
Caryl Churchill
Full Length Play, Drama, Contemporary, 1980s
7F
Marlene has been promoted to managing director of a London employment agency and is celebrating with a fantasy lunch attended by great women of history and legend. A powerful examination of female power and sacrifice.
Moira Buffini
Full Length Play, Drama, Present Day
11M, 6F, 2M or F
Two young women arrive in a nameless small-town. Their names are not their own. They don't declare their ages. Are they vampires? Or are they troubled young women on the run? As people start disappearing questions will need to be answered.
GREAT PLAYS FOR A COMBINED CAST OF BOYS AND GIRLS:
Ken Davenport
Full Length Play, Comedy, 1980s
11M, 8F
The Awesome 80s Prom is a brand new blast-from-the-past party in the style of Tony 'n Tina's Wedding and The Donkey Show set at Wanaget High's Senior Prom... in 1989! All your favorite characters from your favorite '80s movies are at THE PROM and just like on 'American Idol', the audience decides who wins!
Don Zolidis
Full Length Play, Parody / Spoof, Comedy, Mystery/Thriller, Contemporary
3M, 3F, 2M or F
A murder mystery whodunnit that parodies fashion design challenges on reality TV.
The police are tipped off that a murder is about to take place on the live TV show Project Design. Detective Carol-Ann Perkins wants a shot to catch the culprit and become a famous star...
Qui Nguyen
Full Length Play, Dark Comedy, Adventure, Contemporary
3M, 5F
A new action-packed samurai story set inside the halls of an all-American high school. From playwright Qui Nguyen who penned She Kills Monsters.
Eric Ulloa
Full Length Play, Drama, Docudrama/Historic, New Millennium/21st Century
2M, 4F
Similar in style to The Laramie Project, playwright Eric Ulloa conducted interviews with members of the community in Newtown and crafted them into an exploration of gun violence and a small town shaken by a horrific event.
Rebecca Schlossberg
Full Length Play, Dramatic Comedy, Docudrama/Historic, Contemporary, 1970s
8M or F
The Untold Yippie Project is an ensemble-based drama that examines friendship and violence, painting a picture of a both divided and united America.