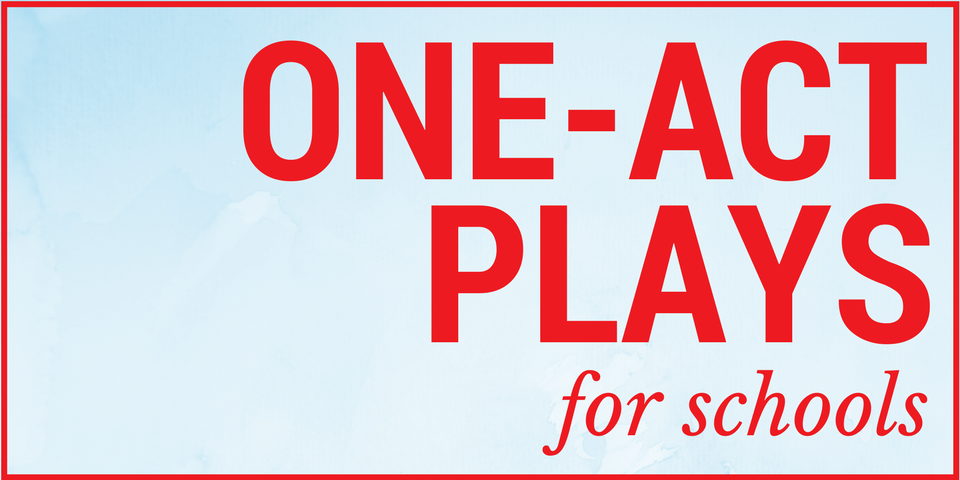 Explore Our Most Popular One-Act Plays
6 Mar
Looking for that perfect short play for the new school year? We've got you covered with a collection of some of our most popular one-act plays for schools.
---
By Don Zolidis
Short Play, Comedy, Drama, Contemporary
CASTING: 3M, 10F, 11M or F
A new theatre teacher is bringing a production of A Chorus Line to the high school. Though the hopefuls range from shy to outrageous, and from diva-like to determined, everyone has a chance to step into the spotlight. A hilarious and heartbreaking look at the madness of auditioning and the actors who brave the process for that perfect part.
By Eugene Ionesco. Translated by Donald Watson.
Short Play, Drama, Contemporary
CASTING: 3M, 3F
This is a hilariously maniacal assault on the banality of English suburbia. A family is discussed, every member of which is called Bobby Watson; a young couple is alarmed to find that they have been married for years. For such people, words can have no meaning. The play ends in a crescendo of non-sequiturs.
By Jonathan Rand
Short Play, Comedy, Contemporary
CASTING: 7M, 7F
Dating can be hard. Especially when your date happens to be a raging kleptomaniac, or your grandmother's bridge partner, or a mime. Check Please follows a series of blind dinner dates that couldn't get any worse -- until they do. Could there possibly be a light at the end of the tunnel?
By Dennis Kelly
Short Play, Drama, Contemporary
CASTING: 11M or F
Some teenagers do something bad, really bad, then panic and cover the whole thing up. But when they find that the cover-up unites them and brings harmony to their once fractious lives, where's the incentive to put things right?
By Alan Ayckbourn
Short Play, Comedy, Contemporary
CASTING: 22M or F
This is a bright comedy by the famous English comic playwright about the extraordinary powers of Ernie Fraser, a dreamer with a difference. Ernie has a vivid imagination; and his thoughts have the disconcerting habit of turning into reality.
By Celeste Raspanti
One Act, Drama, 1940s / WWII
CASTING: 2M, 2F
Celeste Raspanti has extracted a beautiful and moving one-act play based on the poetry created in a concentration camp by the Jewish children of Prague.
By Terry Gabbard
One Act, Comedy, Drama, Contemporary
CASTING: 7M, 7F
The unassuming location of a dock extending out onto a small lake serves as the backdrop for five different stories. The entire ensemble gathers on the dock together for the final scene. In a poetic epilogue, they all discover the true meaning of Our Place -- both comedic and tragic.
By Tom Stoppard
Short Play, Comedy
CASTING: 5M, 3F
Feuding theatre critics Moon and Birdboot, the first a fusty philanderer and the second a pompous and vindictive second stringer, are swept into the whodunit they are viewing. In the hilarious spoof of Agatha Christie-like melodramas that follows, Moon and Birdboot become dangerously implicated in the lethal activities of an escaped madman.
By Peter Bloedel
Short Play, Comedy
CASTING: 6M, 6F, 12M or F
A whimsical reinvention of Shakespeare's tragic love story, complete with rhymed couplets, creative wordplay, and fantastical machines -- similar to something Dr. Seuss might have come up with if he ever had his way with the script...
By Stephen Gregg
One Act, Comedy, Contemporary
CASTING: 15M or F
As the ticking clock reminds you, only 60 minutes remain to complete this oh-so-important predictor of your future. But you didn't get the review sheets, the teacher doesn't like you and your classmates are blatantly cheating. And things aren't going to get better!
---
Looking for something else? Find all of our one-acts and short plays
HERE!