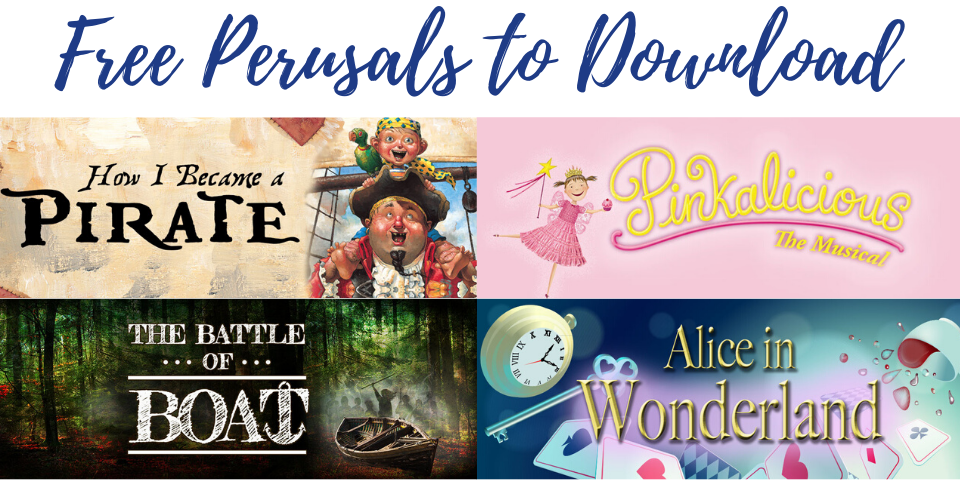 Free Perusals
24 Mar
If you're stuck at home, we have something for you...
Musicals for young audiences - Download the perusals to read for free
Janet Yates Vogt and Mark Friedman
Full Length Musical, TYA, Fantasy/Adventure
Casting: 7M
Braid Beard and his mates enlist young Jeremy Jacob, as they try to find the perfect spot to bury their treasure. Jeremy finds that adventuring can be lots of fun, but also learns that love and home are treasures you can't find on any map! The whole family will love this delightful and swashbuckling musical adventure!
Terrific songs like A Good One to Boot, Green Teeth, I'm Really Just a Sensitive Guy, Talk Like a Pirate, Soccer by the Rules, Pirates Dot Arrgh, and many others will have your audience rolling in the aisles and leaving the theatre secretly wishing for Captain Braid Beard and the gang to one day pay them a visit. Arrgh!
Jenna Donnelly, Ethan Lewis Maltby
Full Length Musical, Backing Tracks, Drama, 1910s / WWI
Casting: 7M, 7F
The Battle of Boat is a courageous tale of a group of children trying to find their place in a world at war in 1916. Frustrated by their inability to join the soldiers in battle, the children decide to do whatever it takes to help in the war effort. However, they soon have to tackle their own conflict in the form of a local gang of bullies who will stop at nothing to see every plan they form fail. Heartwarming, funny, emotional and exciting, this original new musical is a true celebration of the steadfast British spirit that shone through during WWI.
Victoria Kann, Elizabeth Kann, John Gregor
Full Length Musical, Comedy, TYA, Present Day, Fantasy
Casting: 3M, 3F
This is the tale, based on the popular book by Victoria Kann and Elizabeth Kann, of Pinkalicious, who can't stop eating pink cupcakes despite warnings from her parents. Her pink indulgence lands her at the doctor's office with Pinkititis, an affliction that turns her pink from head to toe - a dream come true for this pink loving enthusiast. But when her hue goes too far, only Pinkalicious can figure out a way to get out of this pink predicament.
Janet Yates Vogt and Mark Friedman
Full Length Musical, Backing Tracks, Comedy, TYA
Casting: 8M, 3F, 2 M/F
This brand new musical version of the timeless classic takes you down the rabbit hole with zany characters, mad tea parties, flamingo croquet on the lawn, and tap dancing playing cards, all in a land where nothing is as it seems. The ever-curious Alice, the White Rabbit, Tweedle-Dee and Tweedle-Dum, the Mad Hatter, the Caterpillar, the Mock Turtle, the mysterious Cheshire Cat, the Queen of Hearts, and all your favorites from Lewis Carroll's beloved books, Alice's Adventures in Wonderland and Through the Looking Glass make this a magical, tuneful, and over-the-top entertaining musical for the whole family!