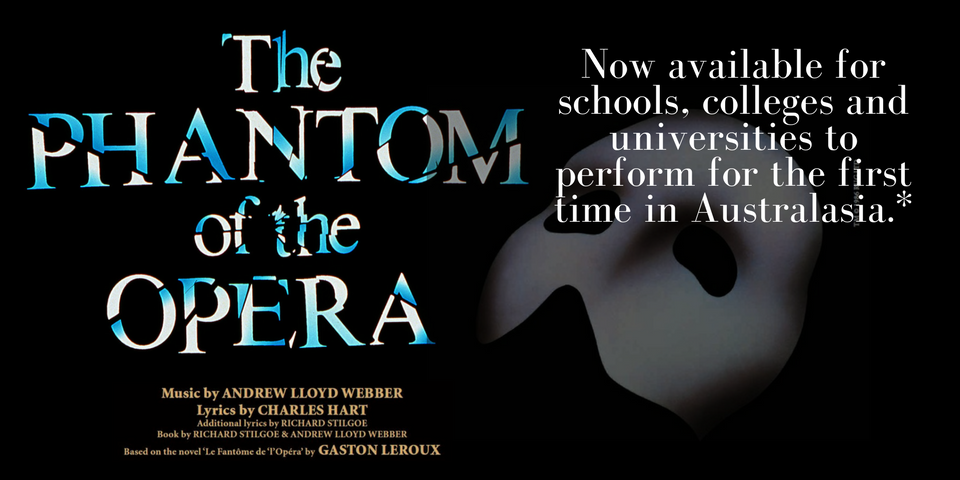 THE PHANTOM OF THE OPERA
12 Jun
THE PHANTOM OF THE OPERA
Music by Andrew Lloyd Webber
Lyrics by Charles Hart
Additional lyrics by Richard Stilgoe
Book by Richard Stilgoe & Andrew Lloyd Webber
Based on the novel 'Le Fantôme de l'Opéra' by Gaston Leroux

THE PHANTOM OF THE OPERA
is now available for schools, colleges and universities to perform for the first time in Australasia.*
It is with great excitement, that Origin Theatrical announce the availability of
The Phantom of the Opera
to be performed by schools, colleges and universities in 2018 and 2019 in Australasia.*
The Phantom of the Opera
is a perfect way to introduce young people to the pleasures and mysteries of a live theatre experience. In these days of film and video,
The Phantom of the Opera's
unforgettable score and breathtaking spectacle can show students that the theatre is an exciting and vital place.
As well as being a sweeping, fantastic story,
The Phantom of the Opera
evokes ideas and concepts that run through history and literature: the outcast, the mythology of beauty and the beast, the use of the mask, women in Victorian society and the power of music. Students will learn that ideas and language which seem dry and dull on the page come vividly to life on stage.
Excerpt from Study Guide written by Peter Royston.
*All productions must be on your own premises.
"I am delighted that Phantom is available to be performed by
schools and colleges for the first time. Good luck and have fun!"
-- Andrew Lloyd Webber

VIDEO: Stanwell's School Production 2012
Need help with hiring set, props and costume pieces for your production?
Contact the following theatre companies:
Miranda Musical Society, Sydney
CLOC, St Kilda
Windmill Theatre Co, Dandenong
New Plymouth Operatic, New Zealand
Performance Tools Available from Realtime Music SolutionsRMS Coach:
An innovative software package you can download and install on your PC or Mac. It means you can rehearse, effectively, away from the rehearsal room and just about anything you can imagine a piano coach doing to teach a musical number can be done with RMS Coach: isolate parts, mute them entirely, bring them up or down in volume, speed up, slow down, transpose, vamp and much, much more.
Sinfonia:
The industry leader in orchestra enhancement, when you can't put together a full band.
RMS Keyboards:
An easy way to get the unique, hard-to-find keyboard sounds required by many musicals.
RMS Mix:
So much more than just tracks!
Contact
Realtime Music Solutions
for more information.
APPLY FOR A LICENCE / MORE INFORMATION