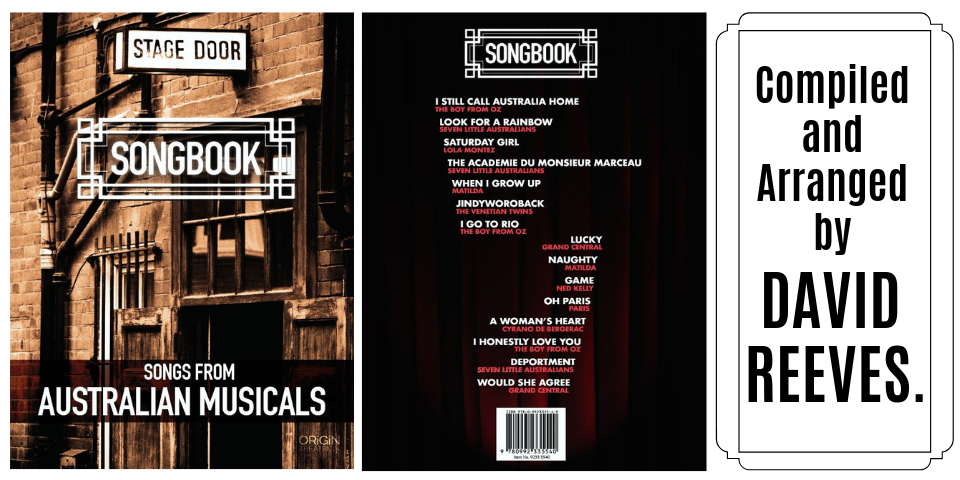 New - Stage Door Songbook
24 Mar
ORiGiN™ Theatrical is proud to be an Australian owned and operated company representing great Australian stories and authors.
That is why we commissioned seasoned professional
David Reeves
to edit and arrange 15 songs from Australian musicals.
The numbers contained in this book come from a diverse group of productions, nine original shows, all with a powerful Australian creative link. They have been chosen on strict criteria including box office success as well as public reception. All the numbers in this volume are written in the style of the traditional musical. Each with a clear melody line, supporting relevant story enhancing lyrics, not necessarily written just for the Australian market.
The Songbook contains the following songs:
1
I Still Call Australia Home (The Boy from Oz)
2
Look For A Rainbow (Seven Little Australians)
3
Saturday Girl (Lola Montez)
4
The Academie Du Monsieur Marceau (Seven Little Australians)
5
When I Grow Up (Matilda)
6
Jindyworoback (The Venetian Twins)
7
I Go To Rio (The Boy from Oz)
12
A Woman's Heart (Cyrano de Bergerac)
13
I Honestly Love You (The Boy from Oz)
14
Deportment (Seven Little Australians)
15
Would She Agree (Grand Central)
*************************************************
As a companion to our Songbook we have launched "Stage Door Stories of Australia" a new series of stories that will feature Australian authors.
The first story from our Stage Door series was researched and written by
Dorian Mode
and features the great
Peter Stannard
composer of Lola Montez and Rosie who sadly passed away last year.