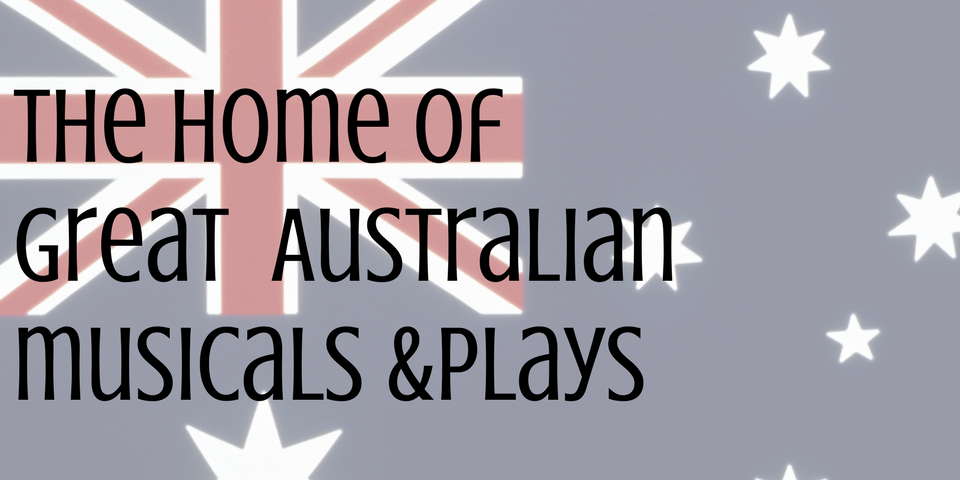 The home of great Australian musicals and plays.
8 Aug
Baz Luhrmann
Full Length Musical, Drama, Contemporary
9M, 7F
The inspiring story of a championship ballroom dancer who defies all the rules to follow his heart.
Featuring songs from the 1992 hit film including "Love is in the Air", "Perhaps, Perhaps, Perhaps" and "Time After Time", as well as new songs from internationally acclaimed artists and composers such as Sia, David Foster and Eddie Perfect.
Sally Perricone
Full Length Musical, Romantic Comedy, Comedy, Present Day, Contemporary
3M, 3F
MILF The Musical is a hilarious story of housewife and mother, Kate, whose life is shattered by revelations of her husband, Jason's, alleged infidelity by way of the social media website, 'face page'.
John Field
Full Length Musical, Drama, Contemporary
6M, 5F
WHO LOVES ME? is a fast, new, modern pop musical about coffee, obsession, the mambo, fireworks and love on the six o'clock news. Written by 3 time APRA award winning writer John Field, WHO LOVES ME? bounds off the page – a story with a massive heart and mesmerising score!
Craig Christie
Full Length Musical, Drama, 21st Century
4M, 10F
A rock musical fable of four teenagers caught in a situation they can't control, as their lives online have real world consequences. An exciting and engaging production that uses an energetic, fast paced narrative and an edgy original contemporary musical soundtrack.
John Field
Full Length Musical, Backing Tracks, Comedy/Drama, Contemporary
2M, 2F, 7M or F
Evie & The Birdman is a wild, totally original piece of contemporary, pop musical theatre with a very memorable and varied score. It's fast moving and aimed at high school students, young adults and all those who can remember being young.
Book by John-Michael Howson, David Mitchell and Melvyn Morrow.
Full Length Musical, Drama, 1950's, 1960s
8M, 10F
DUSTY tells the story of Mary O'Brien who the world knew as Dusty Springfield. In the 1960s Dusty Springfield takes the entertainment world by storm with a score of hits, a top TV show and a legion of fans. She was the most influential British female artist of the 60's. Known as the White Lady of Soul, she was responsible for bringing the Motown sound to the UK. But the success she wanted is hollow and real happiness eludes her.
Written by Stephan Elliott and Allan Scott.
Full Length Musical, Feel-Good, Comedy, Drama
9M, 4F
Based on the Oscar-winning movie, PRISCILLA QUEEN OF THE DESERT the Musical is the heart-warming, uplifting adventure of three friends who hop aboard a battered old bus searching for love and friendship and end up finding more than they could have ever dreamed of. Bursting with a hit parade of dancefloor favourites, this wildly fresh and funny musical is a journey to the heart of FABULOUS!
Book by John-Michael Howson, David Mitchell and Melvyn Morrow.
Full Length Musical, Australian, Drama, 1950's
15M, 3F
The musical production based on the life and times of Johnny O'Keefe the undisputed King of Australian Rock and Roll. Johnny's rise, fall and rise again is a great Aussie musical epic. This musical charts the beginning of teenage culture in Australia. It charts the beginning of Australian rock. It tells the story of a young man setting out on the journey of his life with dynamism verve and ambition.
By Dorian Mode
Full Length Play, Australian, Comedy, Present Day
5M, 1F
Daryl Lucas is a fat, happily married soft-drink salesman living on the NSW Central Coast, until the day he walks in on his cheating cougar wife and her young Pilates instructor. Feedem Fighters is a seemingly innocuous comedy but below the waistline it canvasses issues and themes that touch the public's collective soul in the perplexing duality of this image-obsessed / food-obsessed society we now find ourselves in.
By Mel Morrow and Justin Fleming.
Full Length Play, Period Piece / Historical, Drama, 19th Century, New Millennium/21st Century
11M, 6F
The Saint Mary MacKillop. Possibly Australia's first feminist; certainly a role model to women and men alike. Her Holiness combines humour and drama in dealing with life and death battles and survival in Australia - then and now.
Book, Music and Lyrics by David Reeves.
Full Length Musical, Australian, Drama, 1900-1910
6M, 6F
The story is an Australian classic written some one hundred and fifteen years ago by Ethel Turner. This is a powerful love story between an inhibited father and a very uninhibited daughter, told through song and dance. It tells of the love that is not always easily expressed between a man and woman, a father and daughter, in fact that which is often so confused between the generations. Captain Woolcot was one such man and his journey and the journeys of the ones he loves so dearly are compellingly revealed in this musical production.
Daniel Abineri
Full Length Musical, Australian, Comedy, Drama
5M, 4F, 1M or F
In a world not unlike our own, a baby boy is born to a teenage girl called Mary. She's a good mother, but so poor she's forced to work as a prostitute to feed her baby son. And so begins a very different version of the greatest story ever told. Bad Boy Johnny and The Prophets Of Doom is a rock'n'roll extravaganza about an altar boy who becomes the worlds first rock Pope. It premiered in Melbourne in 1989 and featured a young Russell Crowe in the title role. 'Bad Boy Johnny' won two International Pater Awards™ for best libretto and score, and spawned a cast album on WEA Records and a top ten single in Australia. A revival tour in the UK in 2010 reignited interest in this cult musical.
Music and Lyrics by Tony Rees, Lyrics by Gary Young, Book by Maurenn Ann Moran
Full Length Musical, Period Piece / Historical, Drama, 20th Century
6M, 6F
Tilly traces the rise to fame of Tilly Devine from London prostitute at the end of World War I to reigning "Bordello Queen" of Sydney. A wonderful toe tapping retro feel , bringing "fun - laughs - good times" and many opportunities for a talented cast to excel in various colourful roles. Looking back over her life, Tilly at her fiftieth birthday party is once again the centre of scandalous headlines and Front Page News!