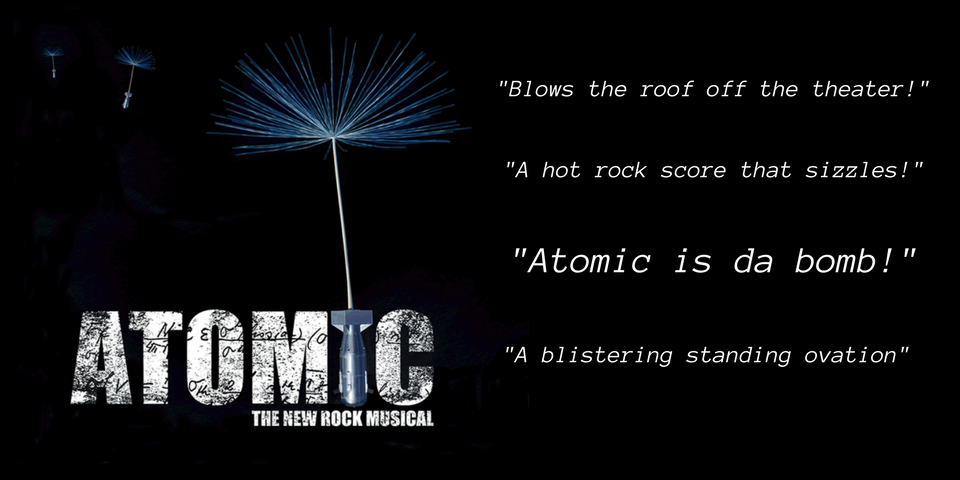 Atomic
1 Nov
Sydney October 26 2017 – ORiGiN Theatrical is thrilled to announce the representation of
ATOMIC The New Rock Musical for the world.
Book and Lyrics by Danny Ginges.
Music and Lyrics by Philip Foxman.
Created by Danny Ginges.
Synopsis
Most people know about the atom bombs that ended WWII. However, the story of the scientists that created those bombs is a gripping tale of hope and fear that still remains largely untold. Particularly the story of Leo Szilard, the man who first conceived the means to harness atomic energy; alerted the US Government to the threat of a Nazi atomic bomb; co-designed the world's first nuclear reactor; and then, once Germany had surrendered, tried to prevent his creation's use against Japanese cities. It's the story of Frankenstein's monster with far higher stakes. And it actually happened.
Cast: 5M, 2F + Ensemble(optional 1M and 1F understudy)
Band Parts:Piano, Keyboard, Guitars, Bass Guitar/Double Bass, Cello, Drums, Violin.
Productions
NIDA SHOWCASE SYDNEY - November 16-30 2013
If there's a tighter, more creative musical production anywhere in Australia this year, please lead me to it" - Stage Whispers (Sydney 2013)
ACORN THEATRE NYC - June 26 to August 17 2014
"Both interesting and moving... Philip Foxman's music is beautiful" - The New Yorker (New York 2014)
"Intelligent, thought provoking with a hot rock score that sizzles" - Times Square Chronicle (New York 2014)
"Compulsively watchable... blows the roof off the theatre" - Theatremania (New York 2014)
MEADOW BROOK THEATRE MICHIGAN - February 10 to March 6 2016
"The music and songs are exhilarating" - The Monitor (Michigan 2016)
"A story most people should know and don't. Surprisingly good as a musical" - The Monitor (Michigan 2016)
NEW LINE THEATRE ST LOUIS - June 2-25, 2016
"It might be the most cerebral rock musical ever written" - St Louis Post-Dispatch (St. Louis 2016)
"Atomic is an artistic triumph!" – Broadway World (St. Louis 2016)
Awards
2015 Drama Desk Finalist - Outstanding Actor in a Musical -Jeremy Kushnier, Atomic
2017 AWGIE Winner - Music Theatre - Danny Ginges with Philip Foxman, Atomic