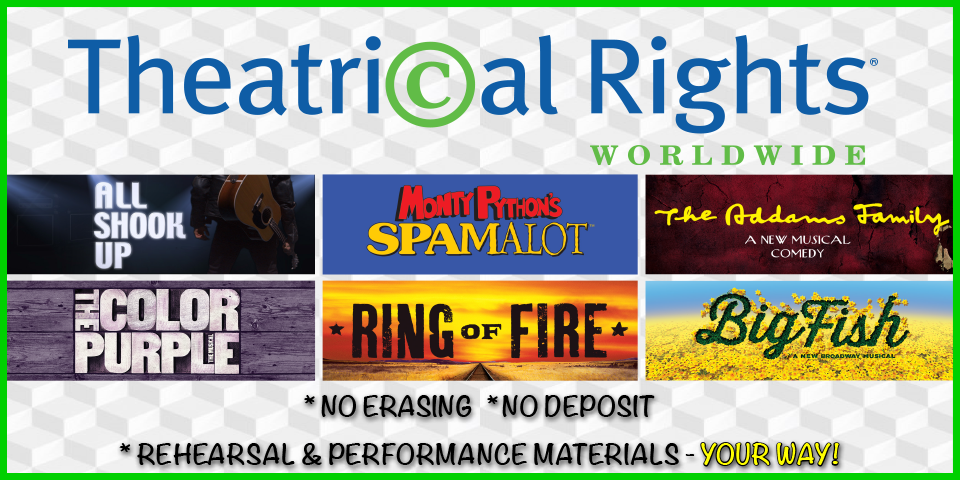 The Best From Broadway
21 Sep
Theatrical Rights Worldwide offer world class titles and symphonic experiences with loads of perks!
* No Erasing!
* No Deposit!
* Rehearsal and Performance Materials -- YOUR WAY!
---
From Broadway:
Book by John August. Music and Lyrics by Andrew Lippa.
Full Length Musical, Drama, Present Day, Past
CASTING: 10M, 8F, 1M or F
Based on the celebrated novel by Daniel Wallace and the acclaimed film directed by Tim Burton,
Big Fish
centres on Edward Bloom, a travelling salesman who lives life to its fullest... and then some! Edward's incredible, larger-than-life stories thrill everyone around him -- most of all, his devoted wife Sandra. But their son Will, about to have a child of his own, is determined to find the truth behind his father's epic tales.
More information
Book by Joe DiPietro. Inspired by and featuring the songs of Elvis Presley.
Full Length Musical, Drama, 1950s
CASTING: 5M, 5F
It's 1955, and into a square little town in a square little state rides a guitar-playing roustabout who changes everything and everyone he meets in this hip-swiveling, lip-curling musical fantasy that'll have you jumpin' out of your blue suede shoes with such classics as "Heartbreak Hotel," "Jailhouse Rock," and "Don't Be Cruel."
More information
Book and Lyrics by Eric Idle. Music by John Du Prez.
Full Length Musical, Comedy, Medieval England
CASTING: 6M, 1F
Lovingly ripped off from the classic film comedy Monty Python and the Holy Grail, Spamalot retells the legend of King Arthur and his Knights of the Round Table, and features a bevy of beautiful show girls, not to mention cows, killer rabbits, and French People. Did we mention the bevy of beautiful show girls?
Book by Marshall Brickman and Rick Elice. Music and Lyrics by Andrew Lippa.
Full Length Musical, Comedy, Present Day
CASTING: 6M, 4F
The Addams Family features an original story, and it's every father's nightmare. Wednesday Addams, the ultimate princess of darkness, has grown up and fallen in love with a sweet, smart young man from a respectable family -- a man her parents have never met. And if that weren't upsetting enough, Wednesday confides in her father and begs him not to tell her mother. Now, Gomez Addams must do something he's never done before -- keep a secret from his beloved wife Morticia.
Conceived by Bill Meade. Created by Richard Maltby, Jr.
Full Length Musical, Drama
CASTING: 4M, 4F
From the iconic songbook of Johnny Cash comes this unique musical about love and faith, struggle and success, rowdiness and redemption, and home and family. A set of gifted singers and instrumentalists sing through some of the greatest songs of one of America's most brilliant singer/songwriters, Johnny Cash. Though he is never impersonated, his remarkable life story is told through his music, climaxing in a concert hall that will both move and exhilarate.
---
Symphonic Experience:
Book by Marsha Norman. Music by Jason Robert Brown. Based on the book by E.B. White.

E.B. White's classic novel about a trumpeter swan born without a voice, is now a brilliant symphonic concert experience for the whole family.
In 1979, Monty Python's Life of Brian turned the Biblical epic on its head. Now, the creators of Spamalot turn classical music on its ear!
---
Looking for something different? Find all TRW musicals
HERE
!