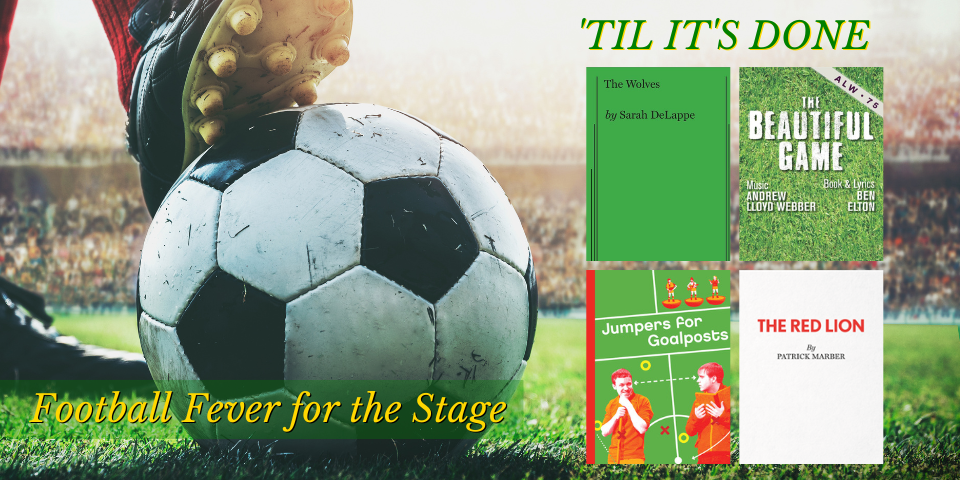 'TIL IT'S DONE
15 Aug
FOOTBALL FEVER FOR THE STAGE

With the Matilda's captivating the nation and playing on the world's biggest stage, we are celebrating football fever with a look through our catalogue at musicals and plays about football for the stage.

THE WOLVES
Sarah DeLappe
Full Length Play, Dramatic Comedy, Contemporary
Cast:10F
Left quad. Right quad. Lunge. A girls indoor soccer team warms up. From the safety of their suburban stretch circle, the team navigates big questions and wages tiny battles with all the vim and vigor of a pack of adolescent warriors. A portrait of life, liberty, and the pursuit of happiness for nine American girls who just want to score some goals.

CRITIC'S PICK! "The scary, exhilarating brightness of raw adolescence emanates from every scene of this uncannily assured first play by Sarah DeLappe." - The New York Times
"DeLappe has created an ensemble of distinct female characters without leaning on romantic partners or traditional feminine tropes to define them." - Theatremania
(a.k.a. The Boys in the Photograph)
Book and Lyrics By Ben Elton. Music By Andrew Lloyd Webber.
Full Length Musical, Romance, Comedy, Sports, Drama, 1970s
Cast: 6M, 6F, 6M or F
Andrew Lloyd Webber and Ben Elton?s musical is the story of ordinary people in an extraordinary situation. The award-winning musical follows the fortunes of a group of teenagers, all members of a local football team, and their friends.
"Lloyd Webber has written a memorable, passionate score and Elton's book is genuinely touching and filled with humour." - The Stage
JUMPERS FOR GOALPOSTS
Tom Wells
Full Length Play, Dramatic Comedy, Contemporary
Cast: 4M, 1F
A hilarious and heart-warming comedy about football, friendship and finding your way.
Though on-field success is what they're after, it's how five very different personalities support each other off the field that lies at the heart of this unsentimental, utterly charming, feel-good story.
"Generous, warm-hearted and packed with telling, often very funny detail" - Evening Standard "Blissfully funny but at times deeply affecting too... the dialogue is blessed with sharp one-liners... what makes [Tom Wells] so special is his gift of making the small change of everyday lives shine so brightly'" - Telegraph
THE RED LION
Patrick Marber
Full Length Play, Drama
Cast: 3M
Passion. Loyalty. Salvation. Small time semi-pro football, the non-league. A world away from the wealth and the television cameras. A young player touched with brilliance arrives from nowhere. An ambitious manager determines to make him his own. And the old soul still has dreams of glory.
A haunting and humorous new play about the dying romance of the great English game -- and the tender, savage love that powers it.