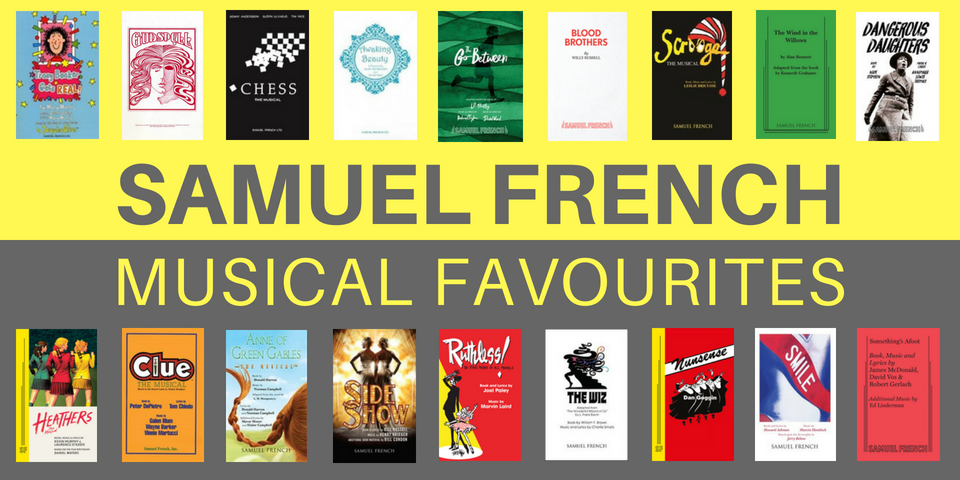 Samuel French Musical Favourites
30 May
Explore our collection of musical favourites from Samuel French.
Book by William F. Brown. Music and Lyrics by Charlie Smalls.
Full Length Musical, Comedy
6M, 5F, 4M or F
The New Musical Version of The Wonderful Wizard of Oz by L. Frank Baum.
Move on down the Road! Winner of 7 Tony awards, this beloved Broadway musical sets Dorothy's adventures in the Land of Oz to music in a dazzling, lively mixture of rock, gospel, and soul! This beloved classic musical is one of the most popular selection in the Samuel French Catalog, and is appropriate for theatres at all levels. Adapted into a film version featuring Michael Jackson and Diana Ross.
Book, Music & Lyrics by Laurence O'Keefe and Kevin Murphy.
Full Length Musical, Dark Comedy, Adaptations (Stage & Screen), 1980s
9M, 9F
Based on the classic 1989 film, Westerberg High is ruled by a shoulder-padded, scrunchie-wearing junta: Heather, Heather and Heather, the hottest and cruelest girls in all of Ohio. But misfit Veronica Sawyer rejects their evil regime for a new boyfriend, the dark and sexy stranger J.D., who plans to put the Heathers in their place - six feet under.
Book and Lyrics by Bill Russell. Music by Henry Krieger.
Full Length Musical, Drama, 1930s
14M, 7F
Based on the legendary Hilton twins, Daisy and Violet, Side Show follows their heartwarming search for love and acceptance amidst the spectacle of fame. This version is the updated book and score from the 2014 revival.
Music and Lyrics by Norman Campbell. Adapted Book and Lyrics by Donald Harron. From the novel by L.M. Montgomery.
Full Length Musical, Comedy, Backing Tracks, 1900-1910
12M, 17F
The classic tale of an orphan girl, Anne, who rises from destitution to happiness in the farm country entirely by virtue of her pluck and personality. Anne's adventures at Green Gables, the farm owned by her new caretakers, are both comical and heartwarming.
Book and Lyrics by Marsha Norman. Music by Lucy Simon.
Full Length Musical, Drama, 1900-1910
13M, 11F
This enchanting classic of children's literature is reimagined in brilliant musical style by composer Lucy Simon and Marsha Norman, the Pulitzer Prize-winning playwright of Night Mother.
Orphaned in India, 11 year-old Mary Lennox returns to Yorkshire to live with her embittered, reclusive uncle Archibald and his invalid son Colin. The estate's many wonders include a magic garden which beckons the children with haunting melodies and the "Dreamers," spirits from Mary's past who guide her through her new life, dramatizing The Secret Garden's compelling tale of forgiveness and renewal.
Book by Peter DePietro. Music by Galen Blum, Wayne Barker and Vinnie Martucci. Lyrics by Tom Chiodo.
Full Length Musical, Comedy, Mystery/Thriller, Present Day
5M, 3F
The internationally popular game is now a fun filled musical which brings the world's best know suspects to life and invites the audience to help solve the mystery: who killed Mr. Boddy, in what room and with what weapon. The audience receives forms to help them deduce the solution from clues given throughout the fun filled evening. Three audience members choose from cards representing the potential murderers, weapons and rooms; there are 216 possible solutions! Only one hard-nosed female detective is qualified to unravel the merry mayhem.
By Dan Goggin.
Full Length Musical, Comedy, Present Day
5F
The show is a fund raiser put on by the Little Sisters of Hoboken to raise money to bury sisters accidently poisoned by the convent cook, Sister Julia (Child of God). Updated with new jokes, additional lyrics, two new arrangements and a brand new song, this zany musical has been videotaped for television starring Rue McClanahan as the Mother Superior.
Book and Lyrics by Howard Ashman. Music by Marvin Hamlisch.
Full Length Musical, Comedy, Contemporary
6M, 7F
This touching and satiric musical by the creators of Little Shop of Horrors, A Chorus Line and They're Playing Our Song, follows the intrigue and exploits onstage and behind-the-scenes as Santa Rosa, California plays host to the Young American Miss Pageant.
Book and Lyrics by Joel Paley. Music by Marvin Laird.
Full Length Musical, Parody/Spoof, Farce, Comedy, Contemporary, 1960s, 1950s
6F
Eight-year-old Tina Denmark knows she was born to play Pippi Longstocking, and she will do anything to win the part in her school musical. Anything includes murdering the leading lady!
This aggressively outrageous musical hit garnered rave reviews during its long Off-Broadway run which opened with Britney Spears in the leading role.
Book, Music and Lyrics by Robert Gerlach, David Vos and James A. McDonald. Additional Music by Ed Linderman.
Full Length Musical, Backing Tracks, Comedy, 1930s, 19th Century
6M, 4F
A zany, entertaining musical that takes a satirical poke at Agatha Christie mysteries and musical styles of the English music hall of the '30s.
Ten people are stranded in an isolated English country house during a raging thunderstorm. One by one they're picked off by cleverly fiendish devices. As the bodies pile up in the library, the survivors frantically race to uncover the identity and motivation of the cunning culprit.
Book, Music and Lyrics by Leslie Bricusse.
Full Length Musical, Backing Tracks, Christmas/Holiday, Dramatic Comedy, 19th Century, Victorian (British and American)
11M, 5F
In 1970, renowned writer-composer-lyricist Leslie Bricusse adapted the well-loved Dickens short story "A Christmas Carol" into the hit screen musical "Scrooge".
This stage version, based on the film, with the addition of six new songs, had a hugely successful tour of England before a season at London's Dominion Theatre in 1996 staring Anthony Newley as the miserly Ebenezer Scrooge who repent his past life when visited by three successive Christmas spirits.
Conceived and Originally Directed by John-Michael Tebelak. Music and New Lyrics by Stephen Schwartz.
Full Length Musical, Drama
5M, 5F
This immensely successful rock opera needs little introduction, but when it was first produced on Broadway in 1971 it broke new ground in its stage treatment of the historical Jesus Christ. Based on the Gospel according to St Matthew it deals with the last days of Jesus, and includes dramatized versions of several well-known parables. And yet it is something more - a religious experience, a demonstration of joy, and a celebration of the family of man.
Book, Music and Lyrics by Willy Russell.
Full Length Musical, Drama, 1960s, 1980s, 1970s
5M, 3F
Blood Brothers, by the author of Educating Rita and Shirley Valentine, is a haunting rags to riches tragedy of our times. A woman with numerous children to support surrenders one of her new born twins to the childless woman she cleans for. The boys grow up streets apart, never learning the truth but becoming firm friends and falling in love with the same girl. One prospers while the other falls on hard times. A narrator warns that a price has to be paid for separating twins: the lives of the blood brothers, who die on the day they find out they are related.
Music by Benny Andersson. Music by Björn Ulvaeus. Lyrics by Tim Rice.
Full Length Musical, Drama, Period, 1950s, 1980s
9M, 2F, 1M or F
This highly acclaimed musical develops the ancient and distinguished game of chess into a metaphor for romantic rivalries and East-West political intrigue.
The principal pawns form a love triangle: the loutish American Grandmaster, the earnest Russian champion, and the Hungarian-American female chess second, who arrives at the international championships with the American but falls for the Russian.
From Tyrol to Thailand the players, lovers, politicians, CIA and KGB make their moves to the pulse of this monumental rock score. Several numbers, including 'One Night in Bangkok' and 'I Know Him So Well', are international hits.
By Alan Bennett. Adapted from the book by Kenneth Grahame.
Full Length Musical, Comedy
25M or F
This ingenious adaptation of the classic children's novel created a sensation at the National Theatre of Great Britain. Here are Badger, Rat, Mole and Toad of Toad Hall in the familiar tale with a contemporary slant.
Book and Lyrics by Alan Ayckbourn. Music by Denis King.
Full Length Musical, Comedy
5M, 5F
Ever wondered what else happened to Sleeping Beauty when she finally woke up in the 21st century? Alan Ayckbourn provides the answer with this alternative seasonal fare in the musical Awaking Beauty.
Love, lust, triplets and the ultimate in makeovers are just some of the milestones our heroes and heroines must pass before they can all live happily ever after. The four major roles are for two men and two women with six narrators playing a variety of other characters as well as providing the vocal harmonies and as astonishing range of sound effects!
Book by Nick Stimson. Music and Lyrics by Annemarie Lewis Thomas.
Full Length Musical, Drama, Docudrama/Historic, 1910s / WWI
3M, 11F
The lives and loves of Christabel, Sylvia and Adela Pankhurst, the three daughters of Emmeline Pankhurst, the figurehead of Britain's radical Suffragette movement.
The musical tells the stories of these three remarkable sisters set against the First World War and other great events of the time. The story culminates with the victory of the Suffragettes and the disintegration of the Pankhurst family.
Book and Lyrics by David Wood. Music and Lyrics by Richard Taylor.
Full Length Musical, Drama, Adaptations (Literature), 1950s
8M, 3F
Leo Colston -- a man haunted by the events of his past -- vividly recalls his unwitting role acting as a go-between for the beautiful upper-class Marian and the tenant-farmer Ted. Their illicit love affair drags young Leo into an adult world of passion and intrigue. This haunting, ambitious musical by Richard Taylor and David Wood is a deeply moving coming-of-age story, exploring the shadows the past can cast on the present.
Based on the classic novel by L.P. Hartley, the West End production of this award-winning musical starred Michael Crawford.
Book and Lyrics by Mary Morris. Music and Additional Lyrics by Grant Olding. Based on the Novel "The Story of Tracy Beaker" by Jacqueline Wilson.
Full Length Musical, Drama, Adaptations (Literature), TYA, Contemporary
2M, 4F, 10M or F
The most popular teenager in Britain come to the stage! Tracy Beaker Gets Real has been adapted by Mary Morris with music by Grant Olding from one of the most successful children's books ever, Jacqueline Wilson's The Story of Tracy Beaker.