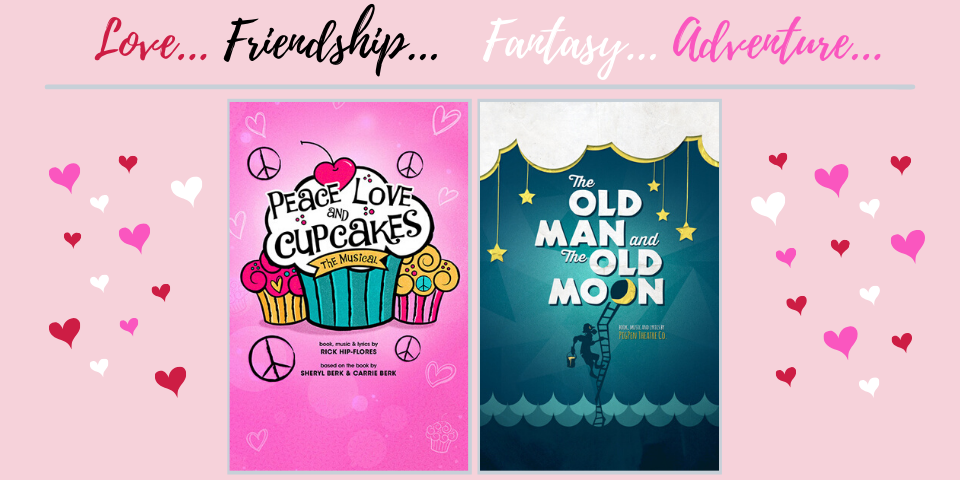 Love... Fantasy... Friendship... Adventure...
13 Feb
For your fix of Love... Fantasy... Friendship... Adventure...
Read free perusals of new musicals -
Peace, Love and Cupcakes
or
The Old Man and the Old Moon
.
PEACE, LOVE, AND CUPCAKES
Book, Music & Lyrics by Rick Hip-Flores
Full Length Musical, Backing Tracks, Comedy, TYA, Contemporary
Casting: 4M, 9F
Based on the bestselling children's book series, Kylie Carson has a big problem: she's different. And different isn't necessarily a good thing in 7th grade. She loves vampires, zombies, and all things pertaining to monster movies–one of the many reasons why kids at her new school avoid her like the Creature from the Black Lagoon.
To sweeten up her image–and find a place where she belongs–Kylie starts a cupcake club (Peace, Love & Cupcakes), attended by three other socially invisible girls. Together, they forge a powerful friendship, figure out how to create crowd-pleasing cupcakes, and become a booming baking business that would make Martha Stewart envious. But when Meredith Mitchell, Blakely Middle School's resident Queen Bee, tries to sabotage their efforts, will Kylie have the courage to stand up to the bully and bring the school together?
A musical that celebrates kid power, friendship, and standing up for who you are and what you believe in.
***
THE OLD MAN AND THE OLD MOON
Pigpen Theatre Co.
Full Length Musical, Drama, Fantasy/Adventure
Casting: 7M or F
The Old Man has kept his post as the sole caretaker of the moon for as long as he (or his wife, the Old Woman) can remember. When she is drawn away by a mysterious melody sparking memories of their shared past, the Old Man must decide between duty (and routine) and love (and adventure).
Luckily for audiences everywhere, he chooses the latter, and what follows is an imaginative sea-faring epic, encompassing apocalyptic storms, civil wars, leviathans of the deep, and cantankerous ghosts, as well as the fiercest obstacle of all: change.
Also available:
THE OLD MAN AND THE OLD MOON - Large Cast Version (unlimited roles)