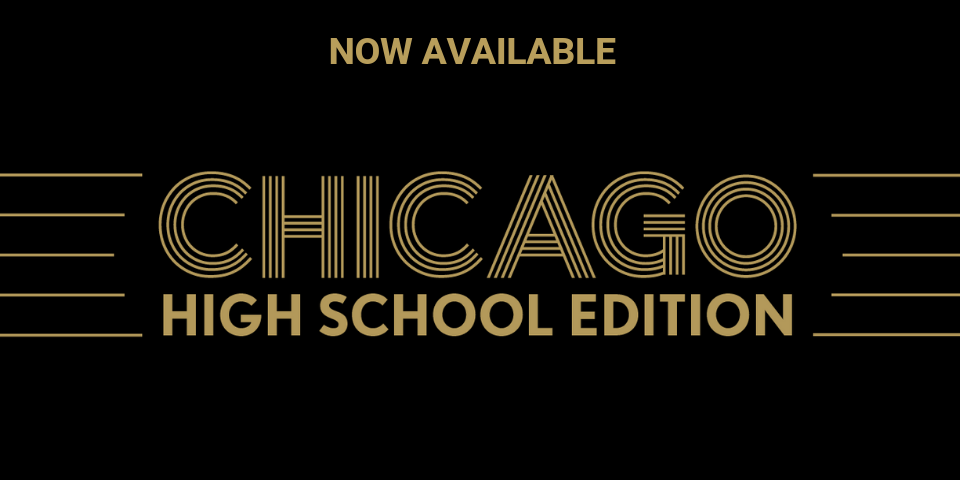 RAZZLE DAZZLE 'EM
14 Nov
NOW AVAILABLE
Book by Fred Ebb and Bob Fosse. Music by John Kander. Lyrics by Fred Ebb.
Based on the play by Maurine Dallas Watkins
Script adaptation by David Thompson
Full Length Musical, Backing Tracks, Comedy, 1920s
CASTING: 9M, 10F
In roaring twenties Chicago, chorine Roxie Hart murders a faithless lover and convinces her hapless husband, Amos, to take the rap...until he finds out he's been duped and turns on Roxie. Convicted and sent to death row, Roxie and another "Merry Murderess," Velma Kelly, vie for the spotlight and the headlines, ultimately joining forces in search of the "American Dream": fame, fortune, and acquittal.
Adapted to be content-appropriate and flexible, Chicago: High School Edition has been adapted to remove overtly sexual reference, adult language and can be performed by larger and smaller casts. Delivered as a 101 School Editions Show Pack, Chicago: High School Edition suits all experience levels, features handy tips and tricks for directing and a Theatre 101 guide for Students.
Changes made to the High School Edition
(1) Removal of adult language and overly sexual references.
(2) Removal of "Class" and "A Bit of Good"
(3) Transposed keys to better accommodate teen voices.