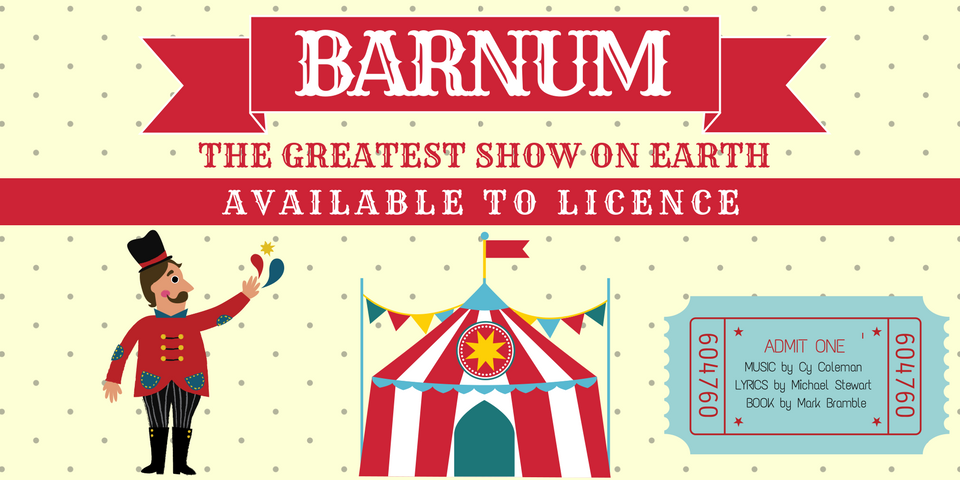 The musical BARNUM is available to licence!
20 Dec
Music by Cy Coleman. Lyrics by Michael Stewart. Book by Mark Bramble.
Full Length Musical, Comedy, Drama, 19th Century
12M, 6F
Phineas Taylor Barnum was an entrepreneur, marketer and salesman. He created the popular Barnum & Bailey's Circus - The Greatest Show on Earth, which championed "freaks" of society such as the Oldest Woman Alive (JOICE HETH), the smallest man in the world (TOM THUMB) and a Swedish opera singer (JENNY LIND) who was the world's first global singing sensation.
BARNUM
combines circus razzle-dazzle with charm and brass to sell "humbug" to cheering crowds. A joyful and moving musical portrait of the nineteenth century's greatest show-biz legend,
BARNUM
is a colourful, dynamic spectacle with heart.
The Golden Globe nominated film -
THE GREATEST SHOWMAN
starring: Hugh Jackman, Michelle Williams, Zac Efron, Zendaya and Rebecca Ferguson, opens in cinemas on 25th December.
Watch the trailer>
See why "The Greatest Show On Earth" is welcomed with open arms all over the world. With songs like There's a Sucker Born Every Minute, The Colors of My Life, I Like Your Style and Love Makes Such Fools of Us All.
Listen to the songs>
Performance Group: Community Theatre, College Theatre / Student, High School/Secondary
Accolades:
Winner! 3 Tony Awards (1980)
Winner! Drama Desk Award for Oustanding Actor (1980)
Winner! The Theatre World Award (Marianne Tatum as Lenny Lind) (1980)