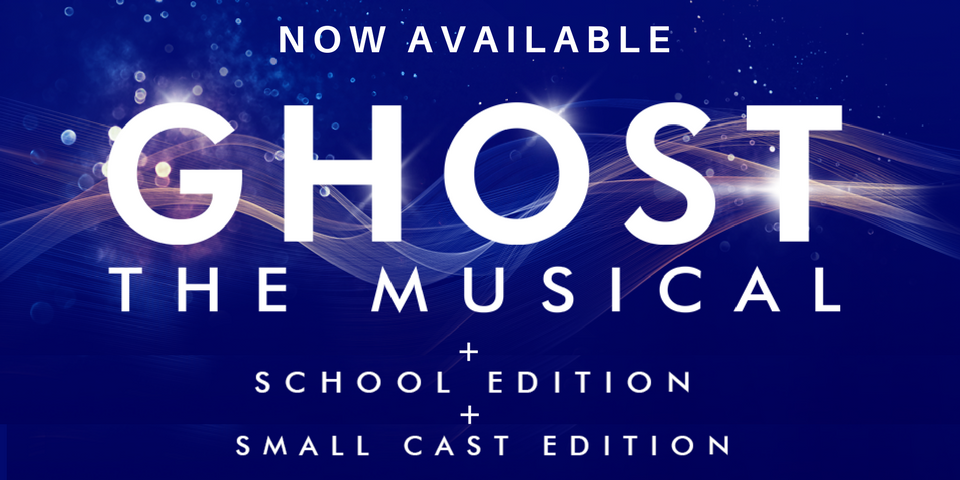 GHOST THE MUSICAL
6 Sep
Adapted from the hit film by its Academy Award-winning screenwriter - Bruce Joel Rubin
Book & Lyrics by Bruce Joel Rubin
Music & Lyrics by Dave Stewart and Glen Ballard
Featuring the hit songs
"With You"
"Unchained Melody"
FOR A FREE PERUSAL SEND AN EMAIL TO ENQUIRIES @ ORIGINMUSIC.COM.AU WITH THE SUBJECT "GHOST PERUSAL"
Sam Wheat and Molly Jensen are deeply in love. Their history together is full of happy memories, vacations, photographs and now a newly shared apartment. Their connection takes a shocking turn after Sam's untimely death. Trapped between two worlds, Sam refuses to leave Molly when he learns she is in grave danger. Desperate to communicate with her, he turns to a storefront psychic, Oda Mae Brown, who helps him protect Molly and avenge his death.
Casting: 9M, 8F. Musicians: 9.
This show can accommodate a large chorus of 30+ or be trimmed down for a reasonably sized ensemble piece. The large ensemble has a number of songs to perform with many having solo singing or speaking lines.
Resources include: Show/Ready Rehearsal Tracks, Stage/Tracks Performance Tracks, Keyboard Patch Pro, Scenic Projections.
ALSO AVAILABLE TO LICENCE
Cast: 5M, 5F. Musicians: 6-8.
A new, small-cast version of the Broadway musical, having recently concluded a hit UK tour.
Cast: 9M, 8F. Musicians: 9.
A slightly reworked version of the National Tour script. The School Edition has been carefully edited, with additional director's notes throughout, to make the show more producible for high school groups.
A supernatural love story and a murder mystery, with a good deal of comic relief. But unlike most murder mysteries, it is not a traditional "whodunit." The audience witnesses the murder and knows who did it. The mystery is in seeing the victim unravel his own death with the help of those still living to seek revenge.