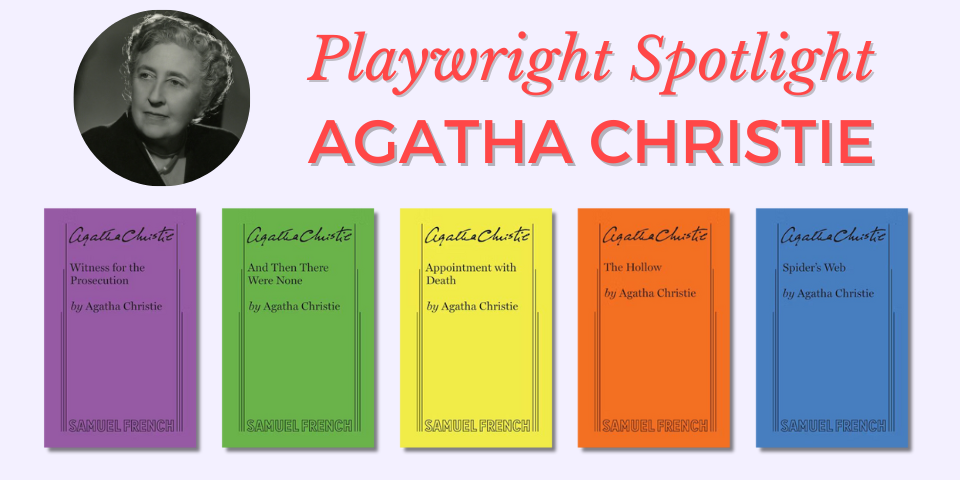 Playwright Spotlight: Agatha Christie
15 Jun
Agatha Christie
is known throughout the world as the Queen of Crime. Her books have sold over a billion copies in English with another billion in foreign languages. She is the most widely published author of all time and, in many languages, outsold only by the Bible and Shakespeare.
Agatha Christie's stage adaptations have captivated audiences around the world with her masterful mysteries and intricate storytelling.
In 1954 Agatha Christie became the first, and only, female playwright to have three plays running simultaneously in London's West End. These were
The Mousetrap
,
Witness for the Prosecution
and
Spider's Web
. Other great stage successes include
And Then There Were None
,
Murder On The Nile
and
The Hollow
.
The Mousetrap
, currently celebrating it's 70th anniversary, is her most successful play of all time. It is also the longest-running play in history with nearly 29,000 performances and has been seen by over 10 million people.
To mark the 70th anniversary year,
The Mousetrap
has been touring cities in Australia and the UK, and for the first time ever,
The Mousetrap
will make it's Broadway debut in 2023.
Browse some of Agatha Christie's stage adaptations
CLICK HERE
.