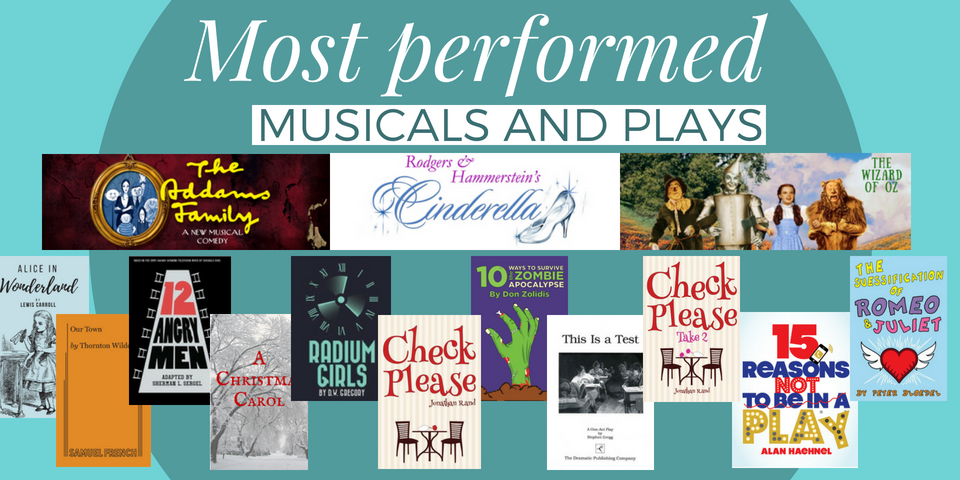 Revealed - the most performed musicals and plays!
8 Aug
Three of ORiGiN™ Theatrical's most popular musicals were featured again in the top ten list of musicals.
We have five full-length plays placed in the top ten with a new entry, "
Radium Girls
" (D.W. Gregory) placing in the top ten for the first time.
Trying to decide which show to choose for your next season or school year?
Take a look at this list to see which shows are leading in popularity in America.
IN THE TOP TEN MOST PERFORMED MUSICALS:
Marshall Brickman, Rick Elice and Andrew Lippa
Comedy, Backing Tracks, Present Day
6M, 4F
THE ADDAMS FAMILY features an original story, and it's every father's nightmare. Wednesday Addams, the ultimate princess of darkness, has grown up and fallen in love with a sweet, smart young man from a respectable family -- a man her parents have never met.
More.
Oscar Hammerstein II and Richard Rodgers
Fantasy, Comedy
5M, 6F
The timeless enchantment of a magical fairy tale is reborn with the Rodgers & Hammerstein hallmarks of originality, charm and elegance. As adapted for the stage, with great warmth and more than a touch of hilarity, the hearts of children and adults alike still soar when the slipper fits.
More.
L. Frank Baum, Harold Arlen and E.Y. Harburg
Fantasy/Adventure, Comedy, Fantasy, Contemporary
4M, 2F
Like so many girls her age, little Dorothy Gale of Kansas dreams of what lies over the rainbow. One day a twister hits her farm and carries her away over the rainbow to another world. Come join Dorothy, the Scarecrow, the Tinman, the Cowardly Lion and Toto as they travel the universe of Dorothy's imagination.
More.
IN THE TOP TEN MOST PERFORMED FULL-LENGTH PLAYS:
Chasing the White Rabbit, Alice tumbles down the rabbit hole into Wonderland where she meets all its famous residents.
Thornton Wilder
Full Length Play, Drama, 1900-1910
17M, 7F
Described by Edward Albee as "...the greatest American play ever written," the story follows the small town of Grover's Corners through three acts: "Daily Life," "Love and Marriage," and "Death and Eternity."
More.
Reginald Rose Sherman L. Sergel
Full Length Play, Drama, Adaptations (Stage & Screen), Contemporary
13M or F
A 19-year-old man has just stood trial for the fatal stabbing of his father. Twelve jurors are taken into the bleak jury room. It looks like an open-and-shut case - until one of the jurors begins opening the others' eyes to the facts.
More.
The famous story of Ebenezer Scrooge, the man who hated Christmas and, indeed, all of humanity
D.W. Gregory
Full Length Play, Drama, Comedy
5M, 5F
In 1926, radium was a miracle cure, Madame Curie an international celebrity, and luminous watches the latest rage - until the girls who painted them began to fall ill with a mysterious disease. Written with warmth and humor, Radium Girls is a fast-moving, highly theatrical ensemble piece for 9 to 10 actors, who play more than 30 parts.
More.
IN THE TOP TEN MOST PERFORMED SHORT PLAYS:
Jonathan Rand
Short Play, Comedy, Contemporary
7M, 7F
Dating can be hard. Especially when your date happens to be a raging kleptomaniac, or your grandmother's bridge partner, or a mime. Check Please follows a series of blind dinner dates that couldn't get any worse -- until they do. Could there possibly be a light at the end of the tunnel?
More.
Don Zolidis
Short Play, Comedy, Contemporary
3M, 5F, 2M or F
It's the end of the world and hordes of rampaging zombies are about to kill you. What do you do? Try your hand at kung fu against the undead? Attempt to reason with creatures that would rather eat brains than use them? Turn to this handy and hilarious guide to survive the apocalypse! (Hint: sacrifice the weak is step number one.)
More.
Jonathan Rand
Short Play, Comedy, Contemporary
6M, 6F
ISBN: ps1012
Soon after their relationships ends, Guy and Girl are forced by their well-intentioned friends to plunge back into the dating pool. Unfortunately that pool is filled with foot-reading psychics, frustrated polygamists, and extreme accountants. And pirates. But are blind dates really that unbearable? Yes. Yes they are.
More.
Stephen Gregg
One Act, Comedy, Contemporary
15M or F
As the ticking clock reminds you, only 60 minutes remain to complete this oh-so-important predictor of your future. But you didn't get the review sheets, the teacher doesn't like you and your classmates are blatantly cheating.
More.
Peter Bloedel
One-Act, Comedy
6M, 6F, 12M or F
A whimsical reinvention of Shakespeare's tragic love story, complete with rhymed couplets, creative wordplay, and fantastical machines -- similar to something Dr. Seuss might have come up with if he ever had his way with the script...
More.
Alan Haehnel
Short Play, Comedy, Contemporary
14M, 14F, 12M or F
This is a play about not being in a play, ironically expressed through a hilarious series of monologues, duets, and ensemble scenes.
More.
CLICK HERE
to see the top ten plays list from 2016-2017.
CLICK HERE
to see the top musicals from 2016-2017.