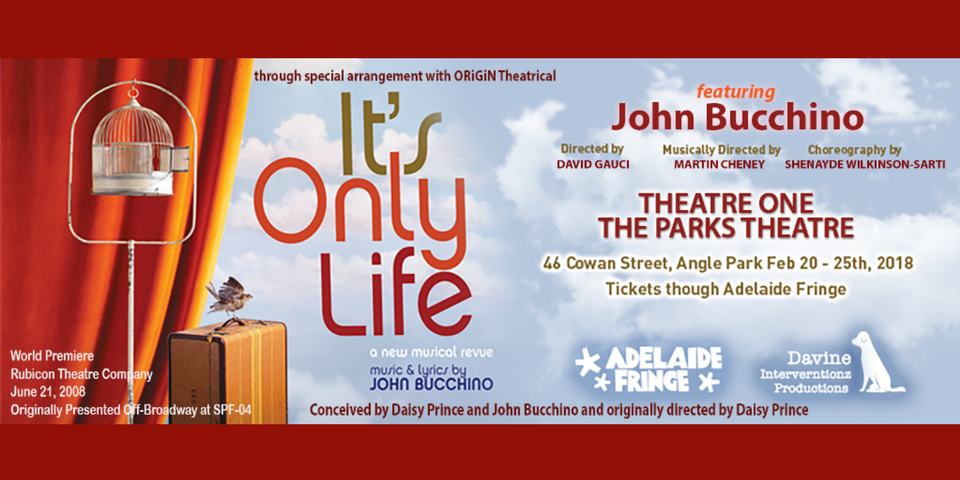 BROADWAY COMES TO THE WEST SIDE OF ADELAIDE FOR FRINGE 2018
18 Feb
IT'S ONLY LIFE - A NEW MUSICAL REVUE FEATURING JOHN BUCCHINO
The name John Bucchino may not be the first name you mention when you're talking about Broadway composers, but this award-winning composer/pianist has written songs and played for the likes of Liza Minelli, Kristin Chenoweth, Patti LuPone and Barbra Cook. His musical 'A Catered Affair' was produced on Broadway and landed more than a dozen Drama Desk, Tony Award and Outer Critics Circle nominations.
This February John will bring his Broadway songs to the 'west side' of Adelaide as he plays a series of his musical revue 'It's Only Life' in the intimate surrounds of Theatre One in the Park Theaters Angle Park. Devised by Daisy Prince, daughter of legendary theatrical producer and director Harold Prince (Fiddler on the Roof, West Side Story, A Funny Thing Happened on the way to the Forum and Cabaret to name a few!); IT'S ONLY LIFE is a musical revue about longing, fulfilment, loss, triumph and ultimately wisdom. According to the New York Times, Bucchino's 'flowing, finely made piano ballads describe an urban life in which relationships come and go in cycles of yearning, fulfilment, heartbreak and healing' - where romantic love is anticipated with 'high expectations, high anxiety and open hearts.'
Venue: Theatre One at The Parks Theatres
46 Cowan St, Angle Park, SA, 5010
Full Ticket Price: $45
Duration: 90 minutes
The person making this all happen is David Gauci, a name well known in the Adelaide Cabaret and theatre circuit. Gauci's theatre company 'Davine Interventionz' (a play on his name) has produced a show during the Adelaide Fringe for the last five years. 'I started in 2014 with the musical Altar Boyz, continued with Xanadu, Flowerchildren, The Light In the Piazza and Violet. In 2016, I also produced and directed the Story of My Life." Gauci has received nominations for all of his musicals and has collected no less than five awards for his little company. He has also won awards for his own cabaret performance of 'It was worth the weight'.
As a singing teacher, David Gauci has known about the music of John Bucchino for years. 'Back in the early 2000's I was teaching a number of songs by this guy, John Bucchino, to students. Every person who sang his music would talk about how profound and beautiful his lyrics and composition were. I bought a couple of albums of his and the rest, as they say, is history.'
'After the 2017 Fringe season had ended I decided that I wanted to do something different for 2018. My first port of call is always my CD collection of musicals and alike and I came across the album of IT'S ONLY LIFE a musical revue, I had never directed a revue before and new that it was something a little different, an art form that sits somewhere between Cabaret and Music Theatre. So, I contacted the rights holders and booked it in for 2018.'
Then Gauci received an interesting message on social media. 'Back in May this year (2017), I received a message from John saying that if I was interested he would be happy to offer some assistance with the music for the show. I thanked him for the offer and after chatting with my musical director Martin Cheney, asked him if he was interested in coming over and playing the show, totally thinking that he would think me crazy! Some negotiations took place and the next thing I am booking accommodation, organizing working visas and booking flights for a Broadway composer.' John is playing for all seven shows February 20 – 25, as well as a final concert version of the show on February 25.
John's association with Adelaide is already established having played a couple of times as part of the Adelaide Cabaret festival, the most recent being along with David Campbell for the 2014 Adelaide Cabaret Festival concert where David sang the songs of John Bucchino, a concert often screened on the FOXTEL Arts Channel.
"I've been to Adelaide several times, and absolutely love it there. Can't wait to return, share my musical revue It's Only Life with Fringe audiences, and make some new friends." This will John's ninth tour down-under. "I have played now in almost every capital of Australia, between Masterclasses and concerts I feel like I have begun developing a real affinity with Australia. Who know, one day I might live there!" John is also running a few Masterclasses in Adelaide for local singers while he is here.
While Davine has produced shows at the Star Theatre, it was the intimate surrounds of Theatre One, The Parks theatre that David Gauci wanted for his venture into Music Revue. 'The half round theatre is absolutely perfect for people to watch the show, given the theatre only holds 150 people no one is more than a few metres away from John or the other performers.' Speaking of other performers David has assembled two casts for this show. 'When it was decided that John was coming on board to play, I wanted to give as many local performers the opportunity to work with John. The good news is that John is happy to work with both casts.'
John has also made himself available for some Master Classes while he is in Adelaide. 'John is a highly sort after performance technician in the states and in Europe. Even here in Australia John has run workshops for the VCA and WAPA. The difference for us is that these Master Classes are open to anyone willing to learn a John Bucchino piece or two and perform in front of a small supportive audience. I know I am going to be one of the candidates.'