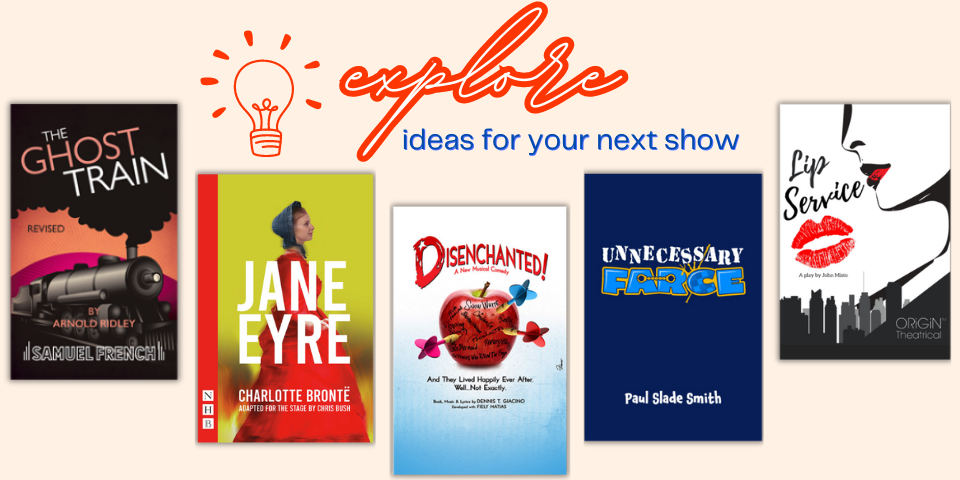 Explore these ideas for your next show
3 Aug
Looking for your next play or musical? We have some ideas for you.
Arnold Ridley. Adapted by Jocelyn and Nicholas Ridley.
Full Length Play, Drama, Mystery/Thriller, 1930s
Cast: 5M, 4F
Six passengers find themselves stranded late at night in the waiting-room of an isolated Cornish railway station. Ignoring the ghostly tales and dire warnings of the stationmaster, they decide to stay where they are until morning - with terrifying consequences.
Buy script / Apply for rights HERE
Jane Eyre (stage version)
Charlotte Brontë. Adapted by Chris Bush.
Full length Play, Drama, English, Historical, Literary adaptation
Cast: 2M, 4F
Jane Eyre may be poor, obscure, plain and little, but she has heart and soul - and plenty of it.
Chris Bush's witty and fleet-footed adaptation lays bare the beating heart of Charlotte Brontë's classic novel, whilst staying true to its revolutionary spirit.
Buy script / Apply for Rights HERE
Unnecessary Farce
Paul Slade Smith
Full Length Play, Farce, Contemporary
Cast: 4M, 3F
Two cops. Three crooks. Eight doors. Go.
In a cheap motel room, an embezzling mayor is supposed to meet with his female accountant, while in the room next-door, two undercover cops wait to catch the meeting on videotape. But there's some confusion as to who's in which room, who's being videotaped, who's taken the money, who's hired a hit man, and why the accountant keeps taking off her clothes.
Buy script / Apply for Rights HERE
Disenchanted!
Book, Music & Lyrics by Dennis T. Giacino
Full Length Musical, Comedy, Contemporary
Cast: 10F
Poisoned apples. Glass slippers. Who needs 'em?!
Not Snow White and her posse of disenchanted princesses in the hilarious hit musical that's anything but Grimm. The original storybook heroines are none-too-happy with the way they've been portrayed in today's pop culture so they've tossed their tiaras and have come to life to set the record straight. Forget the princesses you think you know -- these royal renegades are here to comically belt out the truth.
HIGH SCHOOL EDITION here
John Misto
Full Length Play, Drama, Australian, 1960s, 1950s
Cast: 1M, 2F
In John Misto's hilarious new play,
Lip Service
, Australian cosmetics tycoon, Helena Rubinstein, is locked in a power struggle with rivals Elizabeth Arden and Revlon. When Helena hires a battle-hardened war-veteran as a personal assistant, her life is turned upside down. Inspired by real events,
Lip Service
is a bright new comedy where the nails are painted and the gloves are off. Yet when the lipstick bleeds and the makeup fades, what is there left to hide behind?