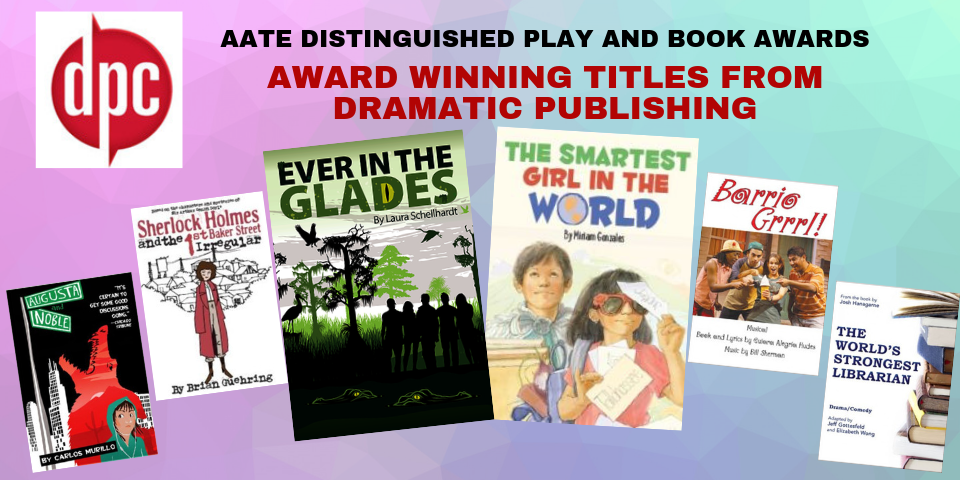 AWARD WINNING TITLES FROM DRAMATIC PUBLISHING
5 Aug
by Laura Schellhardt
On an isolated island deep in the heart of the Everglades, five teenagers struggle to survive in a land where the adults are as dangerous as the gators. When one of the kids returns from juvenile detention to help the rest escape to the mainland, it seems their prayers have been answered. There's only one problem: they need a boat, and they need it before the adults catch wind of their plan and end it—or end them.
by Miriam Gonzales
The children of hardworking immigrants, big brother Leo has convinced his little sis, Lizzy, that being smart is the key to helping their family escape a tough, uncertain reality. But when their parents refuse to let Leo join a local quiz team, Lizzy learns there's something that makes life much more challenging for her family. Lizzy is determined to rescue the plan to see it through. Along the way, she and Leo discover that it takes more than being serious and "smart" to save a family and one another.
Full Length Play, Drama, Comedy, Contemporary
Casting: 2M, 2F
By Brian Guehring. Based on the characters and mysteries by Sir Arthur Conan Doyle.
On a dare, 14-year-old Wiggins tries to pickpocket an old man. Not only is she unsuccessful, but the old man, Sherlock Holmes, takes the ring that was in her pocket and leaves a note with his address. When she goes to retrieve the ring, she proposes to work as his assistant, and he agrees to begin training her. They must learn to trust each other as Wiggins and her group of street urchins help him solve two dangerous mysteries.
Full Length Play, Drama
Casting: 7M, 5F, 13M or F
by Carlos Murillo
Gabi, a 12-year-old girl who has lived her whole life amid a vibrant Latino community in the West Town neighborhood of Chicago, begins asking questions about her heritage. Told in English peppered with Spanish, this play for young audiences celebrates the rich history and resilience of the many immigrants who call Chicago home.
Full Length Play, Drama, Contemporary
Casting: 9M, 6F
Adapted by Jeff Gottesfeld and Elizabeth Wong. From the book by Josh Hanagarne.
Full Length Play, Comedy, Drama, Contemporary
Casting: 1F, 5M or F
In this play about the power of books, muscles and human kindness, an unconventional librarian named Josh and the children who flock to his story time, stage a '60s-inspired Read-In rather than let their library be shut down. A loner kid named Mr. T, who has Tourette syndrome, slowly forms a friendship with Josh. In a surprise ending, the true identity of Mr. T is revealed.
Book and Lyrics by Quiara Alegría Hudes. Music by Bill Sherman.
In her mind, Ana is pretty busy preserving justice in the barrio and protecting her neighborhood as her alter-ego, Barrio Grrrl. In reality, Ana lives with her abuelo and misses her mom who is far, far away in Iraq. Ana is faced with a big decision: be a superhero or a girl who works little miracles in real life.
Full Length Musical, Fantasy, Comedy
Casting: 3M, 4F
Book by Suzanne Maynard Miller Music and Lyrics by Sarah Durkee Music and Lyrics by Paul Jacobs
While the mouse commune prepares for winter, Frederick seemingly has his head in the clouds. When the darkest days of winter finally arrive and the mice have exhausted their supplies and worn thin their stories and games, it is Frederick who has stored up something special to help save the day.
Full Length Musical, Comedy, Fantasy
Casting: 2M, 2F, 1M or F
By Eric Coble Adapted from the book by Lois Lowry
In an apocalyptic future where children are kept like animals and human life is cheap, young Kira learns the ugly truth about the powers controlling her world. She is a gifted weaver and, under their custody, Kira is made to mend a garment that tells the history of the world. Can she use her art to reshape the future? Based on Lois Lowry's companion piece to The Giver, this is a suspenseful tale of the power of creativity to fight brutality.
by Alvaro Saar Rios
The discovery of a worn pink wrestling mask prompts Nana Lupita to share her tale about growing up in 1960s. Young Lupita anticipates seeing a Mexican wresting match until she discovers her ailing father is one of the wrestlers. With the help of a magical mask maker, Lupita secretly trains to take her father's place. She soon finds it difficult keeping her secret from her friends and, most importantly, her father.
Full Length Play, Drama, Present Day, 1960s
Casting: 12M, 6F