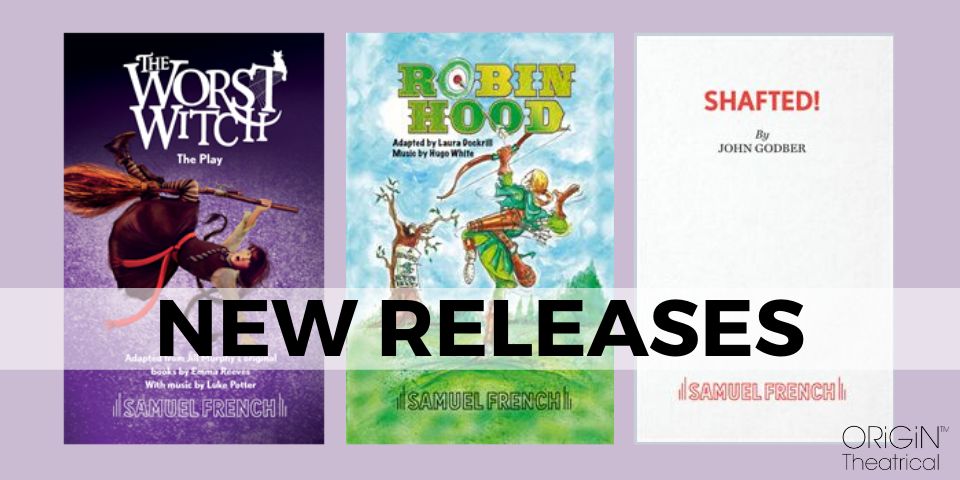 NEW RELEASES
10 Mar
NEW RELEASES - NEW PLAYS TO PERFORM!!
Adapted by Emma Reeves Music by Luke Potter From the Books by Jill Murphy
Full Length Play, Adaptations (Literature), Comedy, Contemporary
Casting: 10F
A stage adaptation of the beloved and best-selling series of children's novels, The Worst Witch.
Mildred Hubble is an ordinary girl who found herself in an extraordinary place: a school for witches. Now in her final year at Miss Cackle's Academy, accident prone Mildred and her fellow pupils are about to embark on their biggest adventure yet…
Adapted by Laura Dockrill Music by Hugo White Arranged by Ned Rudkins-Stow
Full Length Play, Comedy, Fantasy/Adventure, Medieval England
Casting: 4M, 2F
A daring tale full of live music, laughter and bravery.
Robin Hood returns home to find the greedy Sheriff of Nottingham starving the local people of Sherwood Forest. Courageous, kind and headstrong, Robin can't stand by and watch friends and family suffer. Robin, the most skillful archer in the land, vows to be brave and stand up for the local people. Join the fearless, witty hero and a host of lively friends as they set off on a mission to steal from the rich and give to the poor.
By John Godber
Full Length Play, Drama, Docudrama/Historic, 1980s, New Millennium/21st Century
Casting: 1M, 1F
Shafted! moves forwards and backwards over time, starting after the Miners' Strike in 1984.
Act I demonstrates the depression and hopelessness which engulfed a West Yorkshire mining village post the strike and the plethora of menial jobs which Harry found in order to try and make a living. By the late 1990s Dot had suggested they move to Bridlington to start a new life running a Boarding House.
Act II starts in 2016 with Dot suffering from cancer, immobile in a wheelchair, the act moves backwards through the success of the boarding house and their new life together, to the time they left Upton to run the boarding house in the 1990s.