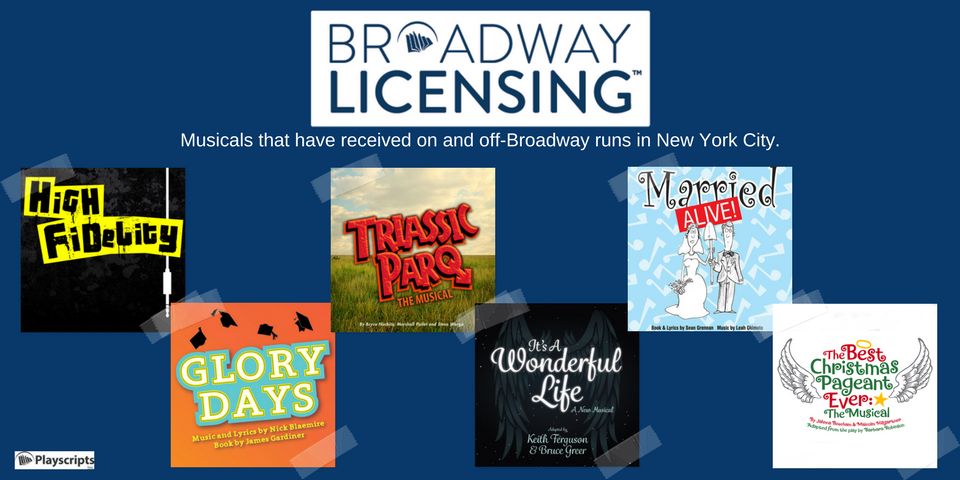 Broadway Licensing


18 May
MUSICALS THAT HAVE RECEIVED ON AND OFF BROADWAY RUNS IN NEW YORK CITY
*** Broadway Musicals ***
Lyrics by Amanda Green, music by Tom Kitt, book by David Lindsay-Abaire, based on the novel by Nick Hornby and the Touchstone Pictures Film.
When Brooklyn record store owner Rob finds himself unexpectedly dumped, his life takes a music-filled turn toward the introspective. Based on the popular novel by Nick Hornby, High Fidelity follows Rob as he struggles to discover how his relationship went awry, and strives to change his life in order to win back his sweetheart Laura. With memorable characters and a rock-and-roll score, this homage to music geek culture explores love, heartbreak, and the power of the perfect soundtrack.
Genre: Musical Comedy
Running Time: 110 - 120 minutes
Cast: 10 f, 10 m (20-30 actors possible: 10-20 f, 10-20 m)
Reviews
"High Fidelity... shatters the mold" -- DAVID FINKLE, THEATERMANIA
"For better or worse, unites musical and romantic obsession into the best new musical comedy Broadway has seen this year." -- MATTHEW MURRAY, TALKIN' BROADWAY
"...a musical that celebrates the power of pop culture with wit, verve and a killer beat." -- FRANK RIZZO, VARIETY
Music and lyrics by Nick Blaemire, book by James Gardiner.
A year after graduating high school, four best friends reconnect on their old school's football field. Will has called the boys together with a mission: to hack into the sprinkler system so that it goes off when the jocks who bullied them in high school take the field for a charity game. But as the guys wait for instructions on how to break into the system, they quickly realize how dramatically their lives have grown apart. With a soaring pop-rock score, Glory Days is a poignant and witty coming-of-age story about friends searching for understanding and validation as they face the consequences of growing up.
Genre: Rock Musical
Running Time: 80 - 90 minutes
Cast: 4 m
Reviews
"...swiftly, tunefully and yes, authentically latches onto the rhythms of late adolescence and plays them back to us as the music of wrenching transitions... It is a show that reminds us that even in comfortable suburbs, you can't really go home again." -- PETER MARKS, THE WASHINGTON POST
*** Off-Broadway Musicals ***
Jay Berkow
This new musical brings to life the little known behind-the-scenes story of the tempestuous love triangle between Hollywood legends Gene Kelley, Stanley Donen and their assistant Jeanne Coyne during the creation of the greatest movie musical of all time "Singing in the Rain." Long time close friends and collaborators, Kelley and Donen ceased to work together and in fact did not speak for over fifty years after they completed this picture. It also features great tunes and gives the audience an exciting opportunity to experience the choreographic process that created some of Hollywood's most exiting and enduring dance sequences.
Genre: Musical
Running Time: 100 - 110 minutes
Cast: 2 f, 3 m
Reviews
"If you love dance, love movies, love old Hollywood, see this show." -- ASHLAND DAILY TIDINGS
"You'll want to come back and see the whole thing again." --Broadway World
by Sean Grennan, music by Leah Okimoto
Erin and Paul have just gotten married and couldn't be more excited. Ron and Diane have been married for years and aren't so excited anymore. Poignant and hilarious by turns, "Married Alive!" uses a series of vignettes to affectionately explore the adventure of marriage. From honeymooning to "honey-not-tonight," from couples' therapy to Christmas with the in-laws, from first pregnancy to dealing with teenagers, this musical comedy has it all.
Genre: Musical Comedy
Running Time: 120 minutes
Cast: 2 f, 2 m (4-12 actors possible: 2-6 f, 2-6 m)
Reviews
"Laugh out loud funny...fun, charming, good writing...very romantic...the ideal show." -- Jonathan Abarbanel & Kelly Kleiman, NPR Chicago
"At Married Alive, you'll laugh out loud. If you don't someone should check your pulse." -- Robert Trussell, Kansas City Star
"Married Alive! will have audiences cry/laughing in the aisles. A playful jab at everything from the ideal to the ordeal." -- Jim Quensenberry, Washington County News
by Bryce Norbitz, Marshall Pailet and Steve Wargo
Religion, identity, sex... and raptors! Triasic Parq is a raucous retelling of that famous dinosaur-themed film, this time seen from the dino's point of view. Chaos is unleashed on their not-so-prehistoric world when one dinosaur in a clan of females spontaneously turns male!
Genre: Musical Comedy
Running Time: 85 - 90 minutes
Cast: 3 f, 2 m, 2 either (7 actors possible: 3-5 f, 2-4 m)
Reviews
"Flat-out ingenious. Shameless and priceless." -- THE NEW YORK TIMES
"A laugh riot from start to finish. And underneath the surface yuks is a surprisingly thoughtful, progressive musical. It's downright infectious." -- BROADWAYWORLD
"Bracingly dirty and surprisingly poignant, courting laughter with broad physical comedy, and conveying the pathos of the dinosaurs' struggles to find love and friendship." -- LOS ANGELES TIMES
book and lyrics by Keith Ferguson, music by Bruce Greer,
from the screenplay by Frances Goodrich, Albert Hackett, Frank Capra, and Jo Swerling
Based on the beloved 1946 film, this musical faithfully follows George Bailey's life from his childhood dreams to his midlife disappointments and beyond, as we all take a journey to discover whether his life has mattered at all. Cinematically scored and theatrically staged, this adaptation breathes musical life into a familiar story, while retaining the warmth, humour, and pathos of the original. A new holiday classic for devotees and newcomers alike.
Genre: Musical
Running Time: 135 - 150 minutes
Cast: 17 f, 23 m, 2 either (30-50 actors possible: 8-27 f, 14-33 m)
Reviews
"The score, is slick and often memorable. The musical numbers and Mr. Greer's lush orchestrations are consistently impressive." --- Ruby Nancy, Quad-City Times (Indiana)
"The 'Best Holiday Show' award goes to Quad City Music Guild's inspiring It's a Wonderful Life!" -- Tom Sime, The Dallas Morning News
"Audiences are going to be enormously entertained by this enjoyable show. It's a crowd pleaser you don't want to miss!" -- Ruby Nancy, Quad-City Times (Indiana)
Book and lyrics by Jahnna Beecham Music and Lyrics by Malcolm Hillgartner
The Herdmans are the worst kids in the history of the world--so when they crash Sunday school and demand parts in the Christmas pageant, the whole town panics. There's not supposed to be biting or cigar-smoking in Bethlehem, and while these kids have never even heard the Christmas story, they definitely have rewrites! Soon everyone from the terrified pint-sized shepherds to the furious church ladies are calling for reluctant director Grace Bradley to cancel the whole thing. It's up to Bradley and the Reverend to help their community see the Christmas story and the Herdman kids through new eyes in this buoyant musical adaptation of the funny and touching holiday classic.
Genre: Musical Comedy
Running Time: 70 minutes
Cast: 10 f, 9 m (19-40 actors possible: 10-20 f, 9-20 m)
Reviews
"The Best Christmas Pageant Ever: The Musical is the PERFECT way to get you into the holiday spirit. It's a musical the entire family can enjoy." -- Jenni Strazulla, Charlotte Smarty Pants