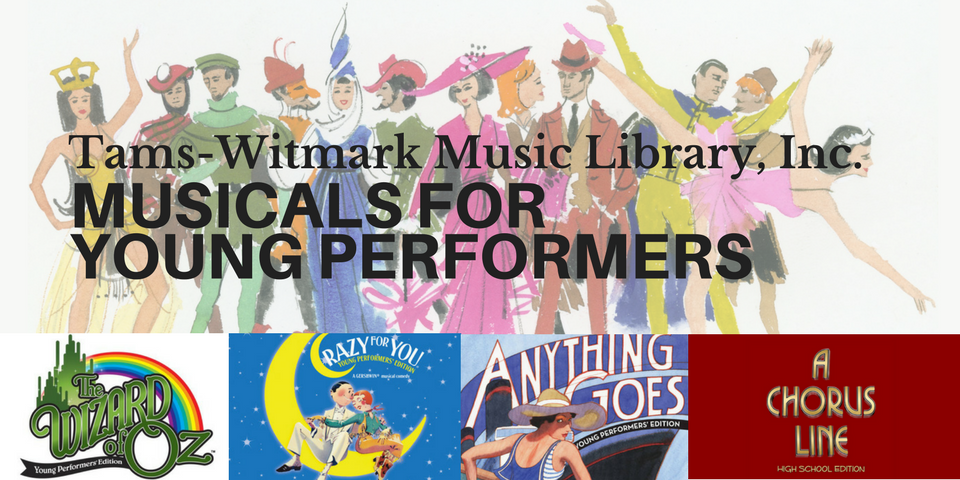 Tams-Witmark Musicals for Young Performers
14 Jun
The Tams-Witmark Young Performers' Edition musicals are one-hour adaptations of Broadway musicals specially tailored for primary school and middle school aged children. The materials have been prepared to help your school or organisation mount the best possible production and to give your actors an exciting and rewarding experience.
All Young Performers Edition Musicals come with:
- 1 x Piano Vocal Score
- 1 x Director's Production Guide
- 20 x Young Performer's Books
- 1 x Disc Set including a Sing-Along CD, a Performance CD and a Choreography DVD
By L. Frank Baum. Music and Lyrics by Harold Arlen and E.Y. Harburg
4M, 3F
60 minutes
Like so many girls her age, little Dorothy Gale of Kansas dreams of what lies over the rainbow. One day a twister hits her farm and carries her away over the rainbow to another world. Come join Dorothy, the Scarecrow, the Tinman, the Cowardly Lion and Toto as they travel the universe of Dorothy's imagination.
WATCH VIDEO
: Full performance of 'Jitterbug' from the Staging and Choreography DVD.
Music and Lyrics by Ira Gershwin and George Gershwin. Book by Ken Ludwig.
4M, 5F
60 minutes
A zany rich-boy-meets-hometown-girl romantic comedy, CRAZY FOR YOU tells the story of young New York banker Bobby Child, who is sent to Deadrock, Nevada, to foreclose on a rundown theatre. In Deadrock, Bobby falls for spunky Polly Baker, the theatre owner's daughter. But Polly takes an instant dislike to the city slicker, so Bobby vows – through cunning, razzmatazz, and a hilarious case of mistaken identity – to win Polly's heart and save the theatre. Memorable Gershwin tunes from the score include "I Got Rhythm," "They Can't Take That Away from Me," "Embraceable You," "Nice Work if You Can Get It," and "Someone to Watch Over Me."
WATCH VIDEO
: Full performance of 'I Got Rhythm' from the Staging and Choreography DVD.
Music and Lyrics by Cole Porter. New Book by Timothy Crouse and John Weidman.
12M, 11F
60 minutes
Music, dance, laughs, and the age-old tale of Boy Meets Girl… ANYTHING GOES is a hilarious shipboard farce featuring romance, intrigue, colourful characters and a glorious score from Cole Porter. Highlights include: "You're The Top," "It's De-Lovely," "Friendship," "I Get A Kick Out Of You," "Blow, Gabriel, Blow," and the title number.
WATCH VIDEO
: Full performance of Anything Goes from the Staging and Choreography DVD.
Book by James Kirkwood and Nicholas Dante. Music by Marvin Hamlisch. Lyrics by Edward Kleban.
11M, 12F
Full Length Musical
A CHORUS LINE: HIGH SCHOOL EDITION is a full-length version of the Pulitzer Prize-winning musical, adapted for performance by high school students with family audiences.
A CHORUS LINE is a stunning concept musical capturing the spirit and tension of a Broadway chorus audition. Exploring the inner lives and poignant ambitions of professional Broadway gypsies, the show features one powerhouse number after another. Memorable musical numbers include "What I Did For Love", "One", "I can Do That", "At the Ballet", "The Music and the Mirror" and "I Hope I Get It". A brilliantly complex fusion of song, dance, and compellingly authentic drama, the show was instantly recognized as a classic.