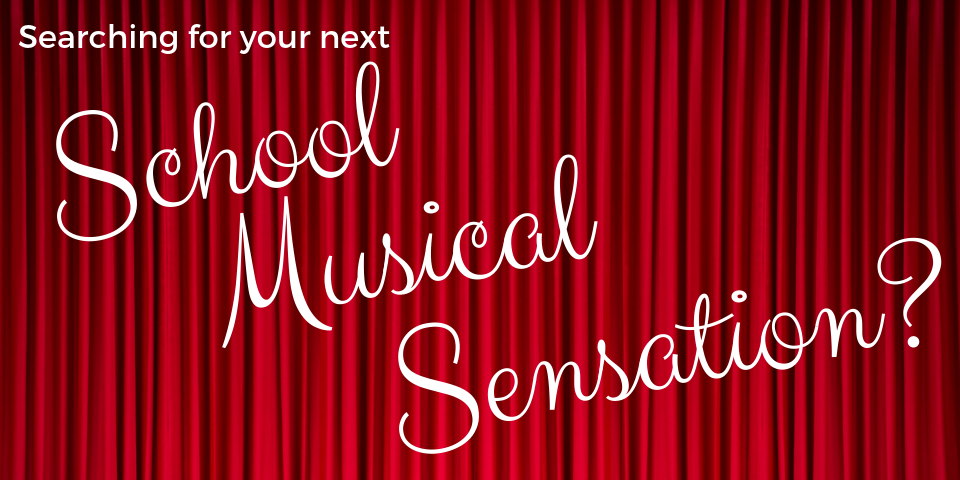 Searching for your next school musical sensation?
12 Nov
Searching for your next school musical sensation? Something to suit your young performers with leading roles and ensemble casts. We have shows with backing tracks, production guides, digital downloadable materials and adaptations of Broadway shows to suit young performers. Here are our top picks of Broadway and off-Broadway hit musical sensations for schools.
Music and Lyrics by Joe Iconis. Book by Joe Tracz. Based on the novel by Ned Vizzini.
Full Length Musical, Dark Comedy, Present Day
CASTING: 6M, 4F
What if popularity came in a pill? Would you take it, no questions asked? In BE MORE CHILL, achieving the "perfect life" is now possible thanks to some mysterious new technology—but it comes at a cost that's not as easy to swallow. What could possibly go wrong? Blending the contemporary with retro sci-fi, this thrillingly exciting, comically subversive, and deeply felt new musical takes on the competing voices in all of our heads. And ultimately proves, there's never been a better time in history to be yourself—especially if you're a loser…geek…or whatever.
Book, Music and Lyrics by Kevin Murphy Book, Music and Lyrics by Laurence O'Keefe
Full Length Musical, Backing Tracks, Dark Comedy, 1980s
12M, 10F
The darkly delicious story of Veronica Sawyer, a brainy, beautiful teenage misfit who hustles her way into the most powerful and ruthless clique at Westerberg High: the Heathers.
** NEW**
Music, Book and Story by Steve Martin Music, Lyrics and Story by Edie Brickell
Full Length Musical, Drama, Comedy, 1920s, 1940s / WWII
CASTING: 9M, 6F
Inspired by a real event and featuring the Grammy-nominated score by Steve Martin and Edie Brickell, Broadway's Bright Star tells a sweeping tale of love and redemption set against the rich backdrop of the American South in the 1920s and '40s.
When literary editor Alice Murphy meets a young soldier just home from World War II, he awakens her longing for the child she once lost. Haunted by their unique connection, Alice sets out on a journey to understand her past -- and what she finds has the power to transform both of their lives.
Book by Marshall Brickman and Rick Elice. Music and Lyrics by Andrew Lippa. Based on Characters Created by Charles Addams.
Full Length Musical, Comedy, Backing Tracks, Present Day
CASTING: 6M, 4F
THE ADDAMS FAMILY features an original story, and it's every father's nightmare. Wednesday Addams, the ultimate princess of darkness, has grown up and fallen in love with a sweet, smart young man from a respectable family -- a man her parents have never met.
And if that weren't upsetting enough, Wednesday confides in her father and begs him not to tell her mother. Now, Gomez Addams must do something he's never done before -- keep a secret from his beloved wife, Morticia. Everything will change for the whole family on the fateful night they host a dinner for Wednesday's 'normal' boyfriend and his parents.
CASTING: 11M, 9F
The Addams Family: School Edition has been carefully edited, with additional director's notes throughout, to make the show more producible for high school groups. In some cases problematic language has been changed, while in others an alternate choice is offered at the discretion of the director.
CASTING: 6M, 4F
THE ADDAMS FAMILY Young@Part® is the authorized 65-70 minute edition of the Broadway musical for primary and early high school students, and youth theatres. Song keys are changed where needed, songs and scenes are edited for time and content, while keeping the spirit of the original Broadway show intact.
Comes complete with Performance Tracks, Guide Vocal Tracks, Director's Guide, 30 Student Scripts and more with an affordable Performance Licence package.
By L. Frank Baum Music and Lyrics by Harold Arlen Music and Lyrics by E.Y. Harburg
Full Length Musical, Comedy, Backing Tracks, Drama, Fantasy, Contemporary
CASTING: 4M, 3F
The Young Performers' Edition of The Wizard of Oz is a one-hour adaptation specifically tailored for primary school and early high school aged children. The Materials have been prepared to help your school or organisation mount the best possible production and to give your children an exciting and rewarding experience.
Like so many girls her age, little Dorothy Gale of Kansas dreams of what lies over the rainbow. One day a twister hits her farm and carries her away over the rainbow to another world. Come join Dorothy, the Scarecrow, the Tinman, the Cowardly Lion and Toto as they travel the universe of Dorothy's imagination.
Music by Richard Rodgers Lyrics by Oscar Hammerstein II Book by Howard Lindsay Book by Russel Crouse
Full Length Musical, Drama, 1930s
CASTING: 6M, 12F
When a postulant proves too high-spirited for the religious life, she is dispatched to serve as governess for the seven children of a widowed naval Captain. Her growing rapport with the youngsters, coupled with her generosity of spirit, gradually captures the heart of the stern Captain, and they marry.
Upon returning from their honeymoon they discover that Austria has been invaded by the Nazis, who demand the Captain's immediate service in their navy. The family's narrow escape over the mountains to Switzerland on the eve of World War II provides one of the most thrilling and inspirational finales ever presented in the theatre.
The motion picture version remains the most popular movie musical of all time.
Chris D'Arienzo
Full Length Musical, Backing Tracks, Comedy, 1980s
CASTING: 9M, 11F, 10M or F
Rock of Ages takes you back to the times of big bands with big egos playing big guitar solos and sporting even bigger hair! This Tony Award-nominated Broadway musical features the hits of bands including Night Ranger, REO Speedwagon, Pat Benatar, Twisted Sister, and others.
Rock of Ages 101: High School Edition has been adapted by the author and iTheatrics to create a version ready for high schools. The unforgettable rock anthems have been adjusted for teen voices and some subject matter has been adjusted for appropriateness. Introduce your kids (and re-introduce the parents) to the face-melting, guitar anthems of the 1980's in this hit Broadway musical.
Music by Cy Coleman Lyrics by Michael Stewart Book by Mark Bramble
Full Length Musical, Comedy, Drama, 19th Century
CASTING: 12M, 6F
See why "The Greatest Show On Earth" is welcomed with open arms all over the world. With songs like There's a Sucker Born Every Minute, The Colors of My Life, I Like Your Style and Love Makes Such Fools of Us All. BARNUM is certain to be a huge success with your group, too. There will only be one P.T. Barnum, but his enthusiasm and spirit live forever in this show.
FOR SCHOOLS AND YOUTH GROUP PRODUCTIONS
Lyrics by Tim Rice Music by Andrew Lloyd Webber
Short Musical, Rock Musical, Backing Tracks, Biblical
CASTING: 17M, 1F, 1M or F + ensemble
The Biblical saga of Joseph and his coat of many colours comes to vibrant life in this delightful parable. Developed with children of a junior age in mind, the running time of the CD is approximately 60 minutes, but would also be suitable for primary schools and youth groups. This fantastic new resource, recorded with live musicians, has been created to add some Technicolor to your production!
Music By Tom Snow. Lyrics and Stage Adaptation by Dean Pitchford. Stage Adaptation by Walter Bobbie. Additional Music by Eric Carmen, Sammy Hagar, Kenny Loggins and Jim Steinman.
Full Length Musical, Comedy, Contemporary
CASTING: 8M, 9F
One of the most explosive movie musicals in recent memory bursts onto the live stage with exhilarating results.
When Ren and his mother move from Chicago to a small farming town, Ren is prepared for the inevitable adjustment period at his new high school. What he isn't prepared for are the rigorous local edicts, including a ban on dancing instituted by the local preacher, determined to exercise the control over the town's youth that he cannot command in his own home.
To the rockin' rhythm of its Oscar and Tony-nominated top 40 score (the soundtrack album reached number one on the Billboard charts and has sold over 15 million copies!) and augmented with dynamic new songs for the stage musical, FOOTLOOSE celebrates the wisdom of listening to young people, guiding them with a warm heart and an open mind.
ABRIDGED EDITION FOR SCHOOLS AND YOUTH GROUPS
Music by Andrew Lloyd Webber Based on "Old Possum's Book of Practical Cats" by T. S. Eliot
Short Musical, Rock Musical, Backing Tracks
CASTING: 8M, 6F, 4M or F
Based on the universally popular poetry of T. S. Eliot, CATS tells the story, in song and dance, of the annual gathering of Jellicle cats at which time one special cat is selected to ascend to the Heaviside layer.
The CATS Abridged Edition has been developed with junior groups and schools in mind and is available to groups with a performing age of 14 and under. The Abridged Edition backing track is approximately 75 minutes in length and has been developed with younger Jellicles in mind. The CDs provide the flexibility to edit the show to a suitable length for the performance age group and aid the learning and rehearsal process.
Book by James Kirkwood Book by Nicholas Dante Music by Marvin Hamlisch Lyrics by Edward Kleban
Full Length Musical, Backing Tracks, Drama, Contemporary
CASTING: 11M, 12F
A Chorus Line: High School Edition is a full-length version of the Pulitzer Prize-winning musical, adapted for performance by high school students with family audiences.
A Chorus Line is a celebration of those unsung heroes of the American Musical Theatre: the chorus dancers -- those valiant, over dedicated, underpaid, highly trained performers who back up the star or stars and often make them look even more talented than they are. It is also a celebration of the American Musical itself.