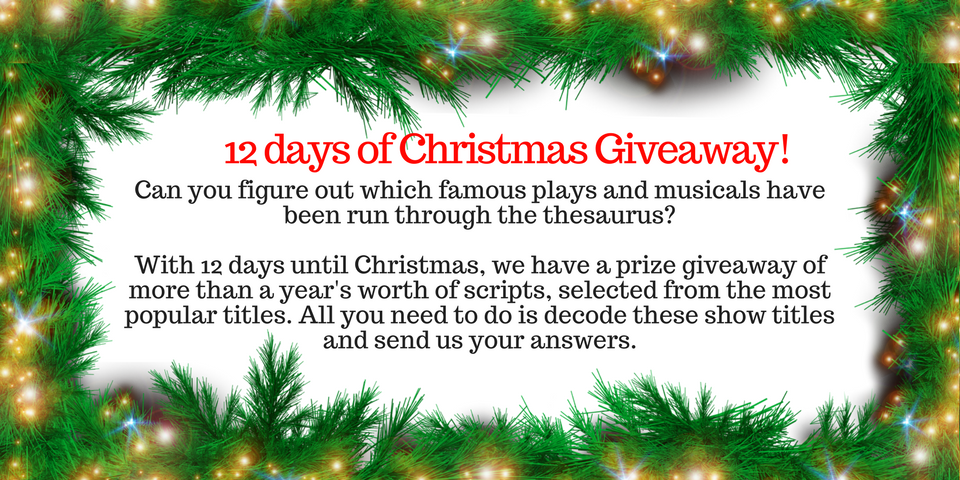 12 days of Christmas Giveaway!
13 Dec
The 12 days of Christmas Giveaway!
Can you figure out which famous plays and musicals have been run through the thesaurus?

With 12 days until Christmas, we have a prize giveaway of more than a year's worth of scripts, selected from the most popular titles.
All you need to do is decode these show titles and send us your answers.

1. Positions of affection
2. Shrill through the breeze
3. Firmly flamenco
4. Crowned Feline
5. Very, Very Not Good
6. A Place of Learning for Solid Mineral Material
7. Natalya, Peter, and the Superior Meteor of MDCCCXII
8. Adjacent Spectacle
9. Clapping
10. Second Day of the Weekend in a Public Garden with an Artist
11. Hirsute
12. Oil
13. The Magician of the Sung Through Drama
14. Adoration Doesn't Expire
Please send your entries to enquiries@originmusic.com.au
Competition closes on 03/01/2018. Only emails with the correct answers will qualify to be entered into the prize draw. One winner will be selected at random.
Best of Luck!