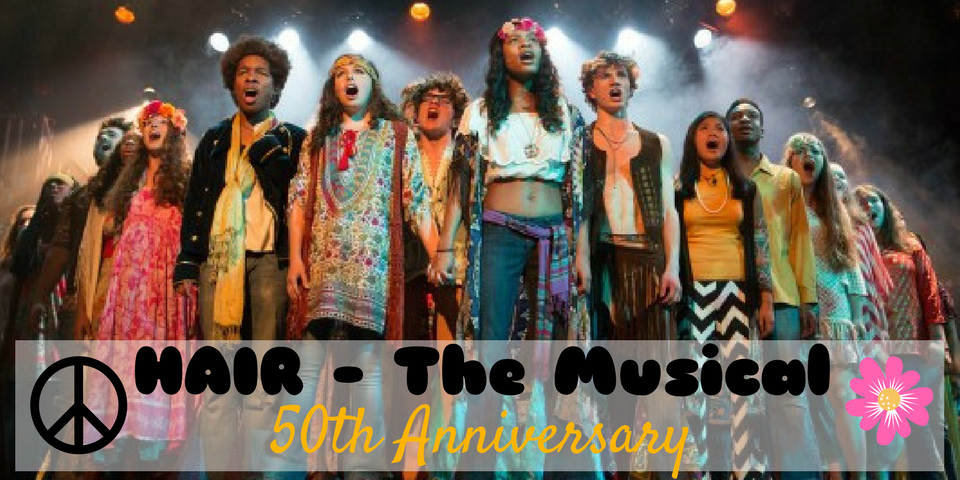 Happy Anniversary, HAIR! Let the Sun Shine…
29 Apr
Book and Lyrics by Gerome Ragni and James Rado. Music by Galt MacDermot.
Full Length Musical, Drama, 1960s,
HAIR
, the "American Tribal Love-Rock Musical," opened on Broadway at the Biltmore Theatre on April 29, 1968. The show, written by Gerome Ragni and James Rado with music by Galt MacDermot, follows Claude, a young man on the verge of being drafted, and the group of hippies of which he is a part. The groundbreaking musical ran for over four years, inspiring countless subsequent productions worldwide.
HAIR
celebrates the sixties counterculture in all its barefoot, long-haired, bell-bottomed, beaded and fringed glory. To an infectiously energetic rock beat, the show wows audiences with songs like "Aquarius," "Good Morning, Starshine," "Hair," "I Got Life," and "Let The Sun Shine." Exploring ideas of identity, community, global responsibility and peace,
HAIR
remains relevant as ever as it examines what it means to be a young person in a changing world.
Casting
: 7M, 5F + Ensemble (The original Broadway production had a cast of 23 performers, including chorus. Doubling was employed)
click here
for full details.
Orchestration
: For details
click here
then click on the
Orchestral Material
link on the show page.
Royalty: 16% of your gross box office takings or a minimum of A$280.00 per performance*.
YOUTUBE CLIPS
ACCOLADES:
The 2009 Drama Desk Award for Outstanding Revival of a Musical
The 2009 Tony Award for Best Revival of a Musical
The 1969 Grammy Award for Best Score From an Original Cast Show Album