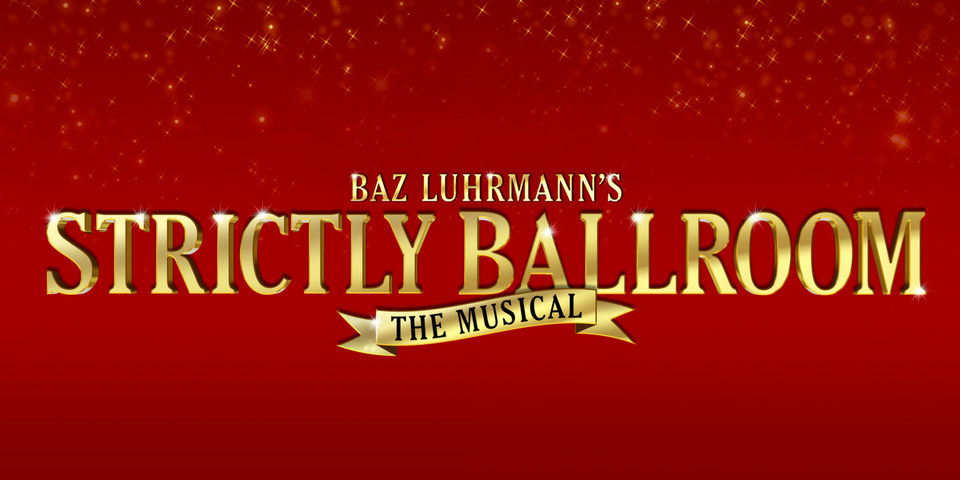 Annoucement - STRICTLY BALLROOM THE MUSICAL
26 Apr
ORiGiN™ THEATRICAL TO REPRESENT
STRICTLY BALLROOM THE MUSICAL
In Australia and New Zealand
Sydney, April 27 2017 – ORiGiN™ Theatrical is pleased to announce the representation of Baz Luhrmann's
STRICTLY BALLROOM THE MUSICAL in Australia and New Zealand.
THE STORY THAT INSPIRED THE WORLD TO DANCE
"A ballroom blast" -- London Daily Mail
STRICTLY BALLROOM THE MUSICAL is the inspiring story of a championship ballroom dancer who defies all the rules to follow his heart. This uplifting and courageous tale originated as a stage play that Baz Luhrmann created as a student at the National Institute of Dramatic Art (NIDA) in Sydney back in 1984.
STRICTLY BALLROOM THE MUSICAL had its Global Premiere on 12 April 2014 at the Sydney Lyric Theatre, followed by seasons at Her Majesty's Theatre Melbourne and the Lyric Theatre, Queensland Performing Arts Centre in 2015. The first UK staging premiered at the West Yorkshire Playhouse, Leeds in November 2016 directed and choreographed by Olivier Award winner Drew McOnie. The UK production will open in Toronto, Canada in April 2017 as part of the Mirvish Theatre Season.
Cast: 7 Female, 9 Male, 2 children (1 female & 1 male) + Ensemble
FEATURING SONGS FROM THE 1992 HIT FILM including "Love is in the Air", "Perhaps, Perhaps, Perhaps" and "Time After Time", as well as new songs from internationally acclaimed artists and composers such as Sia, David Foster and Eddie Perfect.
"We are excited to be working with Global Creatures to bring this iconic story to community theatre and schools in Australia and New Zealand."
Kim Ransley
Managing Director, ORiGiN™ Theatrical
"I have been struck by the personal connection that so many people have with Strictly Ballroom. We have been very pleased and proud to partner with Bazmark to create a musical version of Strictly Ballroom; and it is with much excitement that we release these second class rights so that Strictly Ballroom the Musical can continue to be enjoyed by performers and audiences alike."
Carmen Pavlovic
CEO and Producer, Global Creatures
---
About ORiGiN™ Theatrical:
ORiGiN™ Theatrical manages the Australasian theatrical rights to many of the greatest musicals and plays in the world drawing on the rich catalogues of The Rodgers & Hammerstein Organisation, The Really Useful Group, Theatrical Rights Worldwide, Samuel French, Dramatic Publishing, Tams-Witmark Music Library, Cressrelles Publishing UK, Warner/Chappell Music Australia, Playscripts Inc. and Plays For Adults. ORiGiN™ also represents Grease, Man of La Mancha, The War of The Worlds, The Mystery of Edwin Drood and Australian written box office hits Shout! The Legend of the Wild One, Dusty The Original Pop Diva, Priscilla Queen of the Desert and Seven Little Australians. Origin is committed to working with Australian writers to develop new Australian plays and musicals and has signed works by Dorian Mode, Craig Christie, John Field, Daniel Abineri, Peter Fitzpatrick, George Ellis, and Sally Perricone.
In addition to licensing musicals and plays ORiGiN™ have over 900 concert works available for hire to Symphony Orchestras.
Cast and Crew:
Philip Walker, Philip Mortlock, Kim Ransley, Nick Young, Amber Quin, Scott Bell, Ashlei Carroll and Damien Pinkuss.
About GLOBAL CREATURES:
AWE-INSPIRING. MAGICAL. DYNAMIC. Global Creatures is at the forefront of innovative stagecraft and spectacular theatricality. Global Creatures' first venture was Walking with Dinosaurs – The Arena Spectacular. Based on the eponymous award-winning BBC-TV series, the live show was developed through the integration of state-of-the-art animatronics. Global Creatures' Walking with Dinosaurs – The Arena Spectacular was conceived and developed in Australia and made its international debut in 2007. The show has since toured the world and become a phenomenal global success story. Global Creatures' second production, How to Train Your Dragon Live Spectacular, completed a North American tour in 2013 after successful seasons in Australia and New Zealand. The co-production with Dreamworks Theatricals further revealed Global Creatures ingenuity and visual prowess in bringing mythical dragons to vivid life. In a fitting partnership, Global Creatures joined forces with The National Theatre of Great Britain to produce the Australian premiere season of the acclaimed Tony Award winning theatre show, War Horse. The intimate and epic production presented a seamless blend of exceptional puppetry, fine acting and authentic storytelling. Five years in the making, the ground-breaking theatre production King Kong had its world premiere at the Regent Theatre, Melbourne, in 2013. The show's "leading man" is arguably the most authentic, technologically-advanced puppet in the world. Audiences have been stunned and spellbound by Kong's life-like attributes, both physical and emotional. Global Creatures joined with Bazmark to bring Baz Luhrmann's popular 1992 hit Australian film Strictly Ballroom to stage. Strictly Ballroom the Musical had its global premiere at the Sydney Lyric Theatre, Sydney, in 2014. The first international staging of Strictly Ballroom the Musical premiered at West Yorkshire Playhouse, England in November 2016. On September 1, 2016, Global Creatures announced that Baz Luhrmann's revolutionary film Moulin Rouge! will come to the stage as a new musical, with a book by John Logan and directed by Alex Timbers. Most recently, Global Creatures announced that it will join forces with Sydney Theatre Company to produce the World Premiere of Muriel's Wedding the Musical which will play at Sydney's Roslyn Packer Theatre, as a major highlight of Sydney Theatre Company's 2017 season.