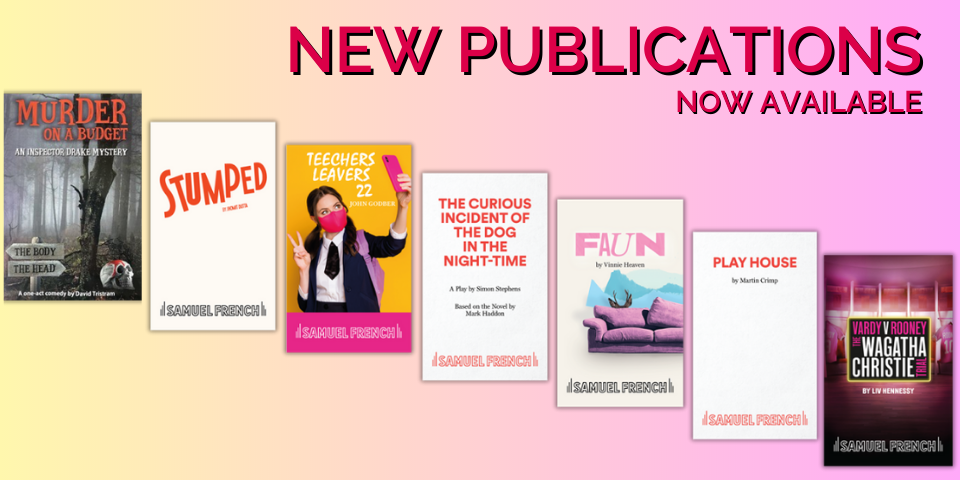 NEW PUBLICATIONS
24 Aug
NEW PUBLICATIONS
Refresh your script library with these new publications now available.
AN INSPECTOR DRAKE MYSTERY

By David Tristram
Short Play, Comedy, Mystery/Thriller, Contemporary
Cast: 5M, 4F
The legendary Inspector Drake is back to tackle a mystery that's as mad as a box of frogs, and a whole heap of fun to produce. There's no set to build, so it's perfect for festivals or an evening of one-act plays. All you need is just a little sprinkling of imagination and a collection of oddball props. There's even a non-speaking role for a props lady who's just bound to steal the show (and no lines to learn!)
This is the first time that Drake has appeared in a one-act format, so it's the ideal time to dip your toes into his surreal world and treat your audiences to something very different.
The plot, incidentally, is based (very loosely) on the screenplay of the original Inspector Drake movie.
View script
STUMPED
By Shomit Dutta
Full Length Play, Drama
Cast: 2M
A game of cricket deep in the Cotswolds. Samuel Beckett and Harold Pinter are padded up and waiting to go in? What could possibly go wrong?
Stumped is a shadowy caprice that turns the tables on two giants of twentieth century drama and subjects them to an unwelcome blend of their own worlds created by an unseen figure.
"A perfect pitch for lovers of drama and cricket." - The Guardian *not currently available for performance.
View script
TEECHERS LEAVERS 22
By John Godber
Full Length Play, Drama, Present Day, Contemporary
Cast: 1M, 2F
It's the end of year 2022, and Salty, Gail and Hobby are about to present a play which they have been working on for their B.Tech performance exam. It?s the first time they have performed live; their other exams were held on Zoom. What follows is a funny, fast-moving, caustic and hard-hitting account of how Miss Nixon, a newly qualified drama teacher changed their lives. As Salty, Gail and Hobby prepare to leave state education, it appears that Miss Nixon is moving on too, to the local private school.
"Joyously energetic and bitter about educational inequalities." - The Guardian

Full Length Play, Dramatic Comedy, Present Day, Contemporary
Cast: 5M, 5F
Christopher, fifteen years old, stands beside Mrs Shears' dead dog. It has been speared with a garden fork, it is seven minutes after midnight, and Christopher is under suspicion. He records each fact in the book he is writing to solve the mystery of who murdered Wellington. He has an extraordinary brain and is exceptional at maths, but he is ill-equipped to interpret everyday life. He has never ventured alone beyond the end of his road, he detests being touched and he distrusts strangers. But Christopher's detective work, forbidden by his father, takes him on a frightening journey that turns his world upside-down.
*not currently available for performance.

FAUN
By Vinnie Heaven
Full Length Play, Drama, Contemporary
Cast: 3M or F
Ace in twenty-two, trans, queer and sofa surfing - currently - just for now - only at the moment. They've actually just sorted out sofa number thirteen. To keep a sofa requires you to act small, smiling, and polite. But no one is perfect and eventually everyone messes up - which would be a lot easier for Ace if they weren't also unexpectedly growing extra ears, and a tiny tail! It turns out people pleasing has a price and there's only one place left for Ace to go?
"An uplifting, cleverly written and extremely funny tale of learning to take up space again, when you?ve spent all your life trying to go as unnoticed as possible." - Everything Theatre

*not currently available for performance.

Martin Crimp
Short Play, Drama
Cast: 1M, 1F
Sex, work, pregnancy, parents, weird neighbours, cleaning the fridge and dancing:
Play House
tells - in thirteen fleeting scenes - the story of a young couple's attempts to set up home.
View script
VARDY V RONEY: THE WAGATHA CHRISTIE TRIAL
By Liv Hennessy
Full Length Play, Drama, New Millennium/21st Century
Cast: 3M, 4F
Edited from seven sensational days of High Court transcripts, witness the case of Rebekah Vardy v Coleen Rooney unfold in their own words. A story stranger than fiction that blurs the boundaries of tabloid scoop, court case and soap opera, this trial explores privacy and celebrity in modern Britain whilst asking who is Davy Jones and where exactly is his locker?
While the country was captivated, only a handful of people witnessed what happened behind closed doors. Now you can too.

"Courtroom drama hits the back of the net." - The Arts Desk
*not currently available for performance.