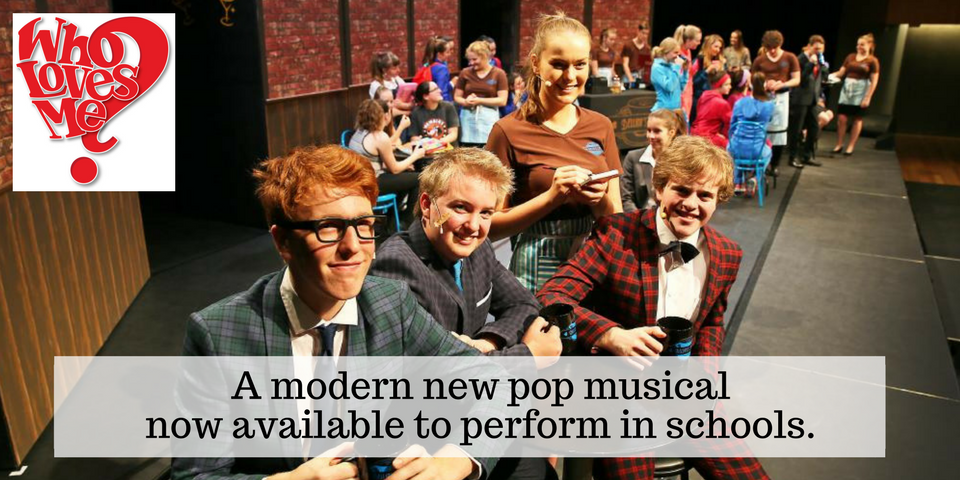 A modern pop musical for schools - WHO LOVES ME?
17 Nov
WHO LOVES ME?
is a fast, new, modern pop musical about Sofia Bellini and the greatest romantic comeback in the history of musical theatre.
Written by 3 time APRA award winning writer John Field,
WHO LOVES ME?
bounds off the page in a story with a massive heart and a mesmerising score!
Watch the
new promo video
featuring the professional cast recording, premiere performance by The Friends School in Hobart and John Field, creator of
WHO LOVES ME?
.
The show is set in Bellini's Café where the whole of the CBD comes to get their coffee in the morning.
We follow Sophia's convoluted (but tuneful!) path to real love, stopping off at embarrassing obsessions, fevered mamboing and coping with a meddling but loving father, a father who has told no-one his time is almost up?
The score smacks you across the ears with melody and bounds happily from pop and soul, to big band jazz, to soft laments, Latin brass, choral vocals and straight out rhythm and blues.
Download a sample script
STAGING Casting
: 5 female, 6 male. Can be performed with a much larger ensemble if desired.
Materials
: You will receive more than just the rights of the show. You will get a full backing CD recorded by a 16 piece orchestra, PDF copies of the script and the vocal score sheets. Full orchestral scores are also available.
Royalty Fee
: 12% of your gross box office takings or a minimum of *A$180.00 per performance (whichever is the greater).
REVIEWS
"John Field?s music is instantly accessible, catchy and hummable."
-- Neil Gooding / New Musicals Australia Board Member

"Infectious and catchy and a whole lot of fun."
-- Tim O'Connor / Harvest Rain Theatre Company, CEO & AD

"Terrific music, catchy story line."
-- Christine Dunstan /Christine Dunstan Productions Pty Ltd

"It's a winning musical... Get on it!"
--Nicola Collins, The Friends School, Hobart

"A contemporary musical score which is full of tunes that become addictive."
-- Robbie Carmellotti/StageArt Executive Producer

Visit the
WHO LOVES ME?
website