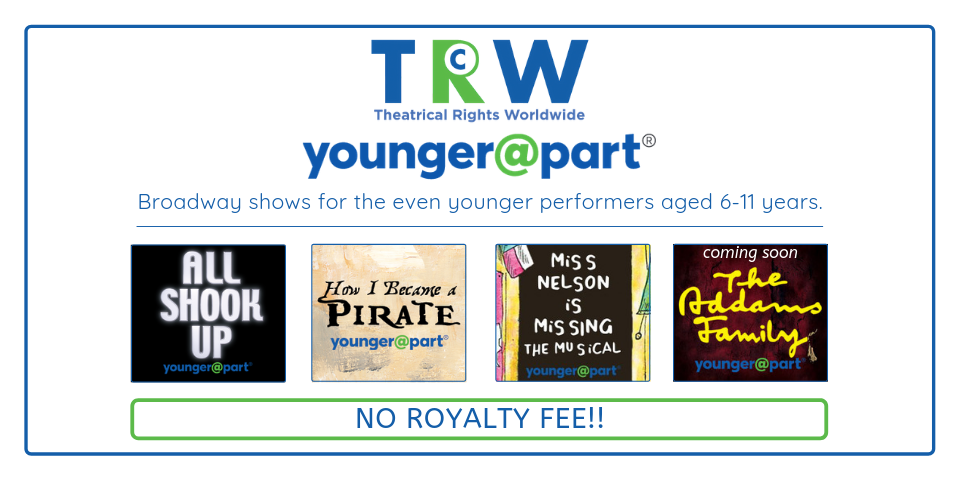 TRW Younger@Part® Editions
15 Sep
TRW and ORiGiN Theatrical are please to announce the new
Younger@Part® Editions.
NO ROYALTY FEE!!
For educational schools that perform on school property.
The performance materials can be used for the
entire school year
.
For summer camps and youth groups the royalty is a flat fee of A$125.00 per performance.
Younger@Part® Editions
DOWNLOAD A FREE PERUSAL PACKAGE, CLICK HERE
These Broadway shows are now available in 30-40 minute editions adapted for younger performers aged 6-11 years.
Songs and scenes have been edited for time and content with song keys changed when necessary. Every effort has been made to maximize the number of speaking roles and allow for an expandable ensemble/chorus.
Peformance Materials
Flat fee *A$730.00 for the set of rehearsal materials, backing tracks and logos. All materials supplied are yours to keep and do not need to be returned after your production. These materials can be supplied as a digital download – avoiding shipping and handling costs.
Director's Script
Cast Script & Vocal Books – 30
Piano/Vocal Score – 2
Guide Vocals Digital Download
Performance Tracks Digital Download
Logo Pack Digital Download