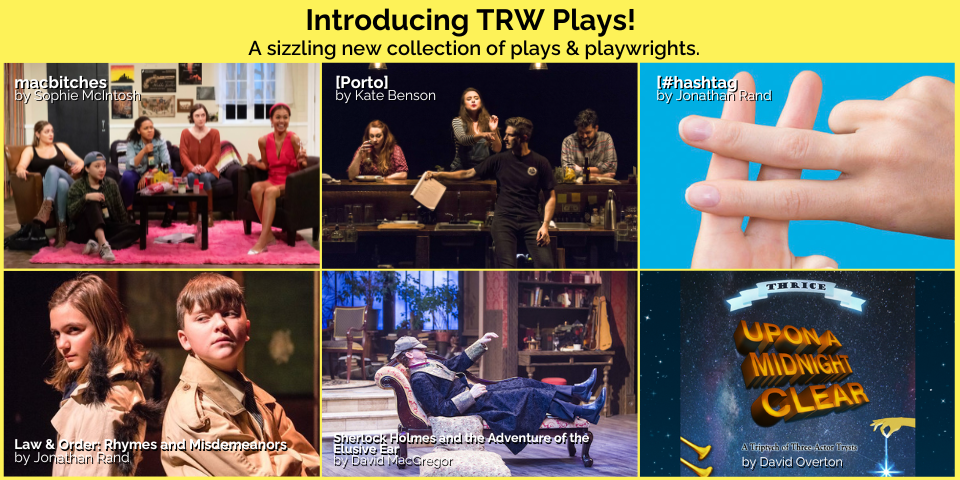 Introducing TRW Plays
26 Oct
We are thrilled to unveil the representation of TRW's remarkable catalogue of plays!
TRW proudly presents a sizzling new collection of plays, featuring a talented lineup of playwrights who are crafting narratives with fresh voices, captivating audiences across the globe.

Below is a selection of what's available.
macbitches
by Sophie McIntosh
Full Length Play, Comedy, Present Day
Cast: 5F
When a freshman is unexpectedly given the coveted role of Lady Macbeth, a few upperclassmen actresses invite her over to "celebrate" her casting and reassert their positions at the top of the theatre department's hierarchy.
Photo credit: THE CHAIN THEATRE?S WORLD PREMIERE OF MACBITCHES. PHOTO BY WESLEY PERCY.
view play
[Porto]
by Kate Benson
Full Length Play, Drama, Contemporary
Cast: 3M, 2F, 1M or F
A woman walks into a bar. Her name is Porto. She's a regular. She likes this bar: serious food, serious wine, serious bartender. A handsome stranger walks in and orders something special. Disruption ensues: an upside-down romantic comedy unfolds inside and outside her head.
Photo credit: OFF-BROADWAY PREMIERE OF [PORTO]. PHOTO BY MARIA BARANOVA.
view play
#hashtag
by Jonathan Rand
10 Minute Play, Comedy, Contemporary
Cast: 2M or F
#Your #parents #definitely #know #everything #about #social #media.
Jonathan Rand is among the most popular playwrights writing today. His one-act comedy CHECK PLEASE was the #1 most-produced short play every season for the last 16 years!
view play
Law & Order: Rhymes and Misdemeanors
by Jonathan Rand
Short Play, Comedy
Cast: 12M, 7F, 19M or F
In the nursery rhyme criminal justice system, citizens are represented by two separate yet equally ridiculous groups: the nursery rhyme police who investigate nursery rhyme crime, and the nursery rhyme district attorneys who prosecute the nursery rhyme offenders. These are their stories.
Photo Credit: THE BECK CENTER'S PRODUCTION OF LAW & ORDER: RHYMES AND MISDEMEANORS. PHOTO COURTESY OF THE BECK CENTER.
view play
Sherlock Holmes and the Adventure of the Elusive Ear
by David MacGregor
Full Length Play, Drama, Mystery/Thriller, 19th Century
Cast: 4M, 2F
The notorious and as-yet undiscovered genius, Vincent Van Gogh, presents Sherlock Holmes with a most unusual case. The world's greatest detective attempts to solve one of the most audacious crimes of the Victorian era and uncover a Post-Impressionist conspiracy.
Photo Credit: THE PURPLE ROSE THEATRE COMPANY?S PRODUCTION OF SHERLOCK HOLMES AND THE ELUSIVE EAR. PHOTO BY SEAN CARTER PHOTOGRAPHY.
view play
Thrice Upon a Midnight Clear
A Triptych of Three-Actor Trysts
by David Overton
Full Length Play, Dark Comedy, Christmas/Holiday, Greek; Roman & Biblical
Cast: 3M or F
Thrice Upon a Midnight Clear
gives audiences a peek into the unlikely -- but hilarious -- conversations of The Three Wise Men, The Three Wise Women, and The Three Not-So-Wise Shepherds in this travelling triptych as they follow the Star of Bethlehem contemplating its wonder, its mystery... and a good game of golf!
view play
Material Girls
by Michael Griffo
One Act, Comedy, Contemporary
Cast: 4M, 12F
Some girls got it and some girls don't. Materialism that is. As Tiffany and her material girl -- and guy -- friends get ready to graduate high school, they start to realize there might be more to life than finding the perfect lip gloss and the most glittery eye shadow, but is it too late to make a change?
view play
H*TLER'S TASTERS
by Michelle Kholos Brooks
Full Length Play, Drama, Dark Comedy, 1940s / WWII
Cast: 4F
Three times a day, every day, a group of young women have the opportunity to die for their country. They are Adolf Hitler's food tasters. And what do girls discuss as they wait to see if they will live through another meal? Like all girls, throughout time, they gossip and dream, they question and dance. They want to love, laugh, and above all, they want to survive.
view play
Hook's Tale
by John Pielmeier
Full Length Play, Comedy, Fantasy/Adventure, 1930s
Cast: 2M
Captain James Hook (née Cook), badly maligned by a certain play and despised by generations of Peter Pan fans, finally gets to clear his name. In narrating his tale, he uncovers the hidden treasure of Neverland, discovers the identity of his long-lost father, and learns the importance of growing up and growing old.
view play
How to Steal a Picasso
by William Missouri Downs
Full Length Play, Comedy, Contemporary
Cast: 3M, 2F
A comic-drama set against the bankruptcy of the Motor City. The Smith family doesn't agree on much, but when their son Johnny comes home for the first time in four years, they reluctantly reconvene to celebrate the father (a failed painter) winning the Yoko Ono Lifetime Achievement Award for Non-Objective Art.
view play
The Binding
by Tyler Dwiggins
Full Length Play, Drama, Contemporary
Cast: 2M, 3F
The Binding
tells the story of Isaac, a deeply closeted, religious teen whose childhood imaginary friend, Poppy, returns on the eve of his sixteenth birthday.
view play
The Brightest Thing (or, the Squonk Play)
by Don Zolidis
Full Length Play, Dramatic Comedy
Cast: 15M or F
An American Fable that's tinged with sadness about a girls' imaginary journey in a hot air balloon to rescue her mother.
view play
The Burdens
by Matt Schatz
Full Length Play, Dark Comedy, Contemporary, New Millennium/21st Century
Cast: 1M, 1F
Adult siblings Mordy and Jane have a problem. Their dreadful, centenarian grandfather is an emotional and financial tax on the family, and he just won't die. Scheming almost entirely via text messages, the siblings hatch an outrageous plan to relieve themselves of their family's burdens and their own.
view play
Mrs. Harrison
by R. Eric Thomas
Full Length Play, Dark Comedy, Contemporary
Cast: 2F
Mrs. Harrison is about two women and one story. At their 10-year college reunion, Aisha and Holly meet by chance. Is this the first time or has it just been a long time? They can't agree.
view play
On the Farce Day of Christmas
by Ken Levine
Full Length Play, Comedy, Christmas/Holiday
Cast: 2M, 3F
To keep her religious mother from knowing she's divorced, Wendy pays her ex to pose as her husband and go home for the holidays. Havoc ensues.

View the play on our website to Apply for Rights