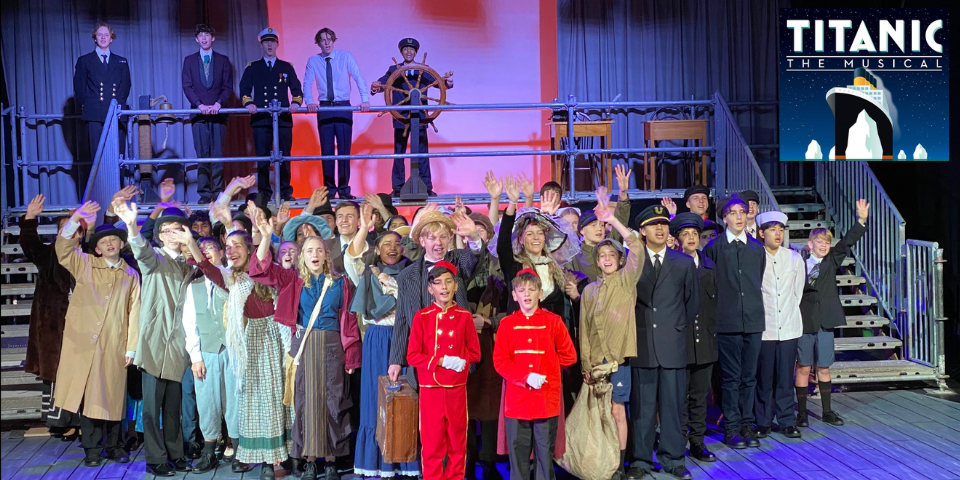 TITANIC THE MUSICAL
22 Jun
TITANIC: THE MUSICAL - All aboard the "unsinkable" ship!
Photo courtesy of Marist and St Peter's Combined Colleges, Auckland and Director Stephen Dallow.
"Thanks for recommending Titanic for our schools, oh my, what an amazing show for teens to do. I have been directing shows for over 30 years and this was a personal highlight for me working with a cast of 100 teenagers on Titanic the musical. At our first rehearsals we researched every character in the show and the students quickly took on this incredible honour of playing real people who had passed away during this tragic event. You could hear a pin drop at rehearsal. Everyone wanted to honour the story and tell it from an historic angle, not what we had seen in the movie. The show has beautiful music, wonderful harmonies, characters the audience will fall in love with and opportunities to do some unique theatre making. At the final number, where the survivors tell their story, we projected images of the real people they were playing on to the stage, the audience left every night in tears. Having teenagers move an audience like this was very special for all involved. I highly recommend this show to anyone wanting to step outside the normal school show and do something that will bring your students heart into the theatre."
-- Stephen Dallow, Director
TITANIC THE MUSICAL is available for licensing in two versions:
TITANIC (ORIGINAL)
: Designed for a large cast, with 14 lead roles and at least 23 supporting roles. Presented on Broadway with a cast of 37 performers.
TITANIC - ENSEMBLE VERSION
: Designed for a total of 20 actors, with performers doubling or tripling on roles.
Epic and majestic, with moments of heartbreaking intimacy, Titanic captures the triumph and tragedy of the hopeful passengers on the ill-fated Ship of Dreams.
The sinking of the Titanic in the early hours of April 15, 1912, remains the quintessential disaster of the twentieth century. A total of 1,517 souls -- men, women and children -- lost their lives (only 711 survived). The fact that the finest, largest, strongest ship in the world -- called, in fact, the "unsinkable" ship -- should have been lost during its maiden voyage is so incredible that, had it not actually happened, no author would have dared to contrive it.
"The musical play Titanic examines the causes, the conditions and the character involved in this ever-fascinating drama. This is the factual story of that ship -- of her officers, crew and passengers, to be sure -- but she will not, as has happened so many times before, serve as merely the background against which fictional, melodramatic narratives are recounted. The central character of our Titanic is the Titanic herself." -- Peter Stone
Watch these incredible highlights from TITANIC: THE MUSICAL at Serenbe Playhouse (on the lake!)