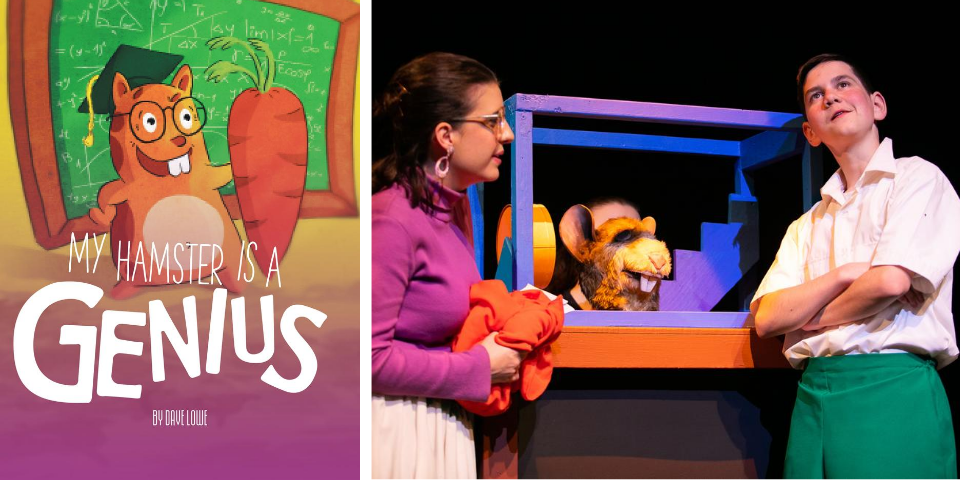 NEW - My Hamster's a Genius
30 Jul
NEW
MY HAMSTER'S A GENIUS

By Dave Lowe
'My mum had a long history of unusual punishments - And now, thanks to the sticky-taping incident - she announced that she was buying me a pet.'
Meet nine year old Benjamin Jinks and his grumpy hamster, Jasper Stinkybottom. Ben is a very normal boy who hates maths. Stinky is a genius hamster, who likes carrots. Together they are an unstoppable team! But can they overcome the evil scheming of Ben's maths teacher, Beardy McCreedy?

Dave Lowe's first adventure from the Stinky and Jinks series of books now available to be performed on stage.

No hamsters were harmed in the making of this play!
Cast

Ben (11, but should be played by an older kid/adult)
Lucy (9, but should be played by an older kid/adult)
Tyson (11, but should be played by an older kid/adult)
Mum
Dad
Beardy McCreedy
Stinky (puppet, though the puppeteer is visible whenever Stinky is on stage)
Sasha / Extra student
O'Malley
3rd Penguin / Meerkat
Police officer
The stage is split between Ben's small bedroom and the rest of the stage, where all the other action (Lucy's performances, the scenes inside and outside school) take place. The only room in Ben?s house we ever see, however, is Ben's room: all other action in the house is off-stage.
Premiere Production: Brisbane Arts Theatre August 2019.
Cast: Isaac Cain, Jeremy Hunter, Edie George Chambers, Tia Reynolds, Oliver Martin, Courtney Farrar, Emilie Regano, Steve Durber, Rachael McFarlane, Szonia Meszaros.
Photography by Nick O'Sullivan
Cover design by Sean Dowling
AUTHOR DAVE LOWE
Dave Lowe is a Brisbane-based children's author, playwright and writer for TV, with books published in the UK and Australia, and translated into six languages. The 'Stinky & Jinks' series, of which 'My Hamster is a Genius' is the first book, has sold over 150,000 copies worldwide.