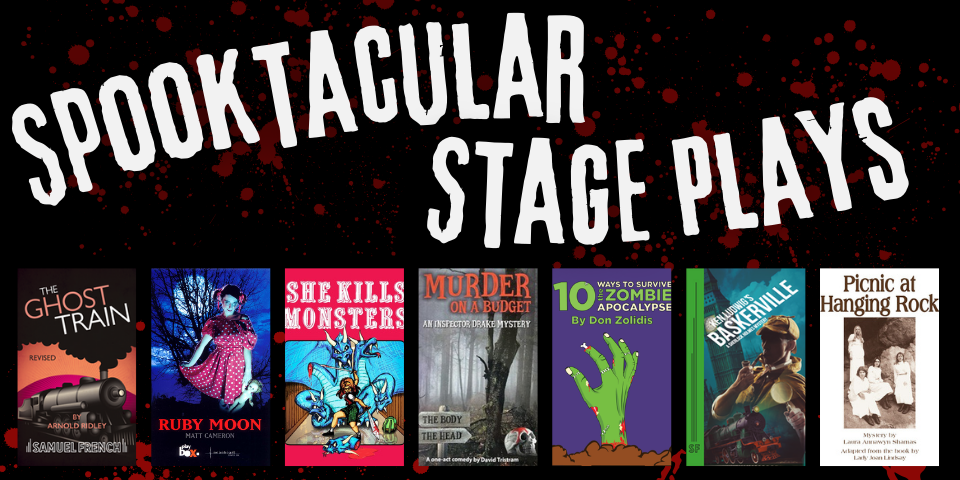 Spooktacular Stage Plays
19 Oct
Ghouls and goblins, witches and wizards, the most spine-tingling season of the year is upon us! Halloween is just around the corner, and we've conjured up a cauldron full of stage plays that are sure to bewitch your audiences.
Whether you're looking to transport your spectators to a haunted railway or into the eerie depths of a vampire's lair, our collection of thrilling plays promises to bring the spooky spirit of Halloween to life. Here's a glimpse of the mysterious and macabre tales awaiting you:
by Arnold Ridley
A group of strangers stranded in a remote, haunted station must confront their deepest fears to survive the night.
by Matt Cameron
In a quiet suburban town, a young girl vanishes, and the eerie secrets of the community slowly unravel.
by Qui Nguyen
A tale of fantasy, monsters, and the power of imagination, as a young woman embarks on a quest into the world of Dungeons & Dragons.
by David Tristram
Murder, mayhem, and hilarity ensue when a murder mystery evening takes an unexpected and humorous turn.
10 WAYS TO SURVIVE THE ZOMBIE APOCALYPSE
by Don Zolidis
A hilarious survival guide for the impending zombie apocalypse, with ten riotous and unconventional methods to stay alive.
by Frederick Knott
A classic thriller where the perfect murder plot takes a chilling twist, with suspense and deceit at every turn.
by Ken Ludwig
Join the legendary detective Sherlock Holmes and Dr. Watson as they unravel the mystery of the Hound of the Baskervilles.
by Laura Annawyn Shamas. Based on the book by Joan Lindsay.
A haunting tale of the unexplained disappearance of schoolgirls during a picnic, based on the enigmatic novel by Joan Lindsay.
by Don Zolidis
A fast-paced and hilarious journey through the Grimm Brothers' fairy tales, with a comedic twist.
Adapted by William McNulty
Step into the seductive world of Count Dracula, as this classic tale of love, lust, and the undead comes to life on stage.
Wishing you a fang-tastic Halloween season filled with thrills, chills, and unforgettable performances.