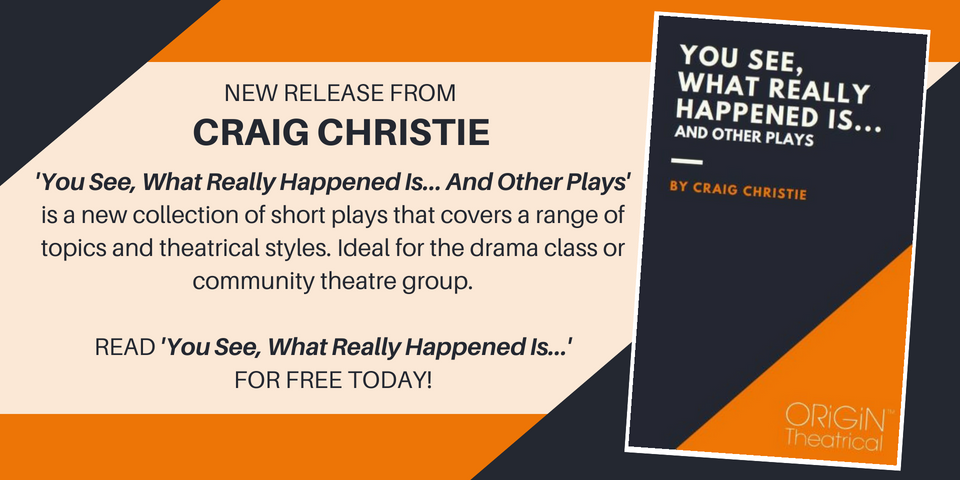 New short plays by Craig Christie
5 Jul
A new collection of short plays that covers a range of topics and theatrical styles. Ideal for the drama class or community theatre group.

As these pieces were created to be able to be performed with a minimum amount of technical support, the focus is on what the performers can bring to the script. There is a minimum of stage direction and character outlines which hopefully will encourage any group to bring their own interpretations to the fore. In keeping with the original intention of the writing of these scripts in whatever context they may now be utilised, the emphasis should continue to be about participation, creativity and enjoyment for all participants.

Titles of Plays

A murder investigation in which the challenge is not to figure out whodunnit, but rather who didn't do it!

Creativity and passion are at the core of Courtney's existence, but outside influences are determined to put out her fire and force her to conform.

There has been a spate of unexplained deaths in the hospital, and the bizarre array of new inpatients make getting to the bottom of the mystery even more challenging.
A group of friends come together for a party that seems to unlock a series of shocking revelations. But there are further twists as we find out what these revelations actually are.
A new take on an old story. Imagine if instead of the traditional seven dwarves, Snow White found herself in the company of the Seven Sins...

Sometimes we fail to speak up when we should, but imagine if suddenly you could not be heard even when you desperately need to be.
For Cynthia, nothing is more important than her quest for fame. When all else fails there is still reality television but even that proves to be more challenging than she imagined.
Welcome to the Boom Boom Room, the best drag revue in town. However, even in a place where illusion reigns, things are not what they seem.

Christmas Turkey
Everything is prepared for a lovely family Christmas dinner until Mum realises that the huge turkey hasn't been taken out of the freezer.