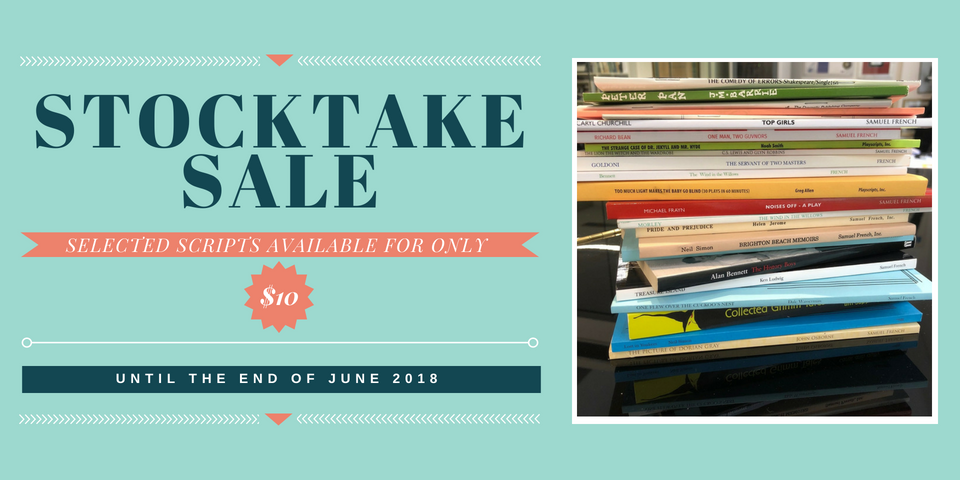 JUNE STOCKTAKE SALE
4 Jun
Neil Simon
Full Length Play, Period, Dramatic Comedy, 1930s
3M, 4F
Here is part one of Neil Simon's autobiographical trilogy: a portrait of the writer as a young teen in 1937 living with his family in a crowded, lower middle-class Brooklyn walk-up.
Eugene Jerome, standing in for the author, is the narrator and central character. Dreaming of baseball and girls, Eugene must cope with the mundane existence pf his family life in Brooklyn: formidable mother, overworked father, and his worldly older brother Stanley.Throw into the mix his widowed Aunt Blanche, her two young (but rapidly aging) daughters and Grandpa the Socialist and you have a recipe for hilarity, served up Simon-style.
Grimm Brothers Adapted from the Brothers Grimm by Carol Ann Duffy. Dramatized by Tim Supple.
Full Length Play, Drama
4M, 3F
Eight stories from the Brothers Grimm, presented in different and exciting styles with an emphasis on the horror, grotesqueness and savage farce of the originals:
Hansel and Gretel, The Golden Goose, Ashputtel, A Riddling Tale, The Mouse, The Bird and The Sausage, Iron Hans, The Lady and the Lion, The Magic Table, The Gold-Donkey and the Cudgel in the Sack.
David Henry Wilson
Short Play, Comedy, Contemporary
2M, 1F
Rouse, a Council official, is visiting the theatre run by Mike Pemberton-Hawkesley, his mission to save the Council money. His brainwave is to turn the theatre into a storage facility for files; Mike is outraged. Mavis Dinwiddy intervenes and the hilarious absurdity of the situation, compounded by Rouse's very idiosyncratic verbal style, is maintained right up to end of this surprising and enigmatic play.
By Glyn Robbins. Adapted from the book by C.S. Lewis.
Full Length Play, TYA, Drama, 1940s / WWII
8M, 5F
Peter, Susan, Edmund and Lucy embark on a magical mystery tour to the Land of Narnia through the wardrobe. There they encounter the wicked White Witch, representing the forces of evil, and the King of the Beasts, Aslan the Lion, representing all that is good and right. The White Witch is destroyed, allowing good to triumph over evil in the time-honoured way.
Neil Simon
Full Length Play, Dramatic Comedy, 1940s / WWII
4M, 3F
"Broadway desperately needs a comedy, a drama, and a hit. With Lost in Yonkers, Mr. Simon has given us all three." - Wall Street Journal
Bella is a 35-years-old, mentally challenged and living at home with her mother, stern Grandma Kurnitz. AS the play opens, ne'r do-well son Eddie deposits his two young sons on the old lady's doorstep. He is financially strapped and taking to the road as a salesman.
The boys are left to contend with grandma, with Bella and her secret romance, and with Louie, her brother, a small-time hoodlum in a strange new world called Yonkers.
Michael Frayn
Full Length Play, Farce, Comedy, Contemporary, New Millennium/21st Century
3M, 4F
"The most dexterously realised comedy ever about putting on a comedy. A spectacularly funny, peerless backstage farce. This dizzy, well-known romp is festival of delirium." - The New York Times
Called the funniest farce ever written, Noises Off presents a manic menagerie as a cast of itinerant actors rehearsing a flop called Nothing's On. Door's slamming, on and offstage intrigue, and an errant herring all figure in the plot of this hilarious and classically comic play.
By Dale Wasserman. From the novel by Ken Kesey.
Full Length Play, Dramatic Comedy, Contemporary, 1960s
13M, 4F
Kirk Douglas played on Broadway as a charming rogue who contrives to serve a short sentence in an airy mental institution rather than in a prison. This, he learns, was a mistake. He clashes with the head nurse, a fierce artinet. Quickly, he takes over the yard and accomplishes what the medical profession has been unable to do for twelve years; he makes a presumed deaf and dumb Indian talk.
He leads others out of introversion, stages a revolt so that they can see the world series on television, and arranged a rollicking midnight party with liquor and chippies. For one offense, the head nurse has him submit to shock treatment. The party is too horrid for her and she forces him to submit to a final correction... a frontal lobotomy.
Written by Richard Bean. Based on "The Servant of Two Masters" by Carlo Goldoni.
Full Length Play, Comedy, 1960s
6M, 3F
Fired from his skiffle band, Francis Henshall becomes minder to Roscoe Crabbe, a small time East End hood, now in Brighton to collect £6,000 from the dad of his fiancee. But Roscoe is really his sister Rachel posing as her own dead brother, who has been killed by her boyfriend Stanley Stubbers.
J. M. Barrie
Full Length Play, TYA, Fantasy/Adventure, Drama
8M, 4F, 38M or F
"The magic is as great as ever." - The New York Daily News
The everlasting classic account of two boys and a girl who follow Peter Pan and the invisible fairy, Tinker-Bell, into Neverland, where children never grow old and where Captain Hook and his pirates are outwitted.
By Helen Jerome. Adapted from the Novel by Jane Austen.
Full Length Play, Comedy, Adaptations (Literature)
10M, 16F
Mrs. Bennet is determined to get her daughters married. Jane, Elizabeth, and Lydia are likely-looking girls in a period when a woman's one possible career is matrimony. To be a wife was success. Anything else was failure. Jane and Mr. Bingley and Lydia with her Mr. Wickham are quite content with things as they are, but not Elizabeth! She actually refuses to marry Mr. Collins, who she openly deplores, and Mr. Darcy, whom she secretly adores. This play is the story of the duel between Elizabeth and her pride, and Darcy and his prejudice. Each gives in before the evening is over and pride and prejudice meet halfway.
By Eugene Ionesco. Translated by Derek Prouse.
Full Length Play, Comedy
11M, 6F
"Its satirical humor, combined with its provocative theme and surprisingly moving ending, results in an evening that is strange, disturbing and arresting."
The sublime is confused with the ridiculous in this savage commentary on the human condition, a staple of every theatre classroom and 20th century drama. A small town is besieged by one roaring citizen who becomes a rhinoceros and proceeds to trample on the social order. As more citizens are transformed into rhinoceroses, the trampling becomes overwhelming, and more and more citizens become rhinoceroses. One sane man, Berenger remains, unable to change his form and identity.
Adapted by Noah Smith. Based on the Novella by Robert Louis Stevenson.
Full Length Play, Science Fiction, 19th Century
5M, 3F
Dr. Henry Jekyll is a brilliant scientist frustrated by dull "respectable" life in 1888 Victorian London. He creates a formula to unleash his inner bestial nature, transforming him into the brutish but oddly compassionate Edward Hyde.
Based on the book by E.B. White. Adapted by Joseph Robinette.
Full Length Play, Fantasy
ISBN: S99
This is the endearing classic about a mouse named Stuart Little who is born into an ordinary New York family. All the charm, wisdom and joy of the E.B. White original are captured in this adaptation by Joseph Robinette, who also dramatized the highly acclaimed stage version of Charlotte's Web.
By Eugene Ionesco. Translated from the French by Donald Watson.
Short Play, Drama, Contemporary
3M, 3F
This is a hilariously maniacal assault on the banality of English suburbia. A family is discussed, every member of which is called Bobby Watson; a young couple is alarmed to find that they have been married for years. For such people, words can have no meaning. The play ends in a crescendo of non-sequiturs.
By William Shakespeare. Adapted by Robert M. Singleton.
One Act, Comedy
11M, 5F
The play concerns a family which has been separated. Now, unknown to each other, they are all in the same city; the lovely mother, the identical twin sons who have grown up and the father, who is under arrest.
The overtones of comedy, tragedy and romance that enrich this play have amused audiences for hundreds of years.
By Alan Bennett
Full Length Play, Dramatic Comedy, 1980s
11M, 1F
An unruly bunch of bright, funny sixth-form (senior) boys in a British boarding school are, as such boys will be, in pursuit of sex, sport, and a place at a good university - generally in that order. In all their efforts, they are helped and hindered, enlightened and bemused, by a maverick English teacher who seeks to broaden their horizons in sometimes undefined ways, and by a young history teacher who questions the methods, as well as the aim, of their schooling.
By Oscar Wilde. Adapted by John O'Connor and Merlin Holland.
Full Length Play, Drama
11M, 10F
Set in the decadent world of Victorian London, a beautiful young man called Dorian Gray becomes infatuated by the exquisite portrait that Basil Hallward has painted of him. He makes a Faustian pact that the picture will grow old while he remains forever young.
Oscar Wilde's only novel caused an immediate scandal when it was first published in 1890 and its themes of youth and decay, innocence and corruption, art and reality are even more relevant to us in the 21st century than in the 19th.
By Carlo Goldoni Adapted by David Turner Adapted by Paul Lapworth
Full Length Play, Comedy
9M, 6F
The story concerns the terrible complications wrought by the servant Traffaldino when he gets himself jobs with two different people at the same time. Not all the complications are of his making; one of his 'masters' is in fact a lady in disguise, and the other master is her lover, but Truffaldino doesn't know this.
By Friedrich Dürrenmatt. Translated by Maurice Valency.
Full Length Play, Drama
25M, 5F, 2M or F
A wealthy woman returns to her debt ridden home town and offers a sum greater than they have ever imagined to help out. But there is a condition: she wants the life of a villager who years ago had caused her to be expelled from town in disgrace.
Ringing denial of this absurd demand is followed by the gradual corruption of everyone in town. He is murdered and money is passed over his body to the town. The lady leaves with a fantastic entourage and with the coffin of her old lover.
By Greg Allen
Full Length Play, Drama, Comedy, Contemporary
5M, 5F
Having opened in 1988 and still playing today as the longest-running show in Chicago history, Too Much Light Makes The Baby Go Blind is an ensemble experiment in presenting "30 Plays in 60 Minutes." Each two-minute play is performed in random order with an interactive audience. An onstage 60-minute timer keeps everyone honest.
This collection of 90 comic, tragic, political, personal, and abstract plays gives you the chance to program your own evening of 30 Neo-Futurist plays to reflect the lives and experiences of your own ensemble. Go!
By Caryl Churchill
Full Length Play, Drama, Contemporary, 1980s
7F
Marlene has been promoted to managing director of a London employment agency and is celebrating. The symbolic luncheon is attended by women in legend or history who offer perspectives on maternity and ambition. In a time warp, these ladies are also her co-workers, clients, and relatives.
Marlene, like her famous guests, has had to pay a price to ascend from proletarian roots to the executive suite: she has become, figuratively speaking, a male oppressor and even coaches female clients on adopting odious male traits. Marlene has also abandoned her illegitimate and dull witted daughter. Her emotional and sexual life has become as barren as Lady Macbeth's.
By Ken Ludwig. Based on the Novel by Robert Louis Stevenson.
Full Length Play, Dramatic Comedy, 18th Century
9M, 2F
Based on the masterful adventure novel by Robert Louis Stevenson, Treasure Island is a stunning yarn of piracy on the tropical seas.
It begins at an inn on the Devon coast of England in 1775 and quickly becomes an unforgettable tale of treachery and mayhem featuring a host of legendary swashbucklers including the dangerous Billy Bones (played unforgettably in the movies by Lionel Barrymore), the sinister two-timing Israel Hands, the brassy woman pirate Anne Bonney, and the hideous form of evil incarnate, Blind Pew.
By Alan Bennett. Adapted from the book by Kenneth Grahame.
Full Length Musical, Comedy
25M or F
This ingenious adaptation of the classic children's novel created a sensation at the National Theatre of Great Britain. Here are Badger, Rat, Mole and Toad of Toad Hall in the familiar tale with a contemporary slant.
"I am almost as enthusiastic about Alan Bennett's adaptation ... as Ratty is about his river." - Time Out
"This has to be the most dazzling and enjoyable show in the West End. I hope it wins heaps of awards." - The Daily Express
By John Morley. Based on The Wind in the Willows by Kenneth Grahame.
Full Length Play, Dramatic Comedy
22M, 22F
John Morley has taken the well loved characters of Toad, Mole, Ratty and Badger from The Wind in the Willows and woven their exploits into an exciting adventure story for all the family. Toad's addiction to caravanning and later his obsession with cars, his imprisonment and escape with the aid of Jenny and her washerwoman aunts, and his fight with the Weasels and Stoats to regain Toad Hall are all included.
May be staged simply or elaborately; casting is very flexible. Choice of music is left to the producer (song suggestions are included in text). Will provide an evening of magic and joy for all.